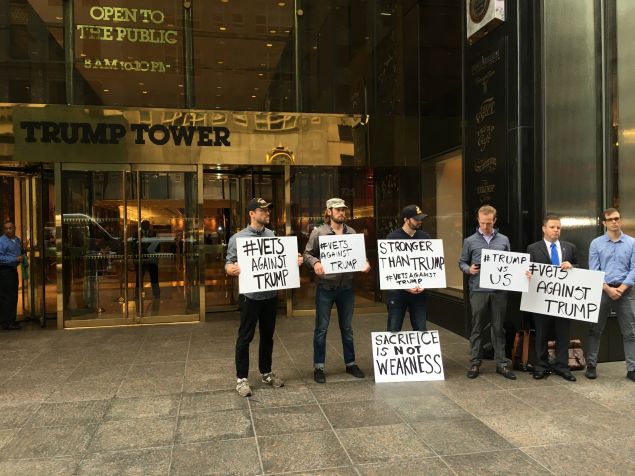 Rallying outside of Trump Tower on Fifth Avenue, local U.S. military veterans said Republican presidential nominee Donald Trump is "unfit" to be commander-in-chief and has "no knowledge" of veterans issues a day after he claimed many former service members suffering from post-traumatic stress disorder "can't handle it."
Holding up signs with slogans like "#VetsAgainstTrump," "Sacrifice is not Weakness" and "Stronger than Trump," a small band of vets stood in front of the famed skyscraper, with a few formally addressing reporters in attendance. Sean Barney, a 41-year old Marine Corps veteran, said the federal government has conducted "study after study" that found that most veterans who could benefit from mental health treatment don't receive it because "they're reluctant to recognize their own symptoms."
"I don't think that Donald Trump meant yesterday to disrespect veterans," Barney said. "I don't think that he was trying to say anything disrespectful about any of our service. I simply think that he has never informed himself on these issues, that he shows no interest in informing himself on those issues."
Addressing a panel by the Retired American Warriors PAC in Herndon, Va., Monday, when Trump was asked whether he would "support and fund a more holistic approach to solve the problems and issues of veteran suicide."
"When you talk about the mental health problems, when people come back from war and combat and they see things that maybe a lot of folks in this room have seen many times over and you're strong and you can handle it but a lot of people can't handle it," the GOP candidate, who received four draft deferments to avoid serving in Vietnam, said.
Barney, who enlisted after the September 11, 2001 attacks and served in Fallujah, Iraq, said he battled PTSD when he returned from Fallujah but that he was fortunate "because my symptoms were diagnosed" at the naval hospital in Bethesda. He said two of his platoon mates committed suicide since he returned from Iraq.
He also noted that 22 veterans commit suicide a day in the United States, with 17 lacking any contact with the Department of Veterans Affairs. And Barney made a distinction between being "a bull in the China shop" who is "reckless in your comments" and "somebody who wants to head the Department of Defense, the Department of Veterans Affairs and to be our commander-in-chief."
"By his comments, by his lack of interest in informing himself on these issues, Donald Trump has shown himself to be unfit to head those departments and unfit to be our commander-in-chief," Barney continued.
The protesters today criticized Trump for other controversial comments he's made about veterans as well. Last July, he said Arizona Sen. John MccCain—the 2008 Republican presidential nominee who was a prisoner of war in North Vietnam for five-and-a-half years—is only a war hero "'cause he was captured." They also noted his attacks on Khizr and Ghazala Khan, the parents of an Army captain who was killed in Iraq, after Khizr Khan delivered a scathing speech criticizing Trump's plan to ban Muslims from entering the country at the Democratic National Convention in July.
In a statement provided by the Trump campaign, Marine Staff Sergeant Chad Robichaux, president and founder of Mighty Oaks Warrior Programs in Temecula, Calif.—who asked the question—said he understood Trump's answer "to affirm that the system is broken and he would take the necessary steps to address it."
"I think it's sickening that anyone would twist Mr. Trump's comments to me in order to pursue a political agenda," Robichaux said. "I took his comments to be thoughtful and understanding of the struggles many veterans have, and I believe he is committed to helping them."
One demonstrator wasn't shy about who he's supporting in November. Michael Falkenstein, 27, a registered Republican who was infantry in the Marines, told the Observer that since he voted in 2010, in his company alone, at least five fellow Marines committed suicide. A passerby shouted, "He sucks! He sucks! He sucks!"—in reference to Trump—as Falkenstein spoke.
"It just, the fact that—and I myself am diagnosed with PTSD as well—so the fact that you don't have PTSD if you are strong is just, he must be speaking from a place of just no knowledge of what he's talking about," Falkenstein said.
And he says that this "seems to be a trend with him," also noting previous comments he has made about prisoners of war.
"As a Republican, I've just gotten to a point where you have to pick country over party and he's just not the leader that we need right now," Falkenstein continued. "He has made a decision to talk about everything as if he knows…he says he asks for help, he asks for knowledge, he has no idea what he's talking about."
Despite never having voted for a Democrat, Falkenstein said if he were to vote today, he'd vote for Trump's opponent, Democratic presidential nominee Hillary Clinton.
"I think she's much more aware of veterans issues and I think she's also aware of what she doesn't know," Falkenstein added. "And I think that she's someone who's willing to listen."
Raymond Curtis, an Iraq War veteran who served from 2005 to 2006, was diagnosed with PTSD three years ago. He sought to address what he called Trump's "damaging and misguided statement" by relating his experience "witnessing the atrocities of the war, after seeing children shot, children die, soldiers blow up."
He said he "slipped deeper and deeper into a rage-filled depression," having a tough time holding down a job over the course of six years and being "high and drunk every day." He said it was not strength that saved him but rather support from friends, loved ones and "those who knew what I needed."
"You see, Donald Trump doesn't understand that nobody handles going to war and being in a combat zone and suggesting that those of us suffering from PTSD are like this because we aren't strong enough just perpetuates the needless deaths of 20 veterans a day who take their own lives because of PTSD," Curtis said. "A true commander-in-chief would know it and they would that this is their responsibility to know these things."
Katherine Scheirman, a retired Air Force colonel who served from 1986 to 2006, served at the United States Air Forces headquarters in Germany. She was chief of medical operations of all medical operations throughout Europe and Turkey, a job that partially involved supervising people with behavioral health issues.
When she heard Trump's comments, she said she began crying.
"I'm gonna tell you, as hard as we worked for all those years in the military, to remove the stigma of asking for help when you have these invisible wounds, which is what they are," Scheirman said. "They're not caused by not being able to handle."
"People who are struggling to build their lives back and it perpetuates the cycle of isolation," she continued.
Disclosure: Donald Trump is the father-in-law of Jared Kushner, the publisher of Observer Media.