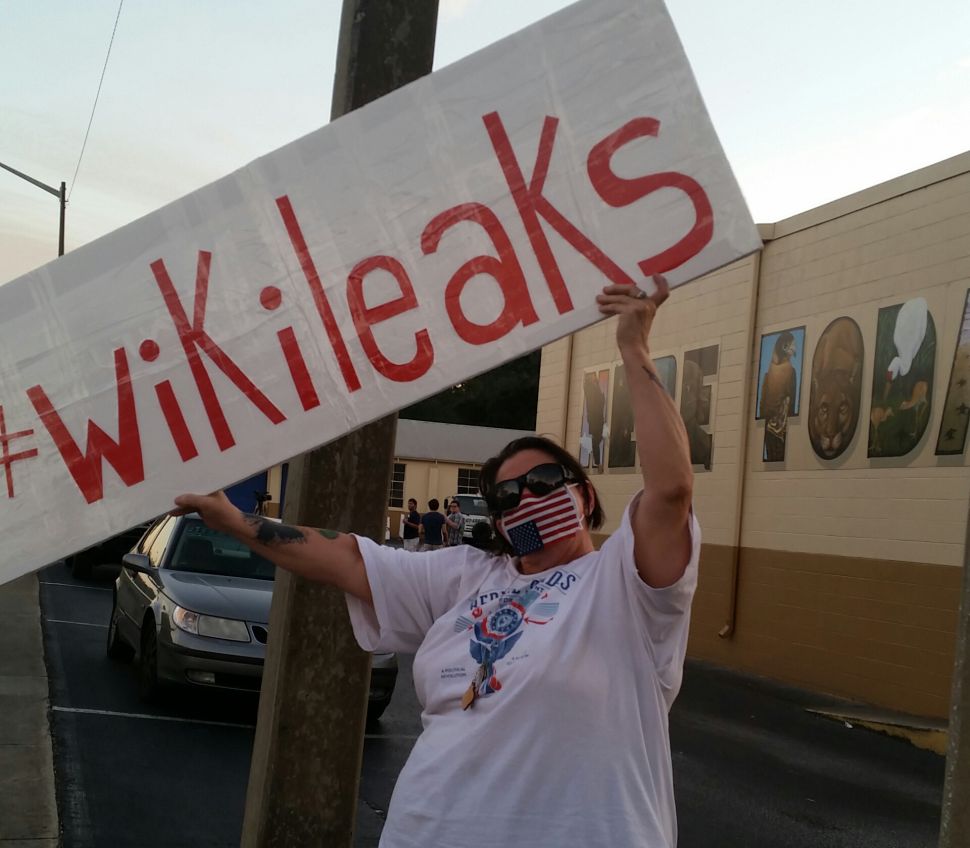 Disgraced former Democratic National Committee (DNC) Chair Debbie Wasserman Schultz has mostly attempted to avoid the spotlight after her resignation in the wake of emails released by WikiLeaks.
Throughout the primaries, Wasserman Schultz was viewed unfavorably by Bernie Sanders supporters for overtly favoring Hillary Clinton, despite the DNC charter stipulating her and fellow DNC staff remain neutral to ensure a fair and balanced primary election. When indefensible evidence exposed the pro-Clinton environment at the DNC that Wasserman Schultz created, she and several other top DNC leaders were forced to resign—but there were almost no repercussions or changes made as a result of these resignations.
Instead, Clinton immediately hired Wasserman Schultz as honorary chair of the Clinton campaign's 50-state program, while President Obama, VP Joe Biden, and other establishment Democrats made unprecedented appearances to help Wasserman Schultz survive her re-election bid to Congress. Another Clinton surrogate, Donna Brazile, was appointed interim DNC chair to take Wasserman Schultz's place. 
'And look at our party… We are completely united. Completely united.'
On October 21, Wasserman Schultz made an appearance at a small Clinton campaign meeting for volunteers in Gainesville, Florida, the home of her alma mater, the University of Florida. The location of the meeting, the headquarters of the Gainesville Police Department, was likely chosen to deter any confrontation from protesters. However, Sanders supporters refuse to forget Wasserman Schultz's role in rigging the primaries, and made sure to demonstrate that they wouldn't let her off the hook as easily as the Democratic Party had.
Around 20 Sanders protesters showed up with signs outside the event in contrast to the 50 or 60 Clinton supporters attending the inside. A few minutes into Wasserman Schultz's speech, the protesters interrupted her, at which point the regional organizing director for the Florida Democratic Party and former field organizer for Clinton campaign, Omar Rashid, ran up to one of the two protesters and began yelling "Hillary" while fist pumping in their face face. Other Clinton supporters joined in the "Hillary" chant. While there are several constructive ways to de-escalate an interruption by protesters, this certainly wasn't one of them.
Wasserman Schultz continued, going off on a tangent about turmoil in the Republican Party. "It was so heartwarming, how if you look at the two contrasts that we have in front of us. A Republican Party that is in utter chaos. They are in the midst of a chaotic civil war, so much so that I'm not even sure the Republican Party is going to look the way it did before this election cycle started. And look at our party. Even though we had a very contested Democratic primary that lasted a long time. We are completely united. Completely united."
Despite Wasserman Schultz's rhetoric, the Democratic Party is far from completely united behind their presidential candidate.
Clinton bringing Wasserman Schultz into her campaign was a statement that loyalty trumps fairness or leadership ability. For millions of Bernie Sanders supporters, as long as Debbie Wasserman Schultz and similar politicians are allowed to serve in Democratic Party leadership roles, the party will remain divided between corporate interests and the interests of working and middle class Americans.