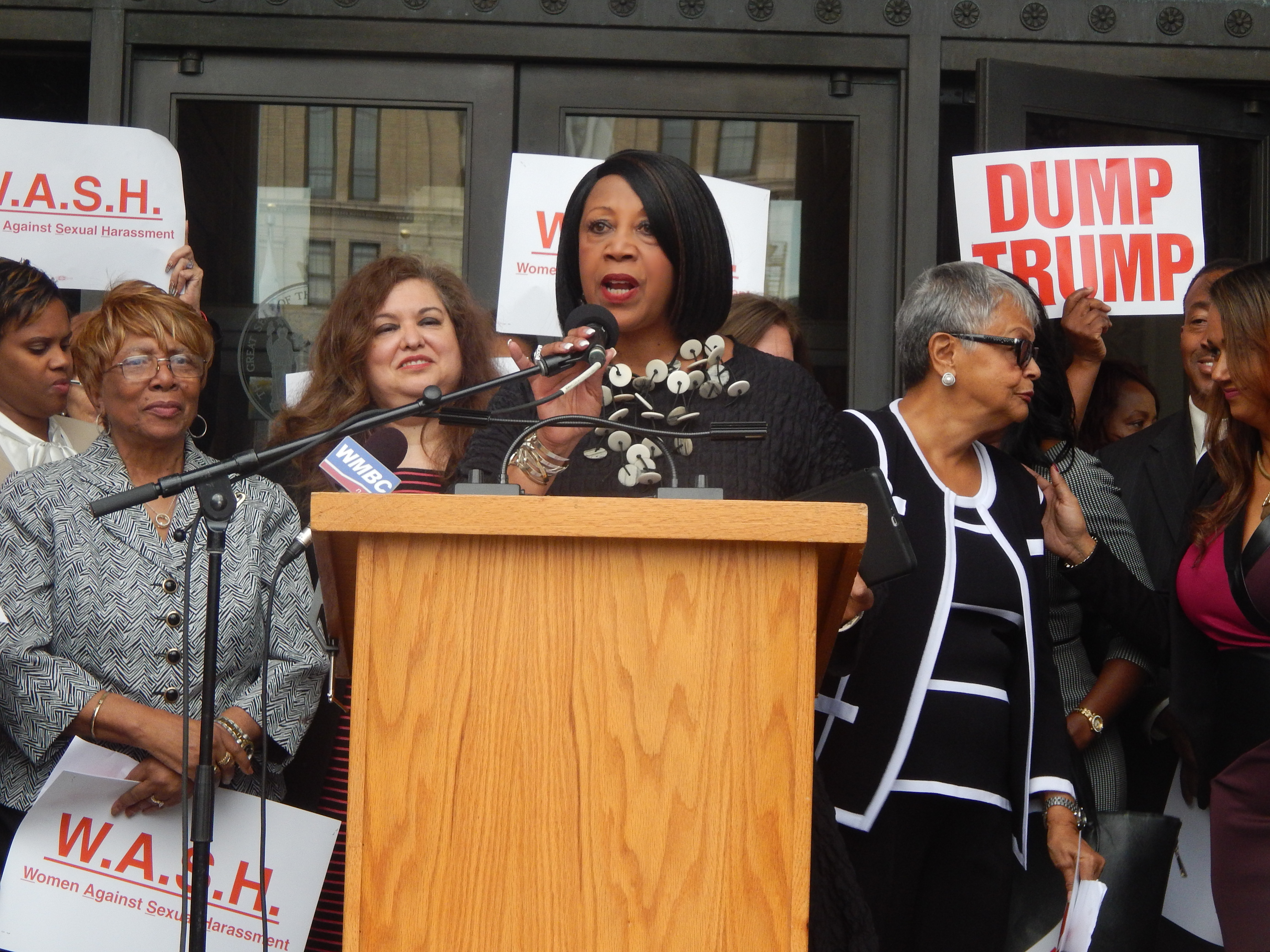 TRENTON, N.J.—They came from all corners of the state in black SUVs with government plates, racing over the swamplands to stand in solidarity and dig a high heel in the rump of the sagging presidential campaign of Republican Donald Trump while swatting away with abandon at a 21-percent-approval rating ragged Governor Chris Christie.
They were women from the Democratic Party, incensed over the hot mic video of Trump demeaning their gender, standing together on the Statehouse steps and in the name of those women who have since come forward to allege sexist misbehavior by the GOP nominee.
"Contrary to what Donald Trump believes, this world is not so small as to revolve only around him, and our bodies are not his playground," said U.S. Rep. Bonnie Watson Coleman (D-Mercer). "It doesn't matter if we are the most gorgeous or the least gorgeous, or the sharpest or the least sharpest. It's not about that with him. It's about the abuse of power and absolutely no respect for who we are.
"Women are standing up against sexual harassment," she added. "We're going to wash this out and we're going to wash him out."
They had a special message for Christie, an early backer of the billionaire real estate tycoon and chair of Trump's transition team.
"Governor Christie, stand up and dump Trump," said Senator Nia Gill (D-Esssex).
The numbers of WASH (Women Against Sexual Harassment) included Watson Coleman, former Speaker Sheila Oliver (D-Essex), Democratic State Committee Vice Chair Lizette Delgado Polanco, Gill, Marcia Marley of Blue Wave, Communications Workers of America Chief Hetty Rosenstein, Assemblywoman Shavonda Sumter (D-Passaic), Assemblywoman Annette Quijano (D-Union), Assemblywoman Cleo Tucker (D-Essex), Assemblywoman Eliana Pintor Marin (D-Essex), Assemblywoman Liz Muoio (D-Mercer), Assemblywoman Blonnie Watson (D-Essex), Assemblywoman Angela McKnight (D-Hudson), Essex Freeholder Britnee Timberlake, Newark Councilwoman Gayle Chaneyfield Jenkins, North Plainfield Councilwoman Keiona R. Miller and Tammy Murphy, wife of Democratic gubernatorial candidate Phil Murphy.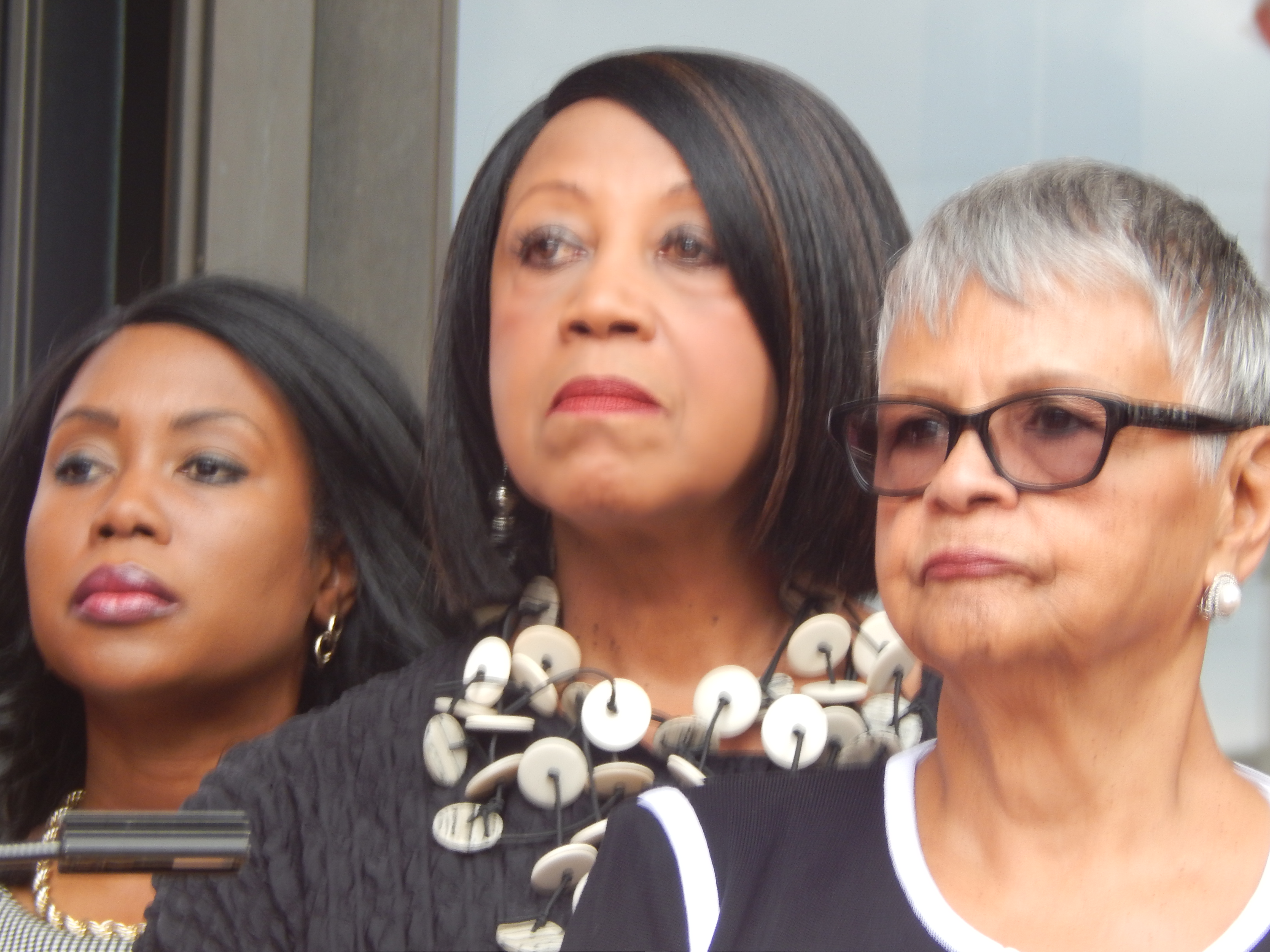 "We are here today with the men who support us to say in New Jersey: 'We will not be denigrated, disrespected, minimized, objectified and victimized," declared Oliver.
Men stood with them too, including state Senator Ronald L. Rice (D-Essex), Assemblyman Reed Gusciora (D-Mercer), Assemblyman Andrew Zwicker (D-Middlesex) and Lionel Leach of the CWA.
Rice brandished a sign that read PUSSI (People United to Stop a Sexist Idiot), and two men with Trump and Christie masks hovered in the crowd.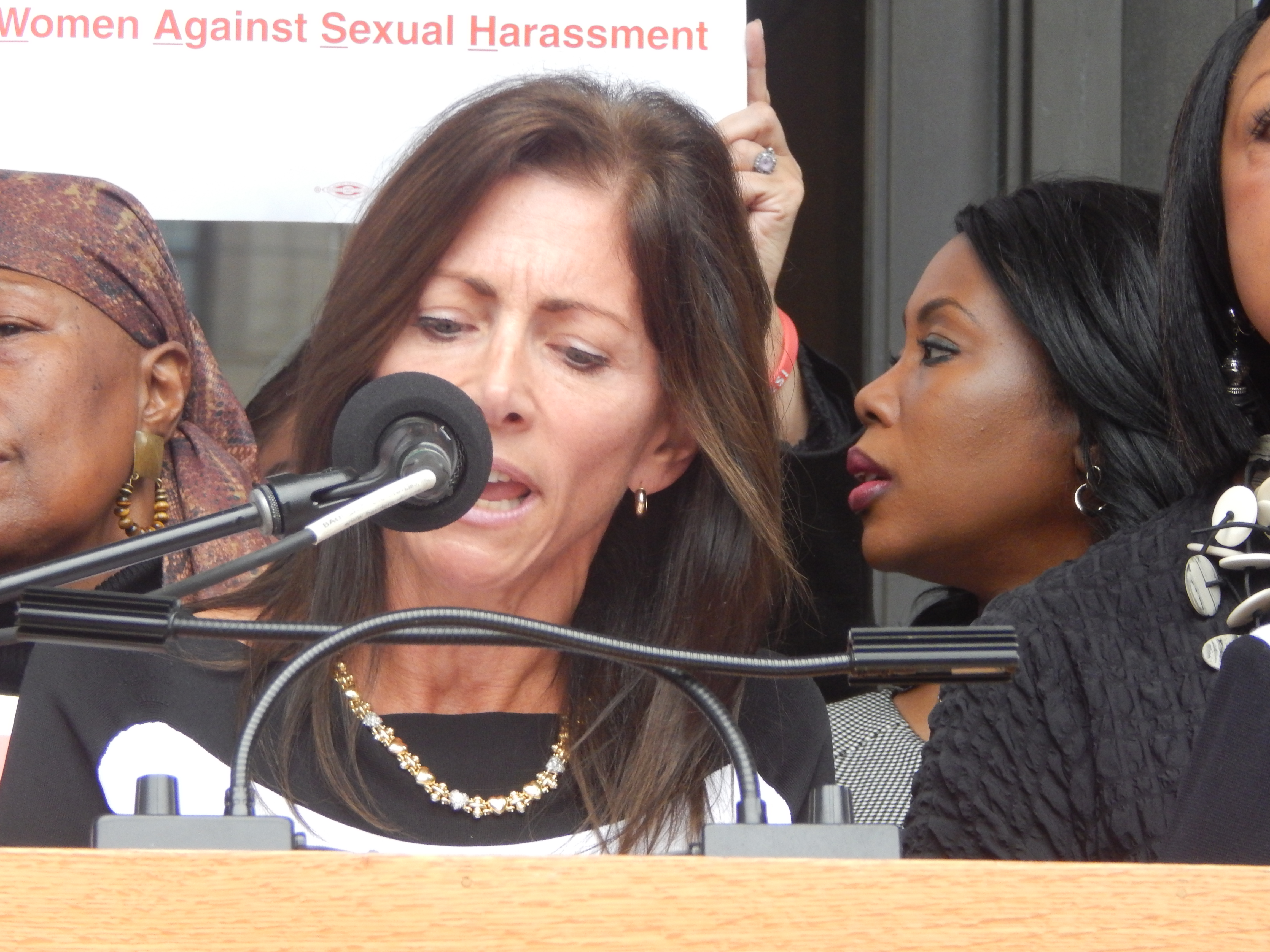 Watson Coleman told PolitickerNJ after the rally that if Christie can't relieve himself of Trump he needs to resign the governorship of New Jersey.
[youtube=https://www.youtube.com/watch?v=Vlyf8Ag4VdM&w=560&h=315]