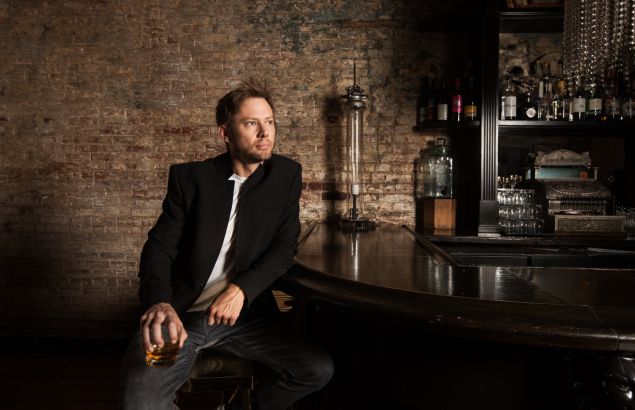 Eagle-eyed television fans noticed the new face on Westworld this weekend. Jimmi Simpson has made a career playing outcasts, freaks and weirdos: most notably on shows like House of Cards (where he was the hacker with the guinea pig), Breakout Kings (as a gambling addict con man) or It's Always Sunny in Philadelphia (where he's part of the incestuous, milk-guzzling McPoyle clan). Coming off a limited-engagement run of Empathitrax at HERE Theater in New York, Simpson sat down with the Observer to discuss what happens when the weirdo gets to become the hero.
How often do you get recognized on the street, here in New York? I'm a character actor, generally. So what I get is people more thinking that they know me. Maybe they think they went to high school with me. Which I don't mind. In my opinion, I fell into acting accidentally, after I was trying to get a regular business degree to live a life. I never dreamed of being an actor. I still don't want to…"shine forth" in front of people. I can't believe I work as much as I do. I'm more successful than I expected to be. Each job, I thought it would be my last, and I was fine with that. So I'm amazed that it keeps coming.
The world of TV and film will never run out of the need to have someone play the weird guy. Like Gavin Orsay, the hacker from House of Cards. You had that guinea pig, Cashew!
That job was so perfect, in terms of where I was in my life. I had just gone through a divorce (from Togetherness' Melanie Lynskey). It was as amicable as a divorce could be. It was a twelve year relationship, so for me I was rebuilding my entire identity. I was tanking every audition. I could not wrap my mind around that artifice. I was so in touch with how much pain I was in at all times that I couldn't pull out of it. You know, rarely brushing my teeth. Just in my place, cocooning. And you don't realize you're cocooning. You just think you are slowly dying. But it's not the case. After like a year–and I had my brain opened, and my eyes open as well, looking at the things I could have done better–and thinking and thinking and thinking, I started to have a little clarity. Six months after that, I was asking "Am I happier than I've ever been?" Just having that adult clarity, that I think can maybe only be achieved on your own. Because god, the security of another is beautiful. And that's definitely something to look toward. But I had not had adult individual time. And…holy shit. It's an essential part of a full life, I think.  So I tanked my House of Cards audition. But the lovely casting agent for the show, Laray Mayfield–who also cast me in Zodiac–gave me another shot. That's so generous. Nobody does that. Either you land a role or you don't. And I didn't land Gavin. But she called and said "Come try again."  And getting a role like that on a show people cared about was an essential step to me believing in myself after such a huge life change. 
Or, on the other end of the spectrum, Liam McPoyle, from It's Always Sunny in Philadelphia.
Well, Charlie Day and I were roommates on the Lower East Side. We did Williamstown Theatre Festival together, just coincidentally, and really hit it off. I was kind of stunned by his comedic talent. I just didn't know any actors, and to see this kid bouncing around, where every single thing he did made me laugh. I attached to him. He had a place, down on Orchard and Delancey, and needed a roommate. Now it's super cool; back then, it was Chinatown. We holed up in there and did nothing but work on each other's auditions. Most nights, we would break out my video camera and shoot ridiculous sketches. My Liam McPoyle character existed in that stuff. When Charlie got the show, he said, "Hey, do you want to do one of your weird guys for this thing?"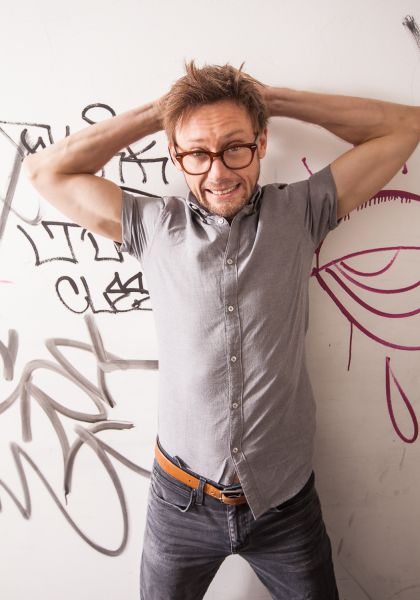 Your character in Westworld, William, is very different from the roles I associate you with. As this sweet, almost innocent guy, you're playing against type.
See, I don't read the trades or anything, so I didn't know when I went in to audition that they had shot a pilot the year before with Anthony Hopkins. I didn't know any of that. I have my head in the sand a little bit in that way. And I get to the set and it's so huge. And then the creator [Jon Nolan] comes up to me and says, "You've got a real nice part." 
I had seen the film, with Yul Brynner. It's lovely and funny and weird and scary. But what the show has done…it's like they've taken this lotus and made it blossom in ways you've never seen.
Most pilots, they plant their flag, and then either march off, or limp off, into a direction. I didn't know how Jon Nolan could improve on the pilot. But a couple months ago, they screened episodes one and two for the cast and crew. I saw the first episode, and thought, "There it is! The most beautiful show ever made!" But instead of limping off, the second episode went…[makes explosion noise]
All these doors you see crack open in the pilot, you'll see them crack just a little bit more. You start seeing that "Oh my god, this is going to be an experience." And then I show up, man…[laughs]
It's so strange. Aaron Sorkin, Fincher, Beau Willimon…these guys all gave me the chance to do things that weren't just straight comedy; that weren't just goofball roles. But in Westworld? I'm finally a three-dimensional man. I have the opportunity to play a human, emotional, feeling, adult man. And I feel so flattered, and so surprised. 
So spoiler! You are human?
Yeah. It's pretty clear. I'm just besides myself with how beautiful the show is, and how I get to be a part of it. 
Let's talk a little bit more about this other side of yourself. For the most part, whenever I've noticed you in a role, you are playing the creepy, weird guy. When I saw you in Empathitrax, I had this thought, "Wow, he's actually very attractive!" Do you feel you get typecast a lot in off-putting roles? Is that something you can get some cognitive dissonance about?
[Laughs] Well, I think everybody cleans up O.K. Truly. The fact that my vanity isn't so much that I can't comb my hair forward, put on the unibrow, get drenched in the sweat, or be gross or annoying. I was all for it when they gave me my eye patch on It's Always Sunny.
Which, like Westworld, has a very milk-heavy plot…
You know, more often than any drinks being passed down my way at the bar from a stranger, I'll get someone who orders me a glass of milk.
What kind of bars are you hanging out at, that there is just milk on the menu? That's very Clockwork Orange.
 I don't want to ruin the illusion, but I'll always ask for soy milk. Like, I will drink milk, but I can't drink it all day, if you know what I mean. ν