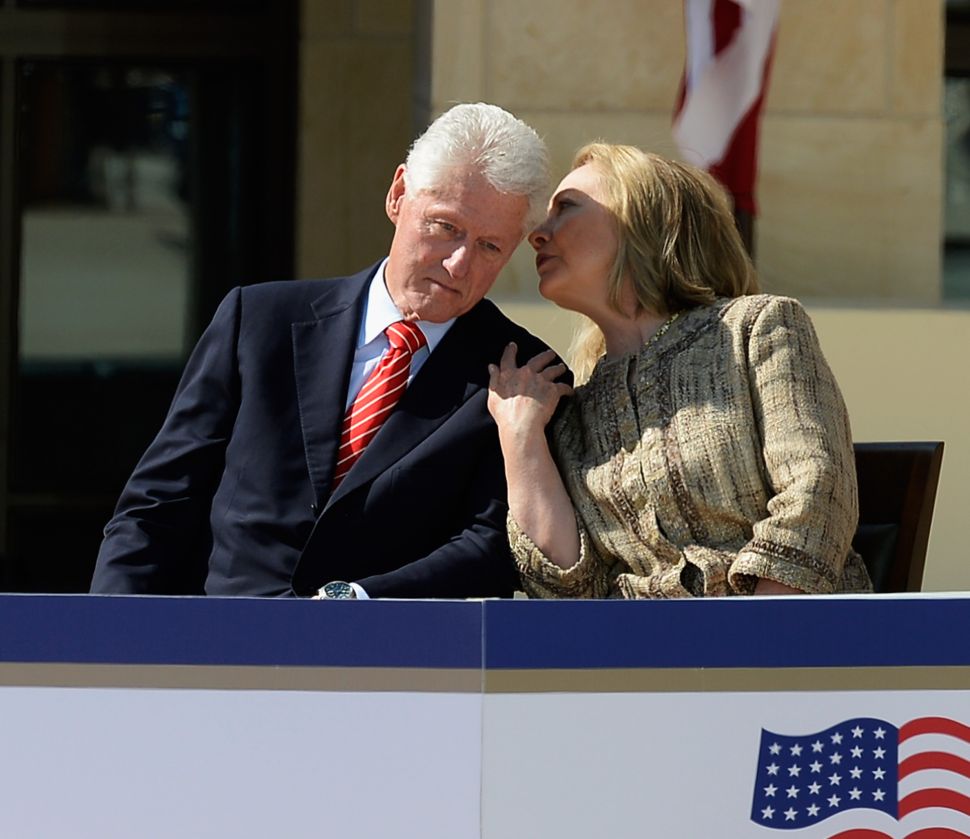 The New York Times' release of Donald Trump's tax returns have served as a source of distraction from scrutiny of Hillary Clinton—for the time being. But with election day only a few weeks away, Clinton somehow continues to successfully dodge upholding the kind of transparency that is standard for presidential candidates. Trump's caginess about how rich he is is not a viable excuse for Clinton avoiding a release of her own records.
"In the world I have chosen and they have chosen, transparency is the reality. If she doesn't do these things, it allows people to ask these questions," said Congressman Mike Capuano in an interview with Boston Herald Radio on October 4. Capuano then called on Clinton to release the transcripts from her paid speeches to several Wall Street firms. It has been over 242 days since Clinton first said she would look into releasing the speeches after Sen. Bernie Sanders suggested that she should, as proof of her seriousness about Wall Street reform. She has not done so.
Clinton has also benefited from avoiding sharing several other documents. On October 4, a federal judge rejected a lawsuit filed by Judicial Watch to demand the release of criminal indictment drafts created by Clinton prosecutors in the 1990s, but never issued. While partisan Democrats invariably cite the Whitewater scandal and the litany of other Clinton scandals as right wing conspiracies, they fail in their dismissal to explain why Bill and Hillary Clinton have provoked so many scandals, yet Barack and Michelle Obama have managed to avoid any.
President Obama has, however, served as an accomplice to Clinton's avoidance of transparency in order to help her win the election. In October 2015, he blocked the release of emails between then-Secretary of State Clinton and himself, citing the need to keep them confidential. In one of the recent FBI reports from the investigation into Clinton's private email server, Clinton aide Huma Abedin expressed disbelief that emails between Obama, who used a pseudonym, and Hillary Clinton, weren't classified. In June 2016, the Obama Administration blocked the State Department from fulfilling a Freedom of Information Act (FOIA) request for Clinton's emails regarding the Trans-Pacific Partnership agreement (TPP) to International Business Times before election day.
"The delay was issued in the same week the Obama administration filed a court motion to try to kill a lawsuit aimed at forcing the federal government to more quickly comply with open records requests for Clinton-era State Department documents," reported journalist David Sirota.
Thousands of Hillary Clinton's emails won't be released to the public before a new president is chosen. In late September, Politico reported, "The State Department has found about 5,600 work-related emails relevant to Hillary Clinton in a set turned over by the FBI at the end of its investigation into her private server setup, but it appears only about 10 percent of those will be processed for release to the public in advance of the November election." Vice News' Jason Leopold has also put in several FOIA requests for emails from Clinton's aides on a variety of topics, all of which won't be released until… after election day.
The Washington Post, The Atlantic, Wall Street Journal, Democracy Now!, and several other media outlets have dubbed President Obama's administration the least transparent in history for their constant stonewalling of FOIA requests. Before Clinton steps foot in the White House, she is already vying for this title—and it's not because of the media, as Clinton partisan journalists have suggested.
"Back in the mid-1990s, Bill Clinton relied on a series of Machiavellian spin doctors to keep the press at bay," wrote Jonathan Allen for Vox in July 2015.  "With the Clinton White House, the modus operandi was to stonewall as long as possible, lie if necessary — or just out of habit — and turn questions around on the questioners. After all, Bill Clinton once wagged his finger at a press conference and told reporters, 'I did not have sexual relations with that woman … Ms. Lewinsky.' He'd lied in a deposition, too."
Hillary Clinton utilized a similar Machiavellian ingenuity to coalesce the Democratic Party establishment around her to secure the presidential nomination, while providing her with protection during a FBI criminal investigation. As president, Clinton will likely continue this disregard for transparency, inciting more scandals, as her insistence for privacy as a public official will always merit investigation.