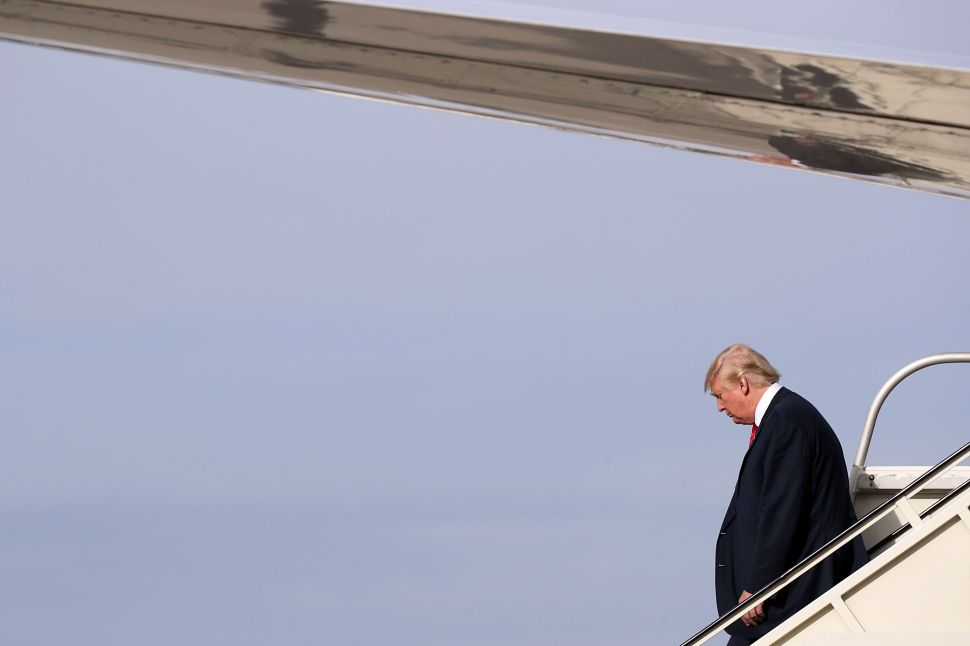 With the investigation into mishandling of classified information under Secretary of State Hillary Clinton back on, those Republicans who rejected Donald Trump must now ask themselves if Clinton really is a better option.
Because right now we're back to the "no good options" argument.
On Friday, FBI Director James Comey sent a letter to congress informing them that new emails are being looked into as part of the investigation into Clinton's private email server that concluded back in July. Back then, Comey told the American people that "evidence of potential violations of the statutes regarding the handling of classified information," but that Clinton and her aides didn't intend to violate the law and "no reasonable prosecutor would bring such a case." (Who would dare go up against the Clintons?)
Democrats cheered, and began lying to the American people that the FBI investigation found nothing or otherwise cleared Clinton.
Flash forward to Friday, when Comey sent his letter.
"In connection with an unrelated case, the FBI has learned of the existence of emails that appear to be pertinent to the investigation," Comey wrote. "I am writing to inform you that the investigative team briefed me on this yesterday, and I agreed that the FBI should take appropriate investigative steps designed to allow investigators to review these emails to determine whether they contain classified information, as well as to assess their importance to our investigation."
"Although the FBI cannot yet assess whether or not this material may be significant, and I cannot predict how long it will take us to complete this additional work, I believe it is important to update your Committees about our efforts in light of my previous testimony," he added.
That "unrelated case" turned out to be the FBI's investigation into disgraced congressman Anthony Weiner's sending of sexually explicit messages to a 15-year-old girl. In the course of that investigation, FBI agents seized a computer belonging to Weiner, and discovered emails belonging to his estranged wife and Clinton aide Huma Abedin.
Some of these emails appear to be new to the FBI, and they are trying to determine whether Abedin withheld evidence from the Bureau during its investigation into her bosses emails. So to be clear, this new investigation isn't directly about Clinton, it's about Abedin, but Clinton was the one who used the private server and oversaw the "culture" of the State Department that was "lacking in the kind of care for classified information found elsewhere in the government," as Comey put it.
It also speaks to Clinton's ability to surround herself with good people. We know Clinton and her staff were "extremely careless" (again, Comey's words) when it came to classified information, but now there's a discussion of whether one of her aides withheld information from a federal investigation. That's definitely a liability for her.
So the question becomes whether prominent Republicans who announced (or might have announced, in the case of George H.W. Bush) they would endorse Clinton will be able to continue to claim that she is the better choice in this election.
Columnist George Will left the Republican Party over Trump's nomination, and said Republicans should "grit their teeth" under President Clinton and set their sights on 2020.
Former Secretary of State Colin Powell (who claims to be Republican but has endorsed President Barack Obama in 2008 and 2012), has also endorsed Clinton.
"She is smart. She is capable. She was a good secretary of state," Powell said at an event in New York last week. "She is balanced, she has temperament, and no matter what anyone says she's got stamina."
He added: "I think she is fully qualified to serve as the president of the United States and I think she will serve it with distinction."
Does Powell still feel that way after Comey's letter? Also, how did Powell feel this way after everything Comey said back in July? Clinton might not have been indicted, but Comey made it very clear she is incompetent.
Bush, while speaking at a private event, allegedly told people he was going to vote for Clinton, although neither he nor his aides have confirmed (or denied) the report.
These Trump rejectionists contributed to the narrative that Trump is unacceptable, but can they really still say Clinton is acceptable? The FBI is unlikely to conclude it's new investigation before the election, meaning Clinton – if she wins – would enter the White House with an ongoing FBI investigation. Granted, Trump has problems of his own regarding lawsuits, but he is not under FBI investigation.
So what to these and other prominent Republicans who said Clinton was the more pragmatic, fair-minded choice do on election day? Do they just sit out? Or do they still think our country would be in better hands with Clinton?
There's certainly a difference in the two candidate's personalities, but it's hard to see which might actually be worse for America.
Disclosure: Donald Trump is the father-in-law of Jared Kushner, publisher of Observer Media.