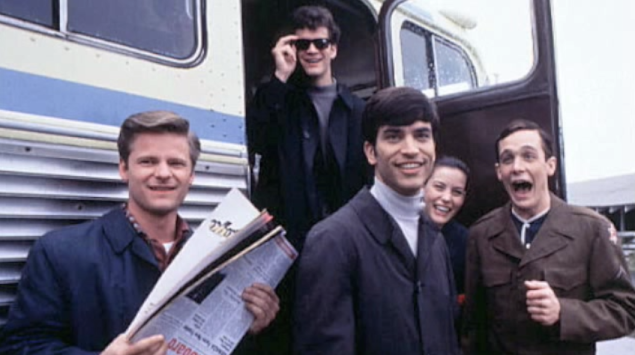 There's a fleeting moment that happens early on in That Thing You Do! when nostalgia shifts from wistfulness to regret.
Tom Hanks' chronicle of fictional early '60s rock 'n roll band The Wonders begins in Eerie, Pa., and centers around aspiring drummer Guy Patterson as he works less and less at his father's appliance store once he becomes a member of the band. After hearing an ad for a shoe-polishing kit on the radio, his father grumbles, "people can't even get out a rag and a brush anymore." It's one of the many moments in the film reminding us that, even back during the good old days of Norman Rockwell's Main Street, U.S.A., soda fountains and sock hops, people were already pining for a purer past.
I'm thinking about this all because even though That Thing You Do! turned 20 yesterday, its scenes of Eerie circa '64 remain timeless. And timelessness is a quality we look for in our classic films, of course, a quality ageless and enduring.
Tom Hanks supposedly wanted The Wonders to have a dash of The Beatles, a dash of The Stones, and a dash of his favorite group, the Dave Clark Five. The fact that this began as a vanity project with a script Hanks wrote in 30 days while promoting Forrest Gump further suggests his mind was in a distinctly nostalgic place about America, and it shows.
[youtube https://www.youtube.com/watch?v=7o40za1wAlI&w=560&h=315]
Patterson's uncle Bob records their breakthrough, eponymous single between his regular gig recording church choirs, and he quotes Luke 21:19 to them in a good, old-fashioned lesson about patience. Their television debut is proudly sponsored by "Chemstrand, a division of Monsanto" in a superimposed logo at the beginning.
Steve Zahn makes his debut as the second guitarist with a taste of the trademark comic naiveté his characters would soon come to epitomize, and pushes The Wonders to sign with their first manager as they sit at a table in the manager's trailer on the street. "A man in a really nice camper wants to put our song on the radio!" he proclaims in awe.
In this tale of ascension, there's always one person at every show who has the opportunity to make The Wonders even more popular, to give them an even greater success—the promoter at the talent show, Tom Hanks as the Playtone Records label head at their first official gig, the biggest DJ in the country at a stop on their county fair tour. Land of opportunity, indeed.
This is the America that people miss when they pine for  "the good ole days," and I get it.
Who's debuting their band at the high school talent show anymore when the school is constantly on lockdown and patrolled by armed guards? Remember when a "clothes make the man" mentality was a charming demonstration of status, and not considered to be profiling?
[youtube https://www.youtube.com/watch?v=YRvWtCYTaCU&w=560&h=315]
"We're gonna get you nice suits," explains Tom Hanks' Mr. White after signing them to Playtone. "Nice suits because you're nice boys." He later decides that Guy Patterson will assume the role of bad boy drummer and requires him to wear sunglasses in public. When the hysterical fan girls see him, they scream, "We want Shades!"
But was the America depicted here really that idyllic and pure? It was as pale as the white picket fences of Levittown, for sure. The only black people in this movie are the singers in the Playtone Records doo-wop girl group and the legendary jazz pianist Del Paxton, who Guy idolizes. When he finally meets Paxton in a smokey jazz club that his doorman (sorry, he's the other black character) recommends, Paxton submits to the role of mythical, old wise Uncle Remus as he delivers the film's climactic lesson—"Ain't no way to keep a band together, bands come and go, you gotta keep playin."
These are the caricatures that reveal the movie largely to be more "good ole days" nostalgia than faithful period piece. But those two little moments I mentioned—Guy's father's assertion that a shoe polishing kit symbolizes the decline of American exceptionalism and Monsanto's sponsoring of a prime-time variety show—are simultaneously nostalgic and emblematic of why the times have changed.
That Thing You Do! portrays an America that was only great because pervasive industry had not yet completely corrupted small-town America—not the black or brown people, not the immigrants, but the business class.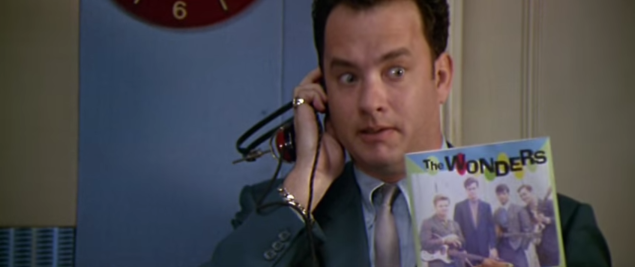 The toothless rallying cry of "they took our jobs" is all too common these days, and you don't have to read between the lines to know who "they" are. But what if in place of Middle America's prejudices and racism, "they" became agribusinesses like Monsanto whose GMO seeds and Roundup put thousands of farmers out of business? What if "they" became the National Association of Broadcasters and their monopoly on terrestrial radio stations that keeps America in the same league as Iran, China, Vietnam, Rwanda and North Korea, where performers earn nothing when their song plays on the radio? After all, Aretha Franklin earns nothing each time you "Respect" on the oldies station.
With That Thing You Do!, Hanks captures a crucial point of infrastructural shift in our nation's history when both the agribusiness and the music business were on the rise, and America's illegal war in Vietnam demonstrated the military industrial complex of a country that was comfortable sending its youth off to die for profit.
But with only a few fleeting references to these outside threats, the film's idyllic, Main Street Americana owes all its musings on economic and cultural prosperity to the lilywhite characters it focuses on. And those characters, like all prosperous Americans in "the good ole days," were feeding into the same infrastructural models that screwed workers over in the long run—be they farmers or musicians.
For all its numbing comforts, sometimes nostalgia carries the price of distorting what really went down.