In December last year, we—The Tempest Two—pushed off Gran Canaria in the Canary Islands on a voyage across the Atlantic Ocean. We decided to head west across the Atlantic towards Barbados, in a rowing boat, with no support to speak of. We had no experience in either rowing or sailing, but we were determined to succeed. We arrived in Barbados in February 2016, after rowing 3000 miles, having learned a lot about both life on-board and life back home.
When we met five years ago working for Red Bull, neither of us could have foreseen rowing across the Atlantic Ocean together.
The idea to row across the Atlantic originated, like most good stories do, in a pub back in July 2014. Tommy was celebrating his mother's successful Atlantic Crossing earlier that year, and felt totally out-done. After searching online and discovering that ocean rowing is considered one of the toughest feats in the world Tommy sent a text message to James, who was also in a (separate) pub at the time. James accepted the challenge immediately and The Tempest Two was born. The first reactions from friends and family was that of disbelief and doubt, which added to our motivation into proving these people wrong, and making the crossing a success.
We made the decision to raise funds and awareness for two worthy causes: brain tumor research and Make a Wish foundation. We successfully y surpassed our target almost immediately and eventually raised £30,000.
Throughout our crossing on the Atlantic, we began to realize our mindset was of key importance. We could spend our time stressing about bad weather, lack of progress and potential hazards, or we could demonstrate a positive attitude and appreciate how lucky we were to be on an epic adventure.
As soon as we realized that we could not control any of the external factors, we could only control how we reacted to these, a weight was lifted and our outlook changed for the better. The obstacle became the way, and there was no changing that.
Here are some of our key takeaways and what we learned from our 54 days at sea: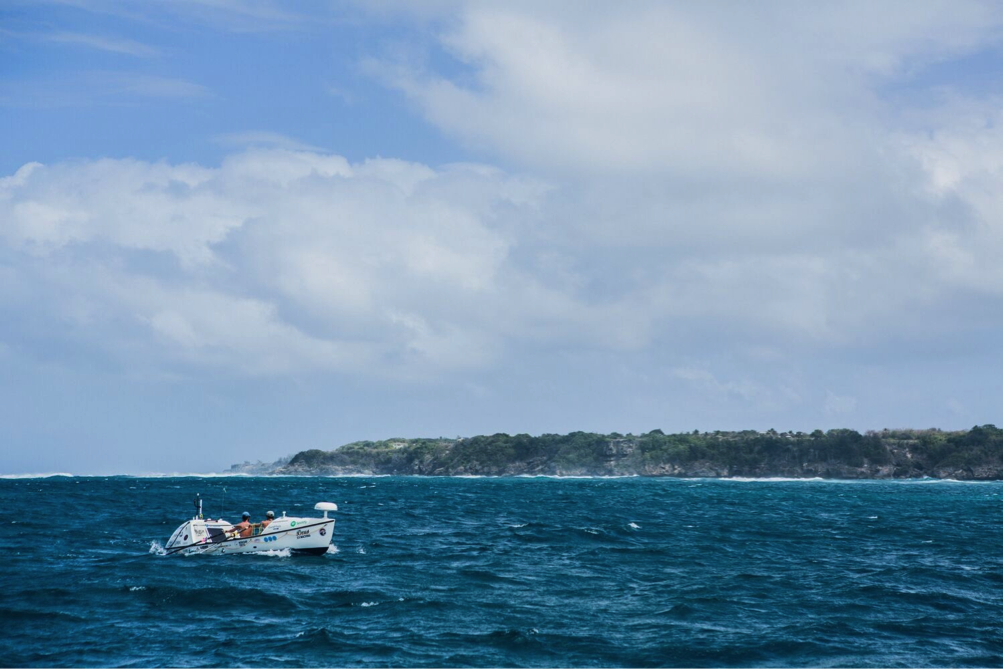 1. Learn by doing
Being thrown into these crazy situations with no reference point or predetermined judgement is sometimes the best way to learn. We could not train for a hurricane, what to do in the event of capsize, or severe sea sickness, so we learned in real-time and grew into the voyage, arriving in Barbados as legitimate ocean rowers.
2. The Obstacle is the (only) way
We had to learn to embrace obstacles—there was no other option for two guys stuck on a 23 foot long rowing boat in the middle of the ocean. Our reaction to a situation was the only thing we could control. We learned quickly to make our reactions positive and constructive, as anything else would ruin life on board. For example, when we were capsized in the middle of the night in 50 foot swells, we decided to embrace the experience. It was a defining moment of our voyage, and we learned more about ourselves and our capabilities in those two treacherous hours than we had over the previous two decades.
3. You are what you eat
Rowing 12 hours a day requires a large amount of energy. During the first two weeks, our eating habits were way off-point and we fell asleep numerous times in 50 foot swells simply due to poor nutrition. Our bodies hit a wall, and the off-switch was flipped. There's nothing quite like a breaking wave to the face to wake you up to the fact that poor nutrition leads to all kinds of performance miscues. Fuel is the key.
4. Get away from your classic routine
We quickly discovered that the isolation of the Atlantic freed up our minds, creating extra time to focus and think, which made the middle of the ocean a highly productive place to be. It was here we committed to taking The Tempest Two full-time. Our thinking was clear and unpolluted by the fumes of everyday city life. Between rowing shifts we would both keep a journal with pages dedicated to business ideas and how we envisaged The Tempest Two developing. Companies routinely spend large sums of money for off-site retreats for their staff to evoke creativity—we were on our own off-site retreat, just a little more remote than usual! Our surroundings and the sheer amount of time together, forced us into a creative mindset for our sanity's sake, and it was these conversations that lead to where we are today.
5. It's knot important
It took us the better part of two months at sea to figure out a bowline from a figure 8, and the classic schoolboy knot, but they were required all the time and are useful off the boat, too.
6. Surround yourself with the best
Spending two months at sea on a tiny boat with another person, in a high-pressure environment can lead to friction. We were told on numerous occasions before departing that we would 100% fall-out and end up resenting each other. This was not the case. We had no arguments or fall-outs during our 54 days at sea. Our joint naivety heading into the voyage was a blessing, and it united us. Preconceptions and egos played no role, and everything was a new experience to us which we worked together to overcome. Our journey was one of huge personal growth, and more importantly, a whole lot of fun. Our business now follows this ethos, as we work together to grow our passion, both with the same goal, and both looking out for the other 100% of the time.
7. Advice is great, but it's pointless if you don't back yourself
People have crazy ideas all the time, but most fade away due to lack of confidence or the negative words of others. We were told from day one that our dream could not be achieved, and we would be putting ourselves in danger. "Are you crazy? You don't even row!" We used this as fuel for our fire, and backed ourselves beyond the opinion of others. There will always be haters in life, but they are irrelevant. What is important is how you react to and harness negativity to work in your favor. A belief in yourself and your ability is the first brick in the wall.
8. Danger is a powerful drug
We quickly realized that we would be putting ourselves in some situations that few people had ever experienced. Every moment of real danger helped us grow as a team,  ndour decision-making and natural ability to cope improved day-on-day. You will never know what your boundaries are unless you strive to reach and surpass them. You will be amazed at how far you can go.
9. Rowing is tough
It turns out rowing for two months and more than 12 hours a day is a tough work (who knew?). We trained religiously for 18 months prior to departure, learning how to row. More than just learning how to row efficiently, we also focused on becoming fit, strong, well oiled machines. Neither of us are elite athletes, but were were lucky enough to train with some of the best in the world, who provided strict training regimes for us both. This consisted of hours in the gym, and pushing our bodies outdoors as much as possible.
*****
But now that we have—and now that we've learned these valuable lessons along the way—we will continue to take on adventures around the world: Whether it's racing cable cars in San Francisco or tackling the summits of the French Alps. The ethos of The Tempest Two will always be to live the belief that anyone can achieve the incredible through hard work and a positive mind-set.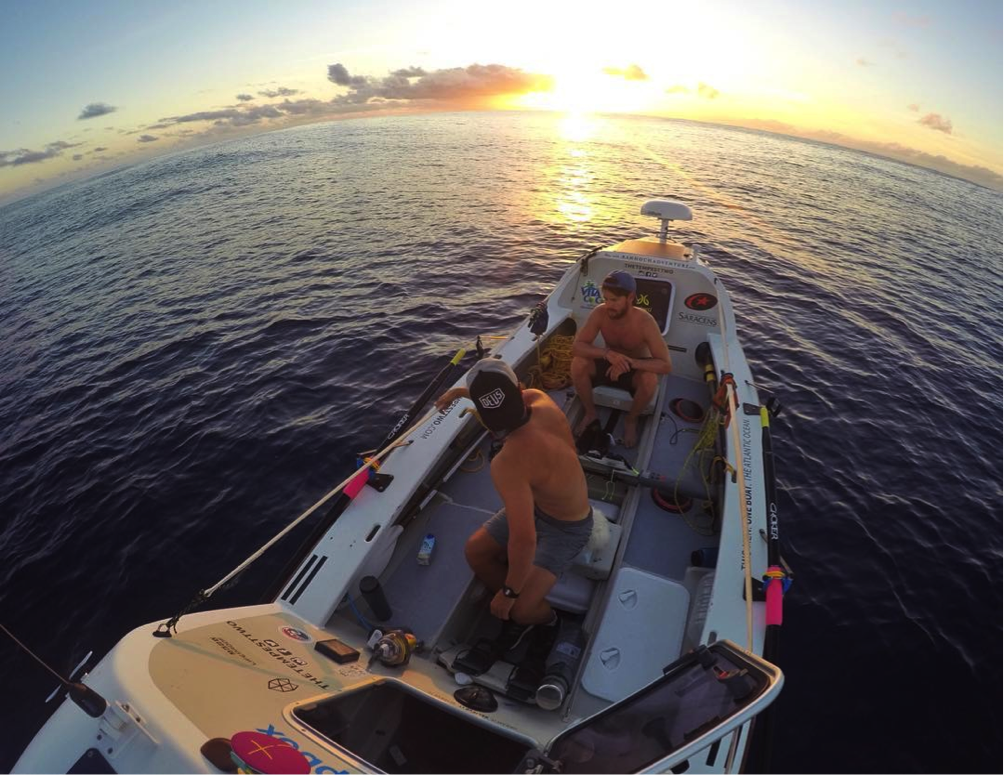 James Whittle studied marketing at university and worked for Red Bull and Vita Coco Coconut Water before forming The Tempest Two with Tommy. James is currently living in North London.
Tommy Caulfield studied journalism at university and worked in marketing at Red Bull, Purity, and Wasserman Experience before forming The Tempest Two with James. Tommy is currently living in Putney, London.