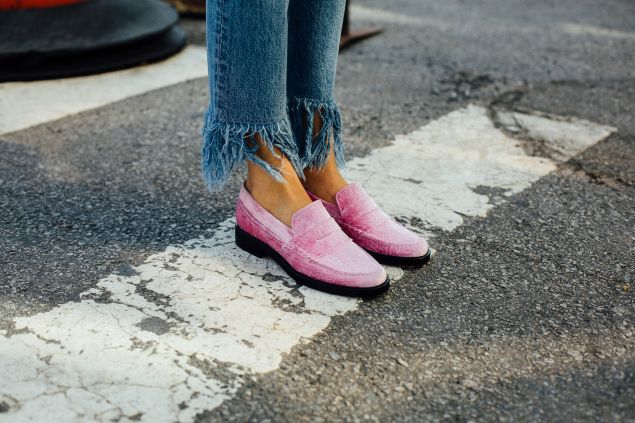 If you're anything like us, you spend at least a few moments per day perusing the interwebs for your next big purchase. Or even a small purchase. Or even some toilet paper (on Amazon). But the fact of the matter is that we're all on the hunt for things to buy. And then there are the pieces you love so much that you add them to your shopping cart, visit them often and never actually pull the trigger on buying them.
Net-A-Porter is a personal favorite site of mine to shop from. It features a clean design, is well-organized, easy to maneuver and is stocked with so many drool-worthy items that I'm sometimes astounded. The site is also a destination for a ton of exclusive merchandise, most of which comes with a cool back story. Here are two of their most recent launches (one is so new that it actually launches tomorrow) for you to buy, drool over, or just put in your shopping cart.
MR by Man Repeller
Though Leandra Medine's website has veered far from the personal style route it was once on, the well-dressed fixture on the New York scene is still known for her loud sartorial choices. So it makes perfect sense that she would branch out by designing a range of her own. Starting with a very colorful 10-piece footwear collection, Medine is thankfully staying true to her herself with these creations. Seriously, even the style names are dry and witty, including the LOL If You Think I'm Walking Sandal and I'm Here to Party Boot.
"I am implicitly interested in footwear–I always have been, but never realized that my interest was driven by something bigger than just how my reflection looks. Shoes are an incredibly escapist accessory for so many women. They're an easy way to feel good by the simple act of looking down, and they're all inclusive in the same way that I hope our media brand, Man Repeller to be," said Medine of the collection.
Launching on October 27, these kicks will arrive just in time for the holiday season. If you happen to wear a pair of pink brocade boots or gold lace-up flats to Thanksgiving, you will definitely give grandma something to talk about other than your nonexistent dating life.
Lingua Franca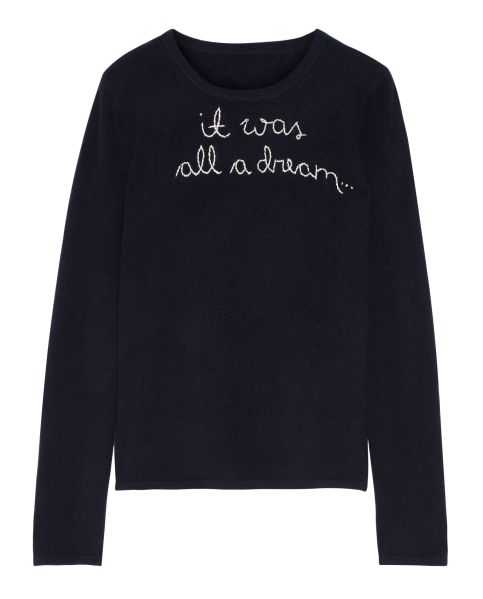 We're going to just admit it: Biggie Smalls lyrics deserve to be embroidered onto a cashmere sweater. That's exactly what's happening via Lingua Franca, a line of sweaters brandished with rap lyrics. Nods to Salt-N-Pepa, Drake and the rest of the hip-hop industry are included in these hand-embroidered creations.
Founded by Guest of a Guest's Rachelle Hruska Macpherson, this collection began as a small project, and this is the first time these designs can be scooped up beyond the Hamptons and NYC.
"We love a bit of humor in what we wear, as do our customers, and we like to have fun with our fashion hence why we fell in love with Lingua Franca," said Sarah Rutson, VP of Global Buying at Net-A-Porter. "I also love that one of my signature sayings to my team, "I've got this," is part of our NET-A-PORTER edit."