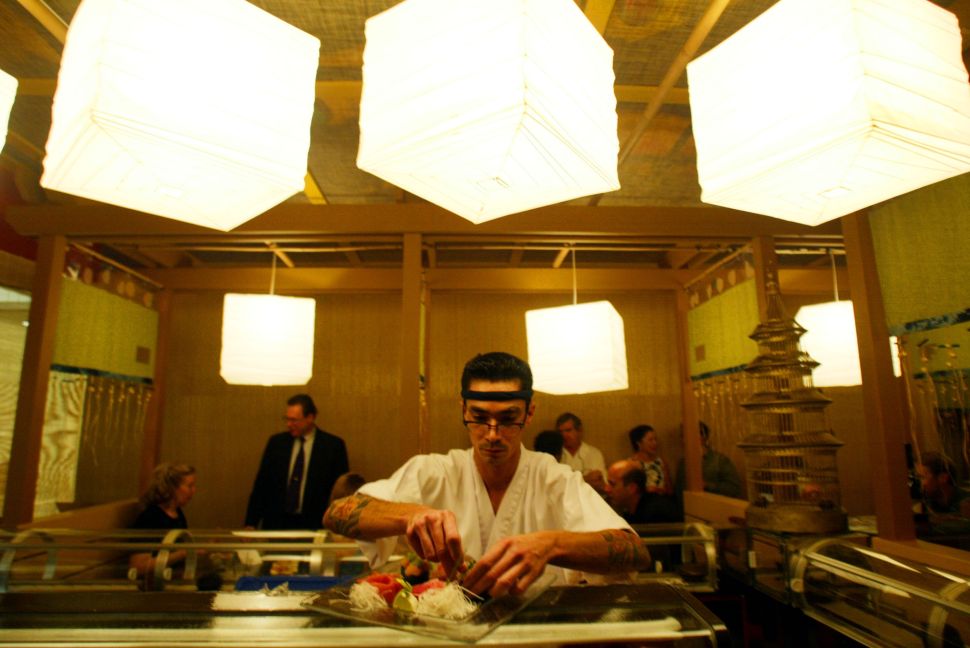 Have you ever been to Benihana? For those who haven't, Benihana is an American-owned Japanese steakhouse chain, where a chef cooks on a steel grill directly in front of you. You and your party sit around a table watching the chef prepare your meal, which he or she serves straight to your plate. Many people love the experience, and it's been an American dining staple for decades.
At Benihana, the chef regularly collaborates with the customers while cooking dinner. Sometimes the chef will deftly flip a knife in the air before chopping up the chicken or will comically toss a piece of meat from the grill to your plate. Often the food lands where it should, but sometimes it doesn't. It doesn't matter either way. Benihana is a collaborative and enjoyable experience—which is why customers return with regularity.
But what makes Benihana unique isn't just the food. Though many love their chicken fried rice or Asian ginger salad, Benihana's appeal is more about community—the shared experience of watching a cook make your meal right in front of you. This collaborative experience is atypical. In most American restaurants, chefs are usually hidden in the back kitchen, out of plain sight. At Benihana, chef directly interacts with the customers.
When you have a business and you're launching an idea or product, you need to think like a Benihana chef. As modern entrepreneurs or professionals in the digital age, you need to "cook" with and collaborate with your customers. It's important to open up your creative processes while making and creating your biggest and best business ideas. You need to let your customers into your creative process, like they're experiencing a meal at Benihana.
When you do this, your customers become collaborators—which is important for two reasons. Reason number one is that when you collaborate with others, they can give you feedback on the work you're doing. Collaborators can constructively help you make your idea or business better, and there is nothing more valuable than honest feedback from a customer or community who is invested in the success of your business. They want you to succeed because it's a mutual win/win if you build something they want to buy.
Reason number two is that when someone else helps you with your business idea, psychologically, they invest their time and effort into helping you succeed. When you let people into your process, they feel a sense of spiritual ownership over your idea. Thus when the product launches or goes to market, the collaborator will intrinsically want you to succeed. They will feel will feel a deeper connection, and want to instinctively will help to reach your goals. Even if you don't agree with the person's feedback, by simply listening to them, they will help you make not only your product better, but also make your business better and more successful.
By letting your customers in, you assume the position of a Japanese chef cooking a meal for a group of hungry eaters. You need to let your community into the creative process to hear the good, bad, and sometimes the ugly about your product. It will only help you along the way. Moreover it helps you to galvanize your community for when you ultimately need them to help launch your idea. 
Once your idea launches, everyone experiences it together, just like eating your grilled chicken and fried rice at the Benihana dinner table.
Following the Benihana Rule applies to any industry. If you're a filmmaker, you can share storyboards for community feedback. If you're a writer, you can share blog posts with your audience to learn what works. If you're a technologist, you'll share an alpha version of your product to improve the design. And if you're building a company, collaborators can help give you brand feedback to generate more sales leads. In fact, people who collaborate may even introduce you to new business opportunities or become a customer themselves. The community loves to be involved. They want to cook with you.
Did you know that when Twitter launched in 2006, the product didn't include hash tags? A community member named Chris Messina suggested that feature to the founders of Twitter. Twitter also didn't launch with what are now called Re-Tweets, nor did the launch with @replies. But the community of users, who were Twitter's real customers, all gave the suggestions for these features. Now, every single one of those features are not only key elements to Twitter's product, but they are ubiquitous across all social media networks. And those features help make Twitter a more valuable company, and generate important revenues. That can be a powerful thing.
Are you cooking with your customers? If you are not collaborating with your community now, then find ways to start letting people into your process. Whether it's an alpha version of a new product, or letting them read a free advance copy of your book, or taking the time to do a 30 minute user feedback call…By collaborating with your customers, you'll make your work better and find longer term success to help build a success business.
Ryan Williams is a media strategist, international speaker and author of The Influencer Economy. He has given talks and taught at SXSW, Vanderbilt University, USC and Loyola Marymount. You can listen to Ryan's podcast at InfluencerEconomy.com.