Ask any woman what she hates trying to buy, and she will likely mention swimsuits, bras and jeans, as the procedure of trying each on causes more stress than joy. Even Khloé Kardashian, middle daughter of America's most public family, with access to pretty much any designer or maker she fancies, faces difficulty finding denim that actually fits her body. Years ago, she found it nearly impossible to shop for designer denim in her size, which was 30, so she would just stay away from the category all together. Then, when Kardashian went through her well-documented weight loss, she still couldn't find a product to properly hug her famous curves.
"When I started losing some weight and getting fit, I could get into trendier stuff, and I loved it. But I constantly had to alter the back; there was always a gap because I have a bigger booty than a waist. I would get frustrated with that aspect," the reality star told the Observer. So, she followed her sisters down the entrepreneurial route and started a denim company, Good American.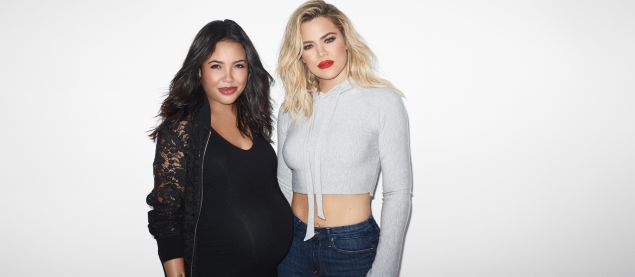 But Kardashian isn't going at it alone. The social media star has partnered with Emma Grede, CEO of the talent and entertainment marketing firm, ITB. The London businesswoman is lauded as a trailblazer in the designer collaboration realm, so it comes as little surprise that she described Good American to the Observer as a business deal. As it turns out, the idea for this brand was originally hers, and she turned to none other than Kris Jenner to get it off the ground.
"I've worked with Kris for the last couple of years and asked if we could sit down with Khloé [to] talk about what I wanted this brand to be and what the ethos was behind it," Grede said. Not long after that talk, Kardashian agreed to the partnership and Good American got started.
If you're wondering, yes, this venture is marching on despite Kim Kardashian being robbed at gunpoint just a few weeks ago during Paris Fashion Week. For this business-savvy family, the show must go on, even though the fate of Keeping Up With the Kardashians is still up in the air.
Plus, Kardashian's fans—57.3 million on Instagram and 22.2 million on Twitter—are practically begging for these wares, despite the famous family already selling items in almost every product category: a beauty range for Ulta (plus a rather famous Lip Kit by Kylie Jenner), clothing lines for Topshop, Pacsun and Babies 'R Us, various high-grossing mobile apps and a chain of boutiques.
On one of Kardashian's Instagram posts teasing Good American in early October, commenters echoed the need for denim that works with, and for, their body types. They cheered the brand's imminent arrival, writing, "Maybe I can finally find pants that fit" and "I actually really want to try these!" In an era where the average American woman wears between a size 16 and 18 (up from previous estimates that the average was a size 14) the struggle to find cute and well-fitting clothing is real.
Grede and Kardashian had no desire to label Good American a plus-size brand, even though it extends from size 0 to 24. "I believe you should have stylish clothes that are beautiful for all types of women and not make someone feel ashamed for going to the plus-size section or to a certain store," explained Kardashian. Instead, she hopes to ignite a denim revolution.
To do so, the co-founders hosted focus groups, where real women shared their complaints about too-short hemlines or saggy backsides. As a result, Good American denim comes equipped with a contour waistband, which Kardashian said will "serve as a [built in] belt," eliminating her much maligned waist gap issue. The pants feature curved seams, rather than straight, allowing for a more flattering fit. The fabric itself is luxurious, putting this brand, which will be sold on its own website and in Nordstrom stores, in direct competition with haute designer denim.
At launch time, Good American will offer only three denim shapes, all of which feature a positive style name, made from start to finish in Los Angeles. Good Legs will be a classic skinny jean, offered in regular and cropped lengths, Good Waist is a high-waisted option; both are Kardashian's favorite styles from the range. Grede is a fan of Good Cuts, which is the brand's take on a boyfriend jean. The loose style was constructed to emphasize your backside, rather than looking like "your boyfriend's ass," Kardashian deadpanned.
Positive reinforcement aside, it seems the most strategic move that Good American did was to cast real women in their campaigns, rather than stick thin models. In June of this year, Kardashian took to social media to announce an open call for girls of all sizes, to appear in a campaign for her new brand. It took only two days for 12,000 entries to roll in, from a single Instagram post.
Though the reality star didn't specify  at the time exactly what the forthcoming project was, she shared that it was a message of empowering women. "We wanted a real woman, women of all shapes, sizes, colors, heights, everything to embody this line," said Kardashian, pointing out that she wanted this range to feel both relatable and attainable.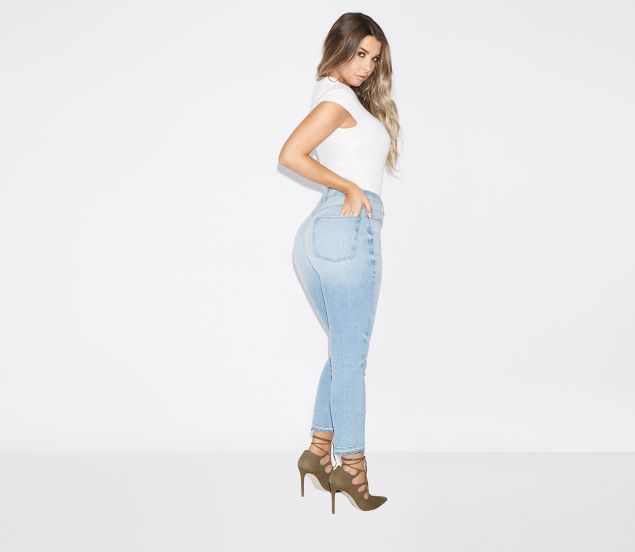 "We have girls with beautiful long black hair. We have shaved-head girls. We have different women, which I love," said Kardashian of the final 22 girls who were chosen to model the range. In addition to the 16 civilians from the open call, six recognizable faces will be involved in Good American's first campaign, including Jordyn Woods, who is Kylie Jenner's BFF and a model in her own right, Gabi Gregg, a blogger and swimsuit designer and Tori Hughes, an Instagram model.
For years, the Kardashians have been touted as role models for girls, in terms of their business acumen and their embrace of the hourglass figure. And now, they're encouraging others to take on that role, and to wear a good pair of jeans while doing so.