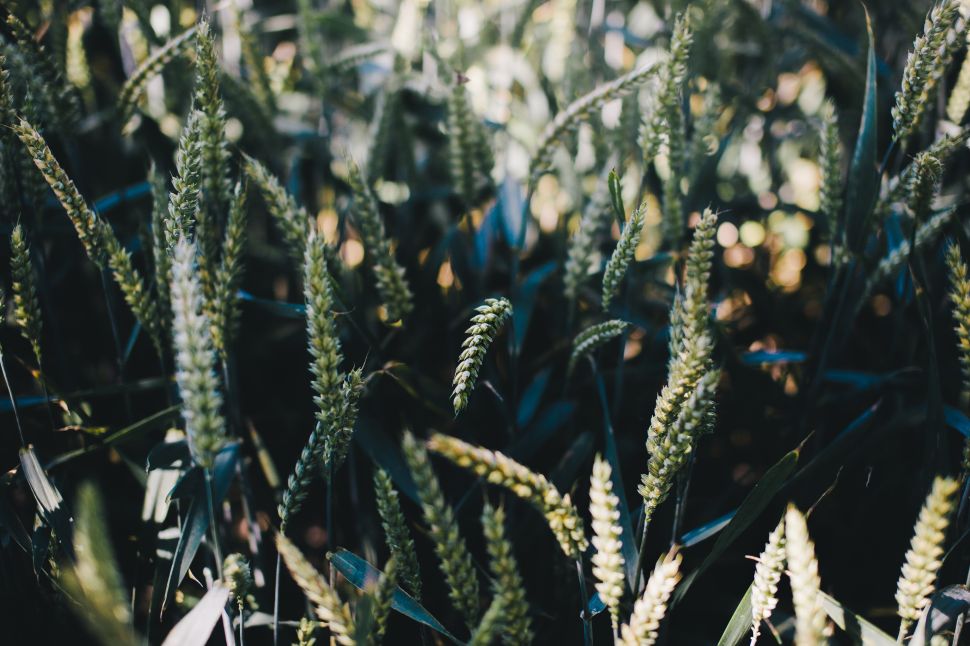 As long as you've been fairly tuned in to the world of wellness in the past decade, you'll know that our society has inherited a pretty severe negative outlook of all things gluten. It's not just bread and pasta that have been deemed decidedly unhealthy—other grains are under similar scrutiny. Obviously, if you have been diagnosed with Celiac's disease or suffer from gluten intolerance, you can stop reading now, but if you're looking for an excuse to embrace wheat again and incorporate it back into your diet, this ancient super grain might be exactly what you're looking for.
Freekeh (pronounced free-ka) is a grain made from green durum that traces back to Levantine and North African cultures, and has been a staple in Middle Eastern diets for centuries. It is slightly chewy and has a distinctive nutty, almost smoky flavor profile due to a unique roasting and rubbing process.
The wheat is harvested while the grains are still young and green, and the seeds are soft. They are then dried in the sun and burned to ensure that the flavor, texture and color are kept consistent. The seeds are protected by their high moisture content, leaving only the straw and chaff to burn, and are cracked into smaller pieces that look something like green bulgur.
So what makes freekeh different from other whole grains? The fact that the wheat is harvested early allows it to preserve the highest level of nutrition and taste. This means that it contains more protein, vitamins and minerals than the mature variety of the same grain. Here are a handful of qualities that are helping freekeh creep up to the top of many shopping lists and find its way onto menus around the country: low fat, high protein content (at 20 percent of your daily value it trumps both brown rice and quinoa), high dietary fiber, B vitamins, iron, calcium, zinc and manganese. It is also low in carbs, has a low glycemic index, and is rich in prebiotic properties that promote the growth of good bacteria in your digestive tract.
So basically, it keeps you fuller longer, helps to regulate blood sugar, delivers a whole host of minerals and antioxidants, and can promote optimal digestion. The Commonwealth Scientific and Industrial Research Organization has even gone so far as to say that freekeh is very helpful in managing diabetes and may lower the risk of diverticulitis and colorectal cancer. While it hands down wins as the most well rounded grain, nutritionally dominating most others on the market, the one downside is that—unlike quinoa—freekeh is not gluten free. Even though it is touted for being easier to digest than other similar grains, this might explain why it has yet to reach the same level of popularity. However, given freekeh's many health benefits and possible aid in weight loss, those on the fence over gluten's negative effects on the body may find that this little super grain pushes them over into positive wheat territory.
If all this talk about nutritional superiority has you intrigued, it's always a good idea to experiment. Freekeh comes in two varieties: wholegrain and cracked. The wholegrain version is firm, chewy and larger in size (think wheat berries), while the cracked variety comes in smaller kernels and resembles bulgur. Both iterations deliver nice texture to everything from salads and soups to side dishes. And if you're looking to mix up your morning oatmeal routine, it also makes a great substitute, topped with nuts and berries or as a base for a breakfast smoothie bowl (plus you'll get that extra dose of protein to carry you through the day).
Not sure where to start? You can substitute freekeh for rice, quinoa or farro in just about any recipe, or you can try some created specifically for freekeh itself—one of our favorites is this pilaf from Ottolenghi. It makes a delicious side dish with a plethora of health benefits.
Bianca is a freelance writer who covers travel, wellness, fashion and food. She's a big fan of meditation, swimming in the ocean and drinking tea. Follow her on Instagram: @biancagrace