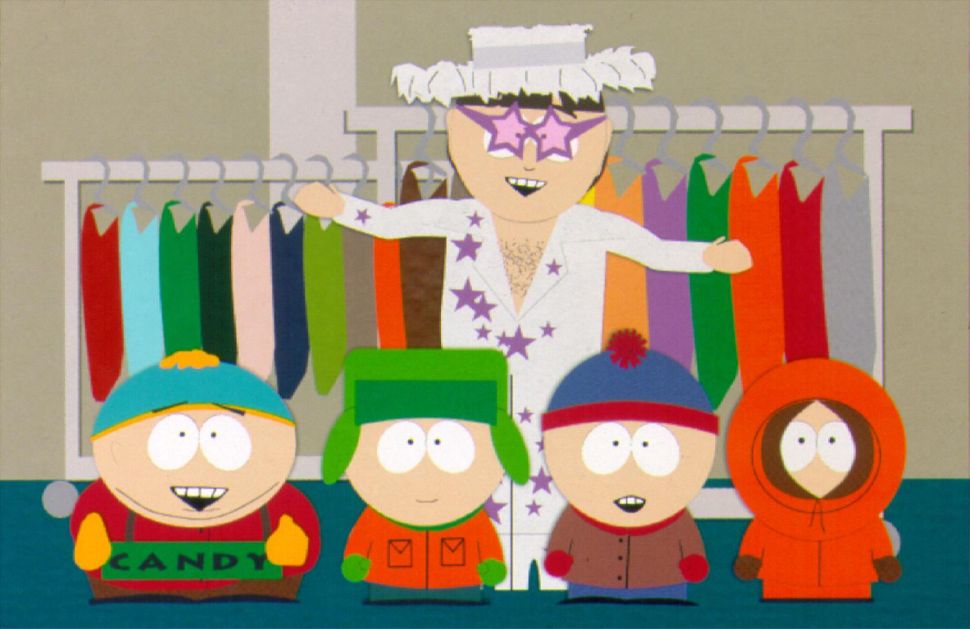 Trey Parker and Matt Stone didn't set out to turn the television industry upside down, it just kind of happened. South Park first began as a fun little side project for them in college. But when a Fox executive commissioned the pair to create a short video Christmas card in the mid 1990s, the seeds were planted for a true game-changer.
Their Christmas card—"Jesus vs. Santa"—was an instant sensation, becoming one of the internet's first ever viral videos, and even inspiring George Clooney to reportedly make 300 copies for friends. That's power.
Since then, South Park has become one of the most influential TV shows of the millennial generation, despite negative blowback from high-minded critics and parental organizations.
The show's first act of heroism was saving Comedy Central from the brink of oblivion. South Park's vulgar yet hilarious series premiere, "Cartman Gets an Anal Probe," was mostly skewered by critics at the time. Entertainment Weekly reviewer Bruce Fetts wrote, "If only the kids' jokes were as fresh as their mouths," while Tim Goodman of The San Francisco Examiner viewed the premiere as "vile, rude, sick, potentially dangerous, childish animation."
In hindsight, the shocking and extreme pilot was ahead of its time, with audiences embracing the profanity-laced show while critics kept it at arm's length. The premiere bagged 980,000 viewers, considered a huge win for a cable show at the time.  More importantly, the offbeat and boundary-pushing humor immediately began attracting buzz and controversy.
If South Park's divisive material offended some (which it did), the numbers didn't show it. In fact, those who spoke out against the series only fed into its hype and attraction. By the end of the first season, South Park was shattering cable records with an average of 5.5 million weekly viewers and the network had expanded into 40 million more homes by the time the season two premiere aired in 1998. The show's growth was unprecedented and Comedy Central executive Doug Herzog said at the time that the series "put us on the map." He was right.
In the ensuing years, Comedy Central has benefited both financially and creatively from the show. Advertising revenue for South Park alone routinely surpasses $30 million per season while syndication rights are thought to be worth north of $100 million. With money like that came the opportunity to develop new talent such as Jon Stewart, Stephen Colbert, Dave Chappelle, John Oliver, Amy Schumer, Key & Peele, and many more. Huge luminaries that have shaped the last two decades of social commentary, all got their biggest breaks on Comedy Central.
Without South Park elevating the network from obscurity, who knows where these talents would have ended up? What would the entertainment landscape even look like today? It certainly would be far more barren without South Park's top-down example.
But, what is most impressive about South Park is its evolution over time. What began as a show based around entertaining toilet humor has developed into the most popular satirical voice in modern pop culture. Pivoting away from talking feces and pothead towels, Parker and Stone started borrowing from real life early on in the show's run. Their subversive takes on tragic events and hot button issues such as 9/11, Hurricane Katrina, and presidential elections have formed the foundation of go-to social commentary among younger audiences. Hell, Brooklyn College even offered a course called "South Park and Political Correctness" back in 2008. All of Comedy Central's biggest draws have followed suit.
Stewart's biting political views, Chappelle's pointed criticisms of outdated viewpoint,s and Amy Schumer's takedown of provincial paradigms all have storytelling roots in South Park. The show not only saved Comedy Central, but it also shaped the network's voice for the last 20 years, pushing each show to aim higher. Its influence is as significant and far-reaching as its audience numbers.
Parker and Stone perfected this satirical strategy by equally appealing to and offending a wide range of demographics. The show proudly flaunts its left-leaning social views while simultaneously taking down liberal figures ("The Snuke" and "About Last Night" stand out especially) and any delusions of political correctness with glee.
Writer Brian C. Anderson has described it as "generally characterized by holding strong libertarian beliefs and rejecting more conservative social policy." He acknowledged that the show has made "wicked fun of conservatives"—such as in the season nine episode "Best Friends Forever"—while playing both sides of the aisle. While Parker and Stone have distanced themselves from any one political party, the DNA of several different viewpoints can be found in every season. In that sense, there's a little something for everyone to hate and love about the show.
Television is all subjective. What you enjoy, someone else will criticize. That dividing line is especially apparent for South Park. It still has both die-hard fans and die-hard haters as its 20th season unfolds. But even the most relentless of critics should be able to acknowledge the immense cultural footprint the show has had and the long-term benefits that TV as a whole has reaped from its existence.
If you can't see that, then you're an idiot.