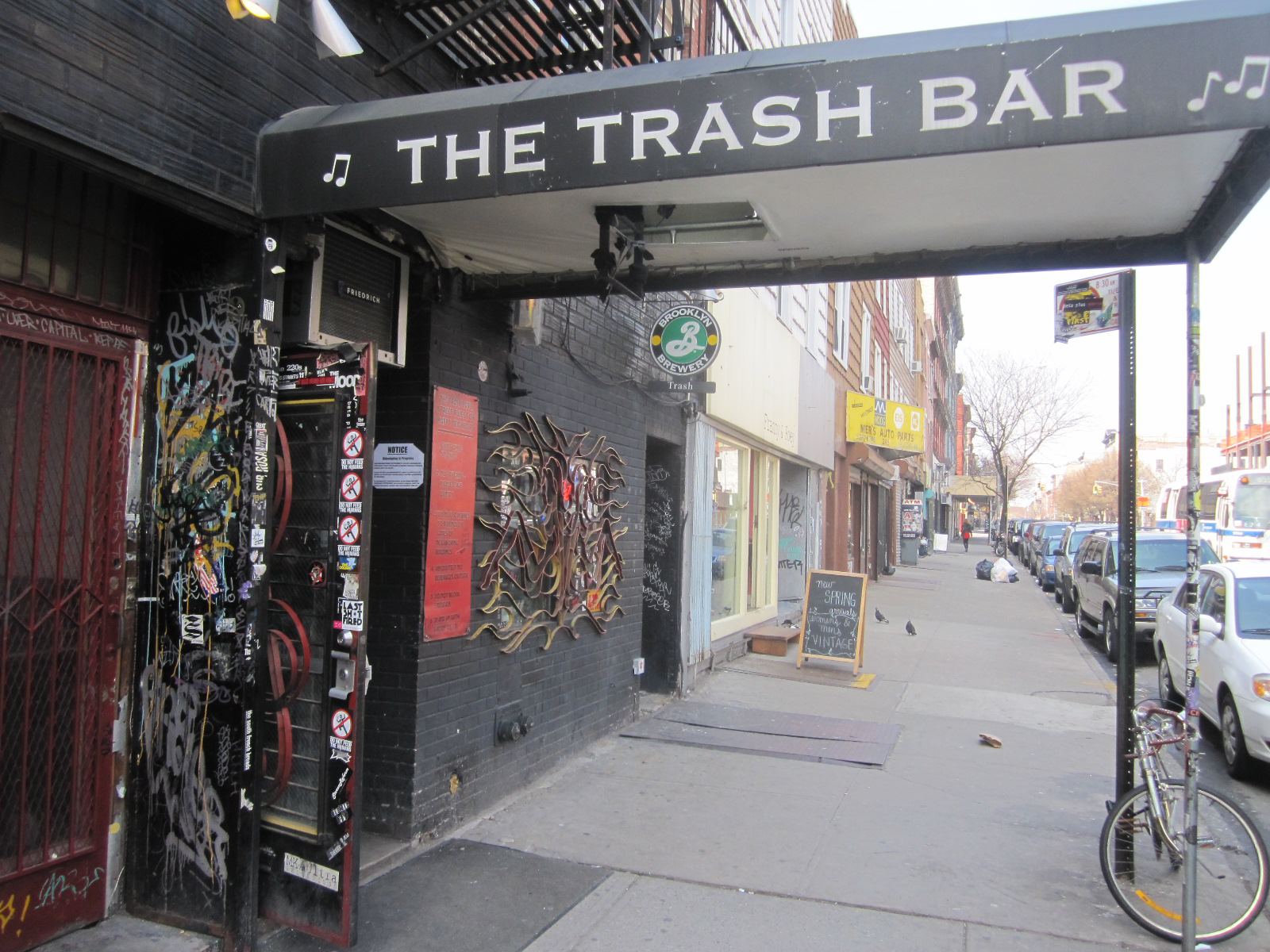 Williamsburg's Trash Bar was a true institution. The iconic spot was best known for hosting punk concerts, having an underground bathroom that was truly unacceptable, and managing to be one of the dirtiest dive bars in all of Williamsburg, in its pre-Whole Foods era. The salvaged car seats used as makeshift booths around the pool table always felt like they were crawling with bed bugs, the photo booth was grungy enough for an ideal Instagram moment, and the Christmas lights led a sense of cheer to the otherwise rundown spot.
Despite the flaws, Trash Bar was one of the most unique bars in Williamsburg, until its untimely demise. When the rent was raised, Trash Bar closed its doors, and now, a boutique boxing gym is taking its place.
Overthrow, the boxing gym with an existing loccation at 9 Bleecker, is setting up shop in the building formerly known as Trash Bar. "There are no boutique boxing gyms or lifestyle brands like ours in the neighborhood, or in all five boroughs, for that matter. We chose Williamsburg because it fits our brand identity and there is a need for it in the neighborhood," Overthrow's COO Brian Patrick Murphy told the Observer. Their downtown location has been a celebrity favorite, with appearances by Nina Agdal, Jennifer Lopez, Martha Hunt, Usher, Will Smith and the Fat Jewish. Still, it's unclear if J. Lo will venture to Brooklyn.
Before you start worrying that Trash Bar will begin to look like a SoulCycle, know Overthrow plans to preserve the dive's authenticity. "We needed the look and feel of Overthrow at 9 Bleecker and it wasn't easy to find. After an exhaustive six month search we walked into the space. It was covered in graffiti, a bit worn and run down just like 9 Bleecker," Murphy explained.
Overthrow plans to commemorate Trash Bar's history of true characters and epic live performances, while making it into a hygenic fitness space in time for the opening in January 2017. They plan on completely overhauling the bathrooms, which previously looked like something in a horror movie. They will be turned into a "clean oasis," which is a heavy task for the previously putrid space. "After you walk into what may feel like a Brooklyn version of CBGB and bust your butt in a class under florescent lights, we want clients to be able to relax, clean up and head back out into the streets of Williamsburg for a night out," Murphy promised.
"The space is perfect for Overthrow because of its New York counterculture history," Overthrow's owner Joey Goodwin told the Observer, explaining that Trash Bar carried on CBGB's history and line-up after the venue closed. Williamsburg, now home to an Equinox, is also expecting a FlyWheel and an Orange Theory in coming months. While the world was promised a new Trash Bar in Bushwick, the owner instead introduced The Rosemont, a bougie cocktail bar. Overthrow might not have cocktails and the opportunity to make poor decisions, but here's to hoping they keep the Christmas lights up all year.