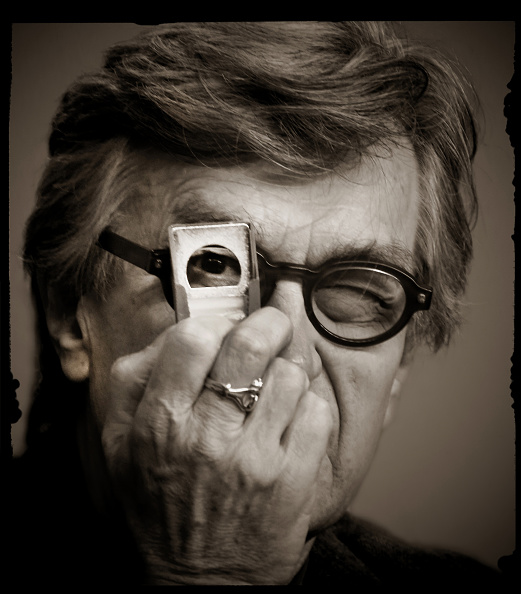 When Wim Wenders speaks, you listen. Pithy and wise, he articulates complex thoughts in simple terms, as if he's only accidentally imparting all the secrets of the universe onto you. "There's a very basic human need to listen to stories," declares Wenders, donning a classic black suit accompanied by neon blue sneakers. He orders a decaf espresso lungo as we sit across from one another in Lido's beautiful Hotel Villa Mabapa overlooking the Adriatic Sea. Wenders reveals himself with unabashed conviction as if we are in an informal confessional booth. This hotel lobby, our sanctuary. "But listening is a little bit out of fashion," he admits with an omniscient grin. Wenders lounges in his chair with his back facing the window as rays of sunlight strike through the glass directly onto his radioactive sneakers. Sitting across from the Academy Award–nominated director is much like anticipating a first kiss. I don't know where to look or place my hands. I order the same coffee just to be safe.
Wenders is in Italy for the Venice Film Festival presenting his latest film, The Beautiful Days of Aranjuez. The entire movie is a dialogue between an unnamed man (Reda Kateb) and woman (Sophie Semin) conversing about memories and ideas of sex, love and life. "It's not easy to listen to two people talk for such a long time because it's even difficult for them to listen to each other," Wenders relents. Adapted from the eponymous theatrical play by Wings of Desire co-writer and longtime friend, Peter Handke, the film is set to highlight the different perspectives of men and women. "The test of the film was to make people listen," Wenders confesses. "The perception of reality is one of the most complex things." Wenders sips his espresso and pauses as if to prepare you to listen closer. "The experience of reality is very much linked to everybody's condition. What is real for one person is complete fiction for another."
This isn't your average slow arthouse film. The film, which is one very long and arduous dialogue, is shot in 3-D. 
Revered as a film icon and legend, Wenders is known for experimenting with film since the 1960s, therefore choosing to shoot in 3-D isn't out of character for him. However, he resents the preconceived notions and limited creative usage of 3-D as a proper format. "Unfortunately, it's a great cultural disaster of our days—that Hollywood has monopolized this technology." Wenders believes that 3-D, when used with genuine artistic intentions, forces the brain to concentrate on a film in a way it never has before, in a way that requires patience. "Three-D is an immersive medium and it gets you to be closer to the person…You need both halves of your brain to see this film." Although it's a format known for blockbuster, action-based and animated children's fare, Wenders is constantly changing the way an audience experiences film. "It can be so tender and gentle and guide your experience in a more intense way." On the surface, 3-D seems like a strange choice for a movie based on dialogue alone. However, Wenders confronts that bias with the opposite opinion: "I figured that 3-D was the right medium for a film where words are so important," he admits.
Regardless of how experimental or esoteric Wenders' films may be, he manages to tie every film together in a Christmas red bow with his mastery of storytelling. We seek solace in stories through movies, books or even an old friend recounting "the good ol' times." Whether the intention is to relate or escape, the underlying notion is always connection. Stories are the bricks we stack to build our home—our reality. Each brick, despite the chipped ones or slightly misshapen ones, perfect in its own form. We cement ourselves to our stories in order to understand, to empathize with others. Wenders believes the most popular way of storytelling is through cinema. "The need for stories is stronger than ever. It creates sense…every story tries to make sense out of something. That need is internal." Legendary storytellers like Wenders aid us with the manual labor of building our homes, adding relieving slabs of poetic reality.
Wenders and Handke have proven to have a successful working relationship having known each other for almost 50 years. "From the beginning, he was always a little bit of an older brother," Wenders explains. "Wings of Desire was a collaboration after we had known each other for 20 years." The two met in Germany when Wenders was only 20 years old. After admiring Handke's work from afar, Wenders mustered the courage and spoke to him after one of his plays. Wenders, regardless of his legendary stature, admirably maintains a humble sense of himself.  Although he speaks with intelligence and insightful thought, he also endears himself to you, inviting you to view him through a lens of humility. "I was a stupid student who asked stupid questions at the end of the play, and he was gentle enough to answer," Wenders laughs to himself. 
At 71 years old, Wenders has watched film change dramatically over time. "I actually worked with people who started their career in silent films." He explains, "I felt I was still in touch with the beginning, and I'm still not old enough to see some of the future." He doesn't fear the future of cinema—in fact, he embraces it. "I'm curious," he admits, as he takes a sip from his seemingly endless tiny cup of espresso. "I've produced movies made on mobile phones with my students, and it was amazing what they came up with." In between his art and filmmaking, Wenders also teaches at the European Graduate School in Switzerland. "Maybe in another 20 years we will still have cinemas with screens, but otherwise [traditional cinema] will be replaced by other things. People will be able to see stories in different ways."
A critically acclaimed artist by opinion, but a storyteller by nature, Wenders seeks connection—to find the missing bricks in the houses we build.  Without these stories, our houses collapse like a ruined Jenga game. Wenders imparts one last piece of wisdom before he leaves: "A story is a necessity to survive." As he rises from his seat, standing firmly in his bright blue sneakers, he takes one last sip of his espresso. He turns to me, and with that same pause I was so intent on listening for, he merely smiles: "The pleasure was mine."