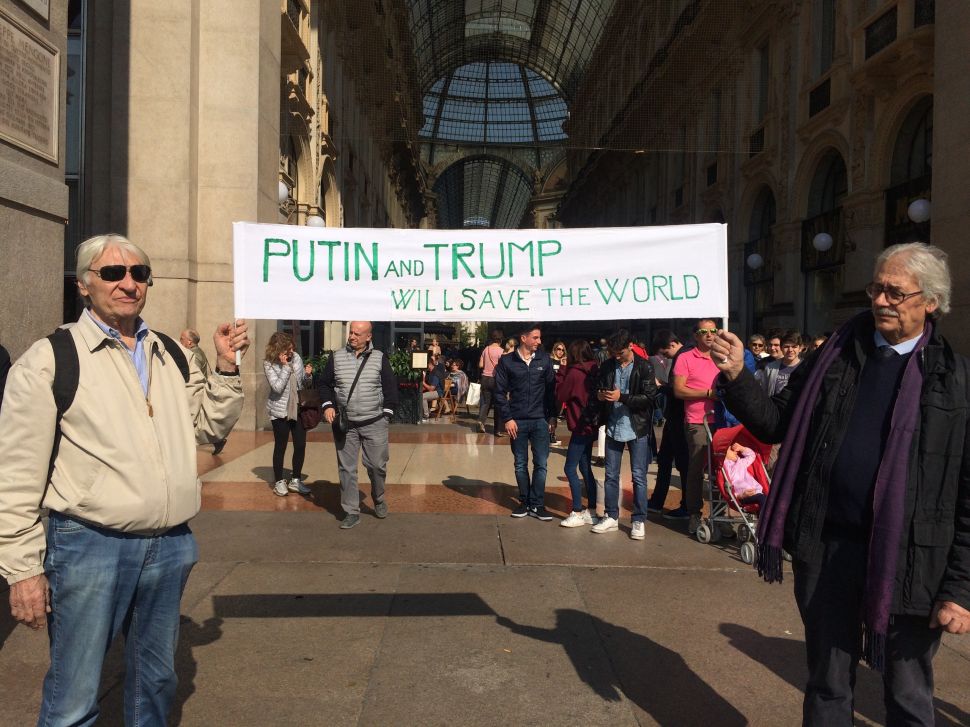 Under imminent threat from Russia—which has recently been blamed for hacking a Denuvo-protected computer game, WADA archives, Democratic Party servers, Hillary Clinton's private emails, and launching attacks on the world's biggest banks—British parliamentarians have been banned from using the Apple Watch.
Here in the U.S., the latest reports of Kremlin-sponsored or Kremlin-directed attacks on DNC servers hit a nerve among the motley crew of Clinton supporters—some of whom, like Michael McFaul, have fired back angrily. On October 8, the former U.S. Ambassador to Russia, staunch Clinton supporter and ex-subordinate during Clinton's tenure as secretary of state, angrily tweeted to Russian politician Alexei Pushkov (with whom McFaul has been fighting a long, personal Twitter war): "Russia is playing with fire. You realize we have tremendous cyber capabilities as well. We collect intel on Russians, embarrassing intel."
Embarrassing indeed. The post, which immediately caught the eye of Russian media, went viral. McFaul nimbly deleted the post, replacing it with the following conciliatory and politically correct sentiment: "My view is that we need new treaties for how to regulate hacking/cyber/intel gathering. Time for US & Russians to negotiate."
Even the Russian president has become personally involved in the heated argument surrounding his country's involvement in the hacking scandals. "They started this hysteria, saying that this (hacking) is in Russia's interests. But this has nothing to do with Russia's interests," Vladimir Putin said at a business forum in Moscow. "Everyone is talking about 'who did it'—but is it that important? The most important thing is the information in the hacked files."
When asked to comment on the issue in July, Russian Foreign Minister Sergei Lavrov said, "There are so many 'pussies' around your presidential campaign—on both sides."
Russia has not denied the accusations. "We do not deny it, because nothing has been proven," Lavrov said. "[It is] flattering, of course, for a 'regional power'—as President Obama called us—to get so much attention. Now everybody in the United States says that Russia is running the United States' presidential elections… This has nothing to do [with the facts]. We have not seen a single fact, and we have not seen any response to the proposal which, one year ago, in November 2015, the Russian Prosecutor General's Office sent to the Department of Justice—to start an open dialogue on cybercrime… We do not deny this [Russia's hacking], but they [the U.S.] also have not proven it."
Maria Zakharova, a representative of the Russian Ministry for Foreign Affairs, stated that Russia never received an official request from the U.S. with regards to attacks on American servers, Interfax reported. "We have not received any requests via any of the three official channels available, or—to say even more—we have never been accused of conducting hacker attacks on any sites in the U.S.," she said. According to Zakharova, such requests must be supported by facts, which the U.S. doesn't have.
"If they [the U.S.] decide to do something [in retaliation], let them do it," Lavrov concluded in a fatalistic response to McFaul's deleted Tweet.
Russians have met such allegations of their government's involvement in hacking Clinton's computers (and that Donald Trump is the Russian Manchurian Candidate) with both humor and skepticism—and also grave seriousness.
"Putin crudely interferes in the course of the U.S. presidential elections" claims one video.
Judging by their comments, Russians took the scandal with expected malevolence:
"I am proud of our hackers—they can do everything. And Americans? Goofs. Instead of voting with paper in a box—the way they teach democracy around the world—they invented for themselves electronic voting."
"So who are we, really? A 'gas station?' …Americans, define it for yourselves. Otherwise, we sit here and guess—should we be upset or proud?" (Senator McCain used to call Russia a 'gas station.')
"There is little difference between elections in Russia and in U.S. We know in advance who will win, but there [in the U.S.] they push their plebs toward the winner."
Among Russians, Clinton receives very little sympathy:
"The preparations are ongoing—and not preparations for the hackers' attack, but preparations for Clinton in case Trump wins! If this is the case, they will blame everything on Russian hackers and flash Trump down… into nothingness."
"I predict: if Trump wins, they will be yelling that Russians falsified the elections in the United States of Pindostan." (In Russia, 'Pindostan' is a common nickname for America.)
"The USA is afraid that Russia will know how many people REALLY will have voted for Clinton."
"They don't know how to justify a possible Clinton loss, they ensure themselves for every possible outcome—[the U.S. elections are] nothing but show."
"I still do not get it—will there be a third round of voting?" one commenter mocked. "There will be fourth round, then fifth. And so and on—until Clinton wins," another responded.
"They definitely are nervous in Clinton's camp. It looks like there is huge kompromat that they want to hide and they are in panic mood that it could pop up right before the elections. So they hedge themselves saying that we have warned you that there would be lies thrown in, fabricated by Russians."
Fatalists have chimed in, too: "If Clinton wins, they will say that Russians were not able to hack. If Trump wins—it will mean that 'it was hacked' and 'we warned you!'"
Humor, of course, abounds: "Where is the picture of the hacker in a fur hat? Or a bear with balalaika blocking the photographer's view?"
"Yes, it was the Russians, they scribbled with a nail on your hard drive 'PUTIN WAS HERE'—in English—so your American experts would have no doubt about it."
But some things Russians say are gravely serious and must be taken as such by all: "With their talk of 'interference' into the 'perfect' system of vote-counting in the U.S., and about 'mistrust,' they themselves have created mistrust and now any result of the U.S. elections cannot be taken at face value because nobody can guarantee that they took place without interference from the outside. Maybe the Kremlin would want to discredit Hillary Clinton, giving her a chance of dishonestly winning and then presenting the leak of the dishonest manipulations with votes? Maybe the Kremlin would not want to. Maybe the U.S. is not fit for democracy?"
"Western media fakes that they are virgins—like old prostitutes, they pour disinformation with endless gush, in the most obvious, clumsy way—winning with quantity, by Goebbels' script, and completely forgetting common sense. It is unclear why Russians hackers would need to steal documents and to forge them, if one can simply forge them in the first place."
Judging by Russian reactions to the scandal, and regardless of who takes the U.S. presidency, Vladimir Putin has already won—with or without the hackers' help.
Disclosure: Donald Trump is the father-in-law of Jared Kushner, the publisher of Observer Media.