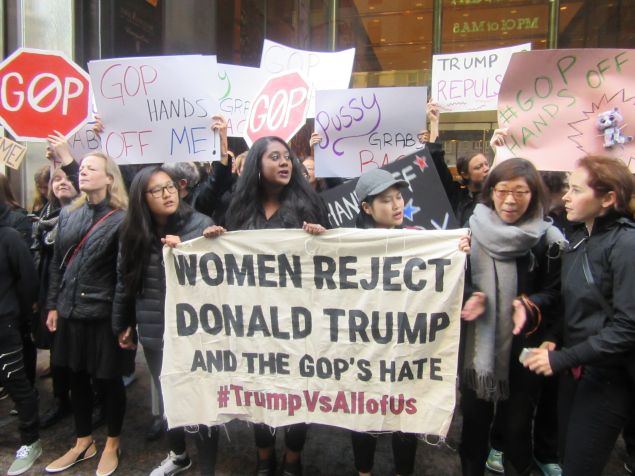 A multiracial, multigenerational group of women rallied outside Donald Trump's Manhattan headquarters to deliver a blunt message to the GOP nominee, whom they labeled "a sexual predator": "If Trump thinks he runs this town, pussy came to shut it down!"
Last Friday, the Washington Post published obscenity-ridden footage dating back to 2005 in which Trump bragged to then Access Hollywood host Billy Bush about women letting him kiss them and "grab them by the pussy" without asking for their consent. Flanked by a large banner with the phrase "Women Reject Donald Trump and the GOP's Hate #TrumpVsAllofUs," at least 60 women hailing from a variety of backgrounds and age groups—including sexual assault survivors—converged in front of Trump Tower this morning.
Their chants included "GOP, hands off me!," "un-endorse Trump!" and "Back up, back up, we want freedom, freedom! Tell the sexist GOP, we don't need 'em, need 'em!" A little girl was seen holding a sign that said, "Pussies in formation."
"I do think we have a problem in the news media today when they think that our issue is with the lewd comments that Donald Trump made," said Nadya Stevens, formerly the New York director of Vermont Sen. Bernie Sanders' presidential campaign. "That is not our problem. Our problem is with his endorsement of sexual assault and Billy Bush not saying anything, and supporting his language and his experiences and what he's done instead of saying, 'This is completely unacceptable.'"
Stevens said she wants a president who "knows that black lives matter," who does not want to "build a wall and have religious tests." The problem, she says, is what Trump's behavior encourages.
A number of prominent Republicans have rescinded their endorsements of Trump, including Arizona Sen. John McCain, the party's 2008 presidential nominee. But protesters blasted what they perceived as inaction on the part of Republican Party Chairman Reince Priebus and House Speaker Paul Ryan. Both men have condemned Trump's remarks without rescinding their endorsements, though Ryan has indicated he will not campaign with the GOP nominee in the 
Ryan told Republican lawmakers on a conference call earlier this week that he will focus on defending the party's majority in Congress. Trump, in return, lashed out at Ryan and other Republicans yesterday for their "disloyalty."
"They continue to put their party before our country," said Yong Jung Cho, of the progressive youth group All of Us 2016. "And so for the sake of our lives, for the sake of all women, for the sake of our country, we're here today to tell the Republican Party leadership to un-endorse Donald Trump."
Cho said her organization held a sit-in in front of Ryan's office Sept. 20 and that yesterday, women protested against Priebus in front of the RNC headquarters.
But the protesters said they were not necessarily supporting Democratic nominee Hillary Clinton. Stevens said she'd vote for Clinton because she's the "lesser of two evils" but asserted that her brand of feminism only supports wealthy white women. Others the Observer spoke with echoed that sentiment.
Harlem resident Agunda Okeyo, 34, a writer and filmmaker who is of Kenyan origin, said she came to the rally "as the child of a bad-ass feminist and my own bad-ass feminist self."
"We women stand tall to let him know absolutely that this vitriolic hatred of us as women, as immigrants, as black folk, as Muslims, as Latinos and as the disabled is not welcome in this country," Okeyo said.
Disclosure: Donald Trump is the father-in-law of Jared Kushner, the publisher of Observer Media.