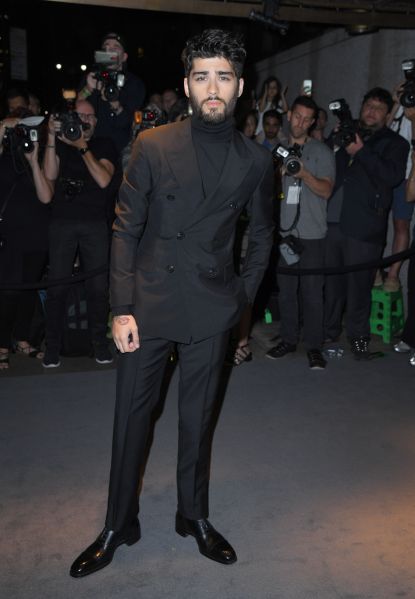 Zayn Malik's major collaboration with Versus Versace is off to a rocky start, but not in a bad way, more in a rock 'n roll way. The former One Direction bandmate, and boyfriend of Gigi Hadid, did what any other designer would never dream of doing: he blew off interviews with both Vogue and The New York Times. Naturally, both outlets discussed his absence in depth, but reassured their readers that an interview with Donatella Versace was just as exciting.
After all, she is one of the more animated fixtures on the fashion scene, and it turns out that she knows how to throw some (well-deserved) shade: She simply told Vogue that she is not and has never been a fan of One Direction. "Kate Moss, she forced me! She liked One Direction, I don't know why!" she candidly explained. She went on to tell the glossy that she tapped Malik for the gig because of the way he treats Hadid, like a real gentleman.
Malik is picking up at Versus where Anthony Vaccarello left off, though we doubt he will be able to fill those shoes quite like the talented Parisian designer, who is now installed at Yves Saint Laurent. The singer has no formal design training, though we doubt that will dissuade his loyal fans (a combined 35 million on Twitter and Instagram) from lining up to purchase his creations for the Italian brand. Further, Malik will also be modeling in two of the brand's forthcoming ad campaigns. As his collection will contain clothing for both men and women, we hope Hadid will be joining him in at least one of the ads.
Keep in mind, this isn't Malik's first designer collaboration; he already has a collection in the works with shoe designer Guiseppe Zanotti, which will drop in January 2017. Of course, his loyal girlfriend has already been photographed borrowing his boots from the range.
If you need any further convincing that this range will be absolutely coveted by cool teens, just consider this statement that Malik released: "I think Versus has always been a very cool brand. It's a great brand for me and for people in my generation. I've always wanted to design clothes, and there's no brand I'd rather design than for Versus. The bonus is that I get to collaborate with Donatella, whom I love and admire. I know we'll create something amazing."