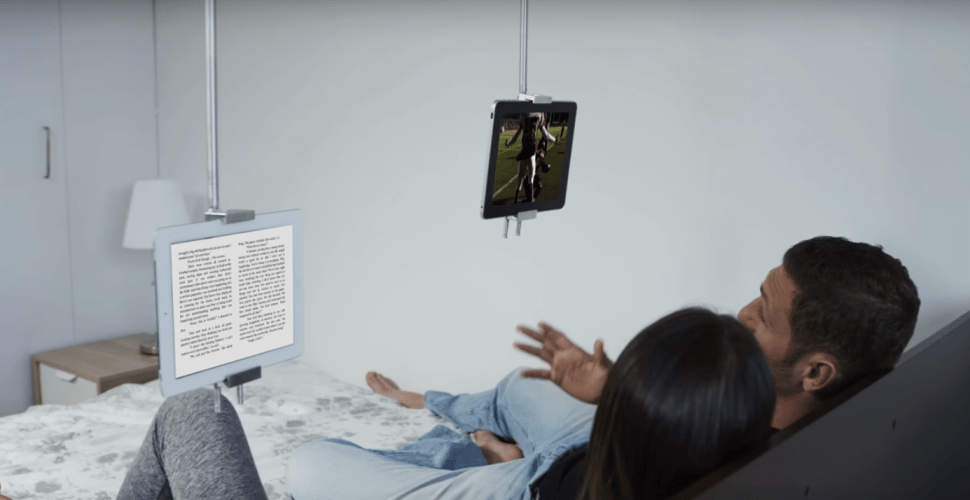 Not sure what to get your tech-loving friends and family members? Here are some ideas that both entertained and delighted the people in my world last Holiday season. While there are a few "big ticket items," there are also attractively priced options that still offer a big "wow" factor.
The Gift of Virtual Reality 
You may have heard about Oculus Rift—the really slick virtual reality headset that works with PCs and gaming systems to provide 360 degree experiences. With a $599 price tag, you might not be running out to buy one as a stocking stuffer—but for a fraction of the price, you can still experience VR in your own home. For about $20, you can enjoy the TEEFAN headset. This set works exactly the same as those Google Cardboard sets you may have seen floating around—except it's made of durable plastic with an adjustable head-strap, cushions around the eyes, and adjustable lenses to optimize your experience. There are endless experiences to download for free on your iPhone or Android device. Walk with dinosaurs, ride rollercoasters, watch content shot in 360 degree VR, go on rides, and even play some games!
The gaming experience on this won't be like what you might get when using the Oculus connected to an Xbox. There is a "trigger" switch on the headset, which is actually a simple magnet to "click" your screen while wearing the set.  Move forward, shoot, etc. As for size, this particular TEEFAN set fits my iPhone 6S Plus comfortably even with its case on, and also worked great with my father-in-law's iPhone 5S. Pair with a set of bluetooth headphones, and you'll be spinning in your seat in amazement. In some ways the experience you'll have with the TEEFAN headset is better than with the Oculus Rift, because there are no wires to tangled up while you spin yourself around.
The Pros: Getting to see people wear the VR headset and react to things that aren't there.
The Cons: You have to suffer through that one relative who is going to scream on the VR rollercoaster because they lack the ability to separate fantasy from reality.
Party Tunes to Go 
There are many great sounding portable speaker options on the market. Two that I've enjoyed are the JBL Clip and the Bose SoundLink Mini. The JBL Clip fits in the palm of your hand, yet offers a surprisingly big sound. It has both a wired connection (plugs into the headphone jack of pretty much anything) or bluetooth. It's perfect for tunes on the go, and the battery lasts quite a while on a single charge. Bonus points for being able to clip it onto things—like your patio umbrella, backpack, etc. Keep in mind that while it sounds big, it's mono audio. But if you just want to share some tunes with friends, your'e probably not concerned about that.
The JBL Clip 2 is an updated water proof version so you can take your toons in the shower or poolside without the fear of water damage! On the higher end is the Bose SoundLink Mini. It's got a surprisingly large stereo sound for it's tiny size, and also gets a lot of play off a single charge. But for that big Bose sound you're paying a price. While the JBL Clip is a more affordable stocking stuffer at $49.99, the Bose SoundLink Mini is more than three times the price at $179.99.  Either is speaker is sure to bring a smile.
The Pros: Portable party tunes!
The Cons: Your husband might take forever in the shower cranking up his Rush albums.
Lost and Found 
Tile Mate and Tile Slim are gifts that are fun and easy to use. It's a little square gadget that can go on your key chain, in your bag, or even your slip inside your wallet, to help you locate those items. Your phone will communicate with the Tiles using a combination of GPS and bluetooth technology to tell you if you're getting warmer or colder. You can also sound a built-in alarm on your Tile that will have it playing a little melody until you locate what's missing. And it communicates both ways. If you're holding your keys but can't find your phone, you can squeeze the tile and it will ring your phone.
The free app tracks all your tiles—and you can even add other people's as well. Bigger picture uses include things like putting one somewhere in your car to help locate it in a parking lot or even locate your personal items if they get stollen. Tiles 'talk' to each other and form a network. The more people around you who are actively using them, the better that network becomes. I haven't personally needed it beyond finding my keys or bag… but it was an appreciated gift for many family members last year. While a 4 pack for $89.99 might seems steep—I wrapped each one individually last year, making them a $22.50 stocking stuffer for everyone!
The Pros: You'll be able to find stuff!
The Cons: Your children might hide stuff just for the fun of finding things.
Help Them Cut the Cord 
Help someone you care about kick their dependence on their cable box.  Get them into the glorious world of streaming! For just $39.99 you can get them the Amazon Firestick with Alexa voice remote. It plugs in to the USB port you find on most flat screen TV's these days, and gives access to everything they'll need- HBO Now, Showtime, Netflix, Hulu and of course Amazon's own Prime service. A subscription to Prime gives you access to their award winning content—but also unlimited free 2 day shipping on Amazon orders, exclusive discounts, streaming music and more! At $99 a year, Prime is the perfect companion gift with Firestick.
Higher up the spectrum is the latest Apple TV. This is beyond a USB gadget. It's smaller than a paperback book and sits next to your TV. It connects via HDMI, and offers everything the Firestick offers (minus Prime—although you can stream if from the smartphone app to Apple TV easily). Rather than just offering a few streaming service, Apple TV connects your entire Apple world. It's almost like turning your TV into a giant iPad. The app store contains all the streaming media apps you'd expect—Hulu, Netflix, YouTube, etc.—but it also offers games, weather apps, TV/ Cable network apps—you name it. The included remote even has Siri built in, so you can can give the TV verbal commands. Say "Show me holiday classic movies," and it will instantly search all of the available content to show you your options. It's very responsive.
The gaming options on Apple TV are wonderful. Moments after firing it up last Christmas, my family was gathered around and bowling! The remote doubles as a "Wii" style controller. Here's a pro tip: get a case with a strap to make sure someone doesn't toss it through the TV!  I found the Elago R1 Intel Case to be a perfect solution. Apple TV will connect you to your music library, allow streaming music, access your photo library to share on the big screen, rent movies and shows through iTunes, purchase music and apps right from the TV, and so much more. There are two options for internal storage- a 32gig and a 64gig. I've found the 32gig option to by plenty because of the way Apple TV manages memory. It weighs in at $149, which makes it less of a stocking stuffer—but you can chip in with your siblings and get mom and dad a gift they'll love.
The Pros Endless entertainment and pure joy.
The Cons Expect to be considered tech support for the people you give these gifts to.
The Gift of Power 
We're all always on the go, and our phones play a huge roll in our days. The problem is that most phone batteries don't give us the kind of power we need to get us through a day or so. That's where having an external battery back comes in handy! The Anker PowerCore 20100 gives you seven charges on your iPhone 7s before it needs to be recharged itself. It's even got two USB ports, so you can charge your phone AND your bluetooth headphones on the go at the same time. At just $39.99, it's a small tech gift that will get big use.
For a lot less money, you can give everyone you know the Anker PowerCore mini Ultra-Compact Portable Phone Charger External Battery. At just $13.99, this gadget will fully charge an iPhone 7 in around two hours. It's small enough to slip in your pocket or purse (about the size of a penlight). Very handy for that extra power boost when you're out and about.
The Pros: No more losing power on the go.
The Cons: None.
Take a Stand 
Sometimes our tablets and phones become a second TV screen. But sometimes we're doing something else and want to just prop the phone up and free up our hands. That's where the Geotel iPhone Aluminum Alloy stand comes in. It turns your tablet or phone into a small iMac! It raises the devises up enough to be able to keep them plugged in, while giving you a perfect viewing angle to sit at your desk or lay next to your nightstand. At $14.99, it's great solution and a perfect small gift.
If you can wait a while, however, a very successful Kickstarter project called SkyFloat is coming to market in early 2017. It's a magnetically mounted telescoping pole with a completely adjustable clamp that can hold your tablet or phone perfectly in place wherever you're comfortable. You can lay flat on your back in bed and watch a movie. You can keep your iPad off the kitchen counter while you read your favorite recipe. It will cost $69, and if you're ordering now, recipients will receive a nice card telling them they'll have it to use in early 2017. Everyone in my family is getting one of these.
The Pros: Save your neck, free your hands.
The Cons: "Um hey- so…I'm gonna need that back soon. Are you done borrowing it?"