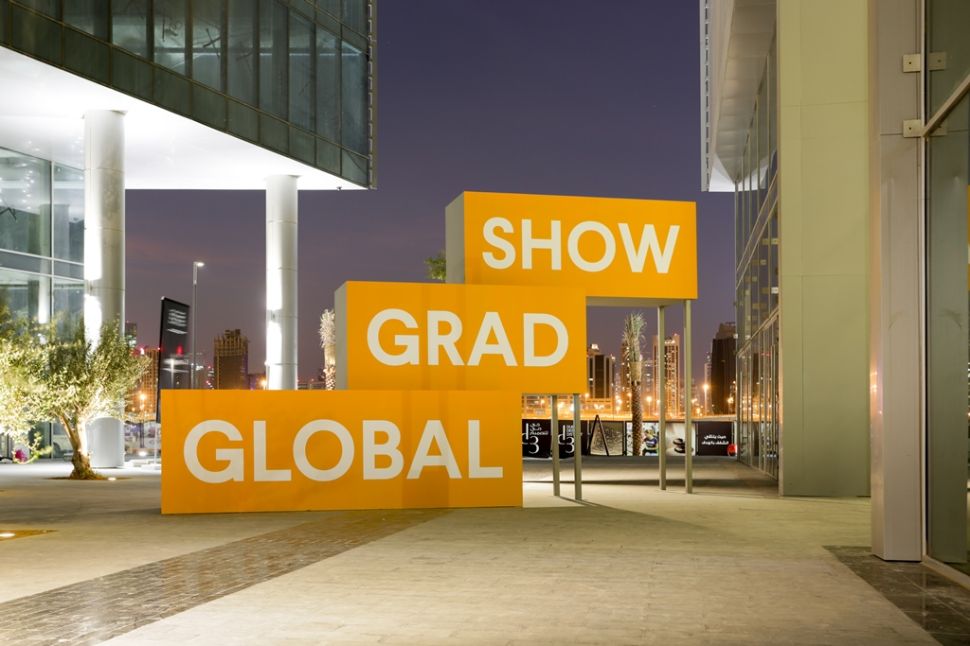 It might seem hard to find a cultural soul in a city as relatively new as Dubai, but last week, the city used its incredible design prowess to show that it does, indeed, have one. While it's dominated by the construction of new high rise hotels and shopping malls in all shapes and sizes, including the tallest building in the world, The Burj Khalifa, Dubai Design Week seeks to showcase the accomplishments of designers on a smaller scale.
A section of the sprawling, week-long conference is The Global Grad Show where university students come from 30 countries around the world to display their inventions that have already earned their stamp of approval from curator Brendan McGetrick who ultimately decides which ideas earn a spot on the exhibition floor. "The ones that I find the most exciting are the ones that respond to experiences that I hadn't thought of before," said McGetrick as we strolled among the rows of 135 displays setup in the city's new d3 design district. "It really kind of expanded my own humanity in a way." 
The concepts range from the ultra-technical, like Fredrik Ausinsch's Algae Ocean Harvester, to the incredibly simple, like Fabyan Blomme's MountainRim Coffee Sleeve. "That's the essence of design," McGetrick said, picking up the cardboard prototype sleeve that plans to retail for just 4 cents. "It doesn't need money, it just needs a really clear idea of the problem and an effective solution." 
Below, we have selected 12 of the most innovative design concepts we found at Dubai Design Week's Global Grad Show that will surely change our lives in the coming years from the smallest conveniences to the most monumental of breakthroughs.
1.RECANDESCENT by Jonathan Routledge
Recandescent addresses the long-term environmental impacts of LED light sources using a suitable alternative. While LED lights are currently considered the "green" option, they only remain truly green during their use thanks to their decreased CO2 emissions.  The down side? They're non-recyclable, and contain toxic materials like Arsenic and Bisphenol-A, which can leach out of LEDs when they are thrown away, potentially poisoning the surrounding environment. Recandescent address these issues with its modular or "Cradle-to-Cradle" design, which allows for the easy separation of components. This ensures purity of returned material, and therefore more valuable material for recycling.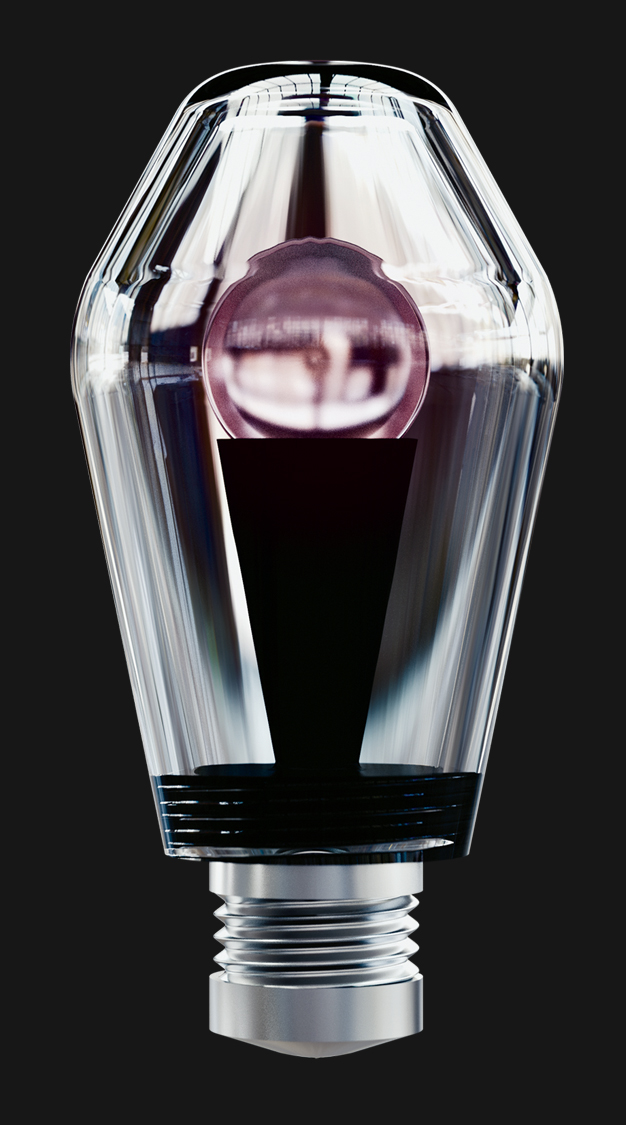 2. SUNERGY by Arturo Marquez Evangelista
While the use of solar energy isn't an entirely new concept, Sungery uses the power of the sun without direct exposure to it. Instead, the first prototype of the technology, seen here on a phone case, uses improved photovoltaic cells to demonstrate that solar panels can provide adequate energy without the need to expose the user and device to direct solar radiation.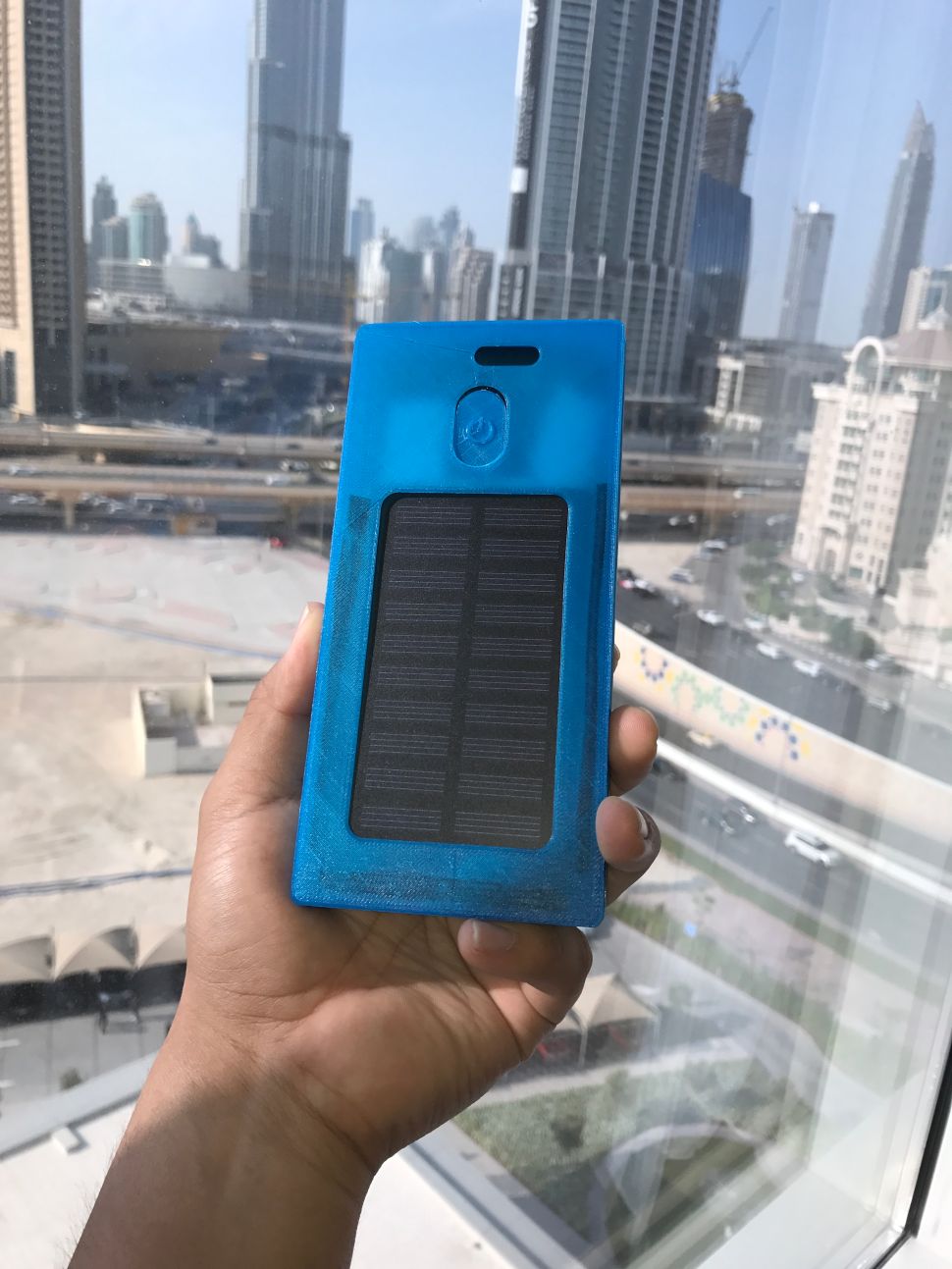 3. SOLARI PORTABLE SOLAR COOKER by Bodin Hon
Bodin Hon's Solari Portable Solar Cooker draws from a similar concept as the Sungery phone case, but is the only innovation among the group that is currently available for pre-order at about $250. The portable, fuel-free cooker is entirely pollution-free and can be used at the park, the beach, or the desert using only the energy from the sun to cook.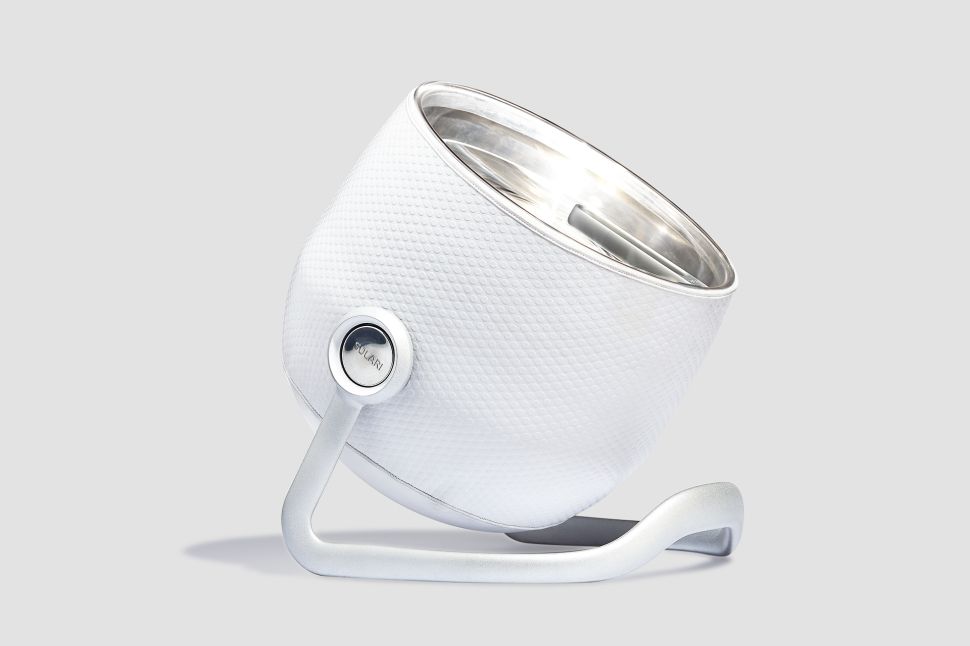 4. SCENTIMO by Yui Komatsu
This gadget presents unique way to preserve and share family scent stories. The platform combines mobile photos with scents captured by a small bracelet worn by the user. The "scent story" can then be passed on to further generations. 
5. TIP TAP MAT by Gary Ng, Punyotai Thamjamrassri, and Giulia Scurati
This trio of designers from Canada, Thailand, and Italy decided there was a better way to open a door. Rather than juggling your groceries or laundry bag to fiddle with your keys, the Tip Tap Mat allows you to open your door with your feet. This is accomplished using pressure sensors under the mat, which can detect your movement and transmit the data to the door's lock. When the correct combination is entered by your tapping, the door is opened. 
6. MountainRim Coffee Sleeve by Fabyan Blomme
For just 4 cents, Fabyan Blomme improved the flawed design of the typical cardboard coffee sleeve, which first debuted in 1993 and hasn't changed since. MountainRim creates a better, more reassuring grip for coffee drinkers with a simple interactive fold that decreases the chance of spillage.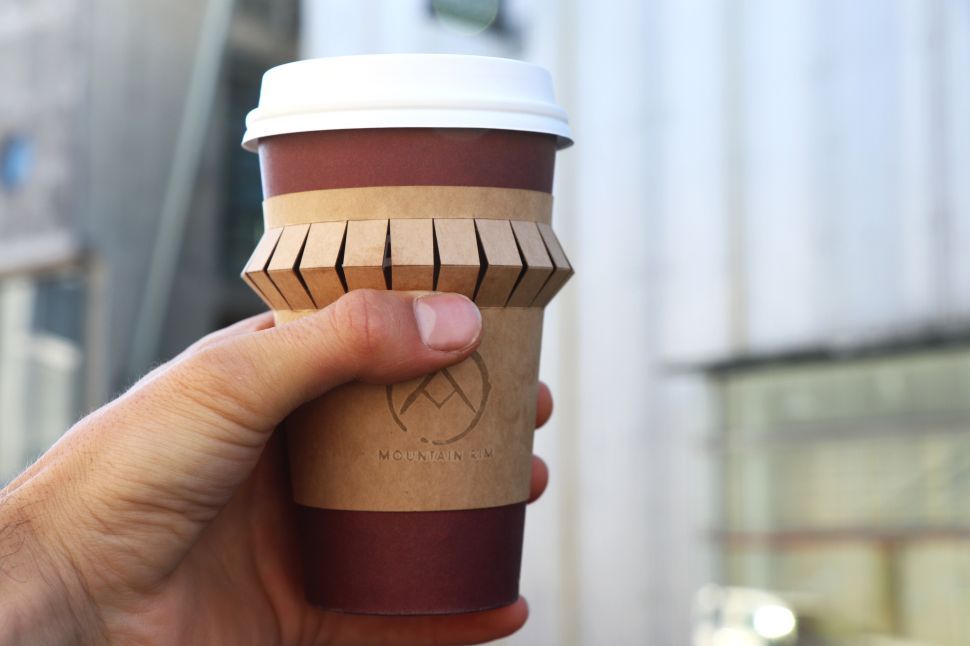 7. AXIOM by Ella Yuna Jeong, Ellie Hyejin Cho, Matthew Cadiz, Jonah Cheng Che Lu
Axiom acts as your personal trainer, without actually having one. The body suit can modify improper forms during a workout by enacting the guiding gestures of a personal trainer using "tactile feedback." This is coupled with the Axiom mobile app, where users can review their performance during and after the workout. 
8. MIITO by Nils Chudy and Jasmina Grase
MIITO heats the exact amount of water needed for a hot beverage directly in the vessel of your choice. This avoids heating excess water, and saves on electricity used to boil pasta or make a cup of tea.
9. ZIGGY by Mohololo Nkoana
This hand operated, portable clothes washing device, devised by Moholo Nkoana of Pretoria, South Africa, allows for washing on-the-go. Made from stiff rubber, the device's accordion-like design uses a simple movement to agitate clothes during washing,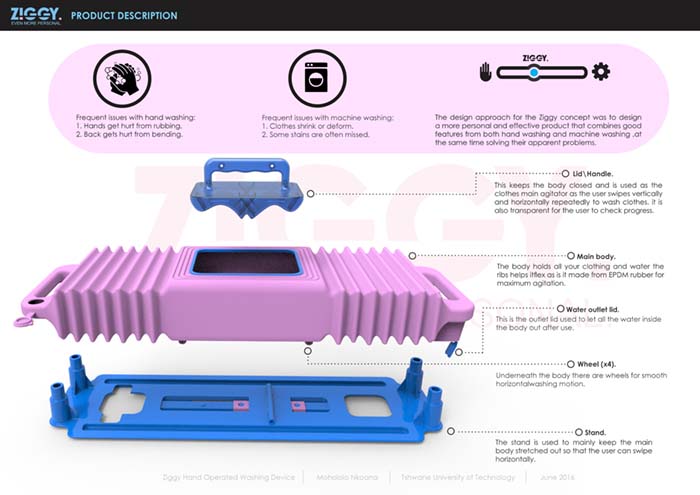 10. TP SURGERY by Jiachun Du, Thomas van Rooij, Tong Wu
TP Surgery is an interactive surgery assist system that strives to maintain a totally sterile operation environment. With the system, the surgeon can adjust the operation room's lighting, as well as scan through the patient's information using gestures that ensure there is no contact with contaminated surfaces including computer screens or light switches.
11. ALGAE OCEAN HARVESTER by Federik Ausinch
A vision by Fredrik Ausinch slated for completion by 2030, Algae Ocean Harvester is an algae-eating drone that cleans the water and powers itself with biofuel produced from collected algae. The remote-controlled device functions somewhat like a vacuum, sucking up any harmful algae, often linked to reduced nutrients and damaged fish production. The algae gathered in its path can then be used for biofuel production, fertilizers and health care products.  
12. COFFEE AS A MATERIAL by Jose Roberto Hernandez Euan
The name says it all. Jose Roberto Hernandez Euan, who hails from the University of Guadalajara, wants to repurpose discarded coffee grounds. By treating them with resins like Crystal and IPOXI, the grounds become a heat resistant material suitable for a variety uses from building construction to household furniture.