"It looks…mature," said Scott Lorinsky, a hedge fund executive who was surveying the art fair. He was labeled, by his private wealth manager/ art adviser in tow, "a true art addict," who was working hard to resist plopping down ten or hundreds of thousands (or perhaps even more). Improbably, Lorinsky was talking about Art Basel Miami Beach, the so-called "big fair" during Miami Art Week, the time during which the most art trades in the United States annually, almost certainly. "There's less flashy Miami crap," going on at ABMB's 2016 instantiation, he observed.
Could it be that fears of Zika, art world depression over the election of Donald Trump and the supposedly slumping art market kind of…worked out? For those who actually want to purchase art at the annual "running of the billionaires," the answer may be yes.
Lorinsky said dealers were easier to access and "more willing to go the extra mile," this morning shortly after the VIP preview for the 15th annual ABMB got underway. Miami-based collector Sam Hollander, also sitting with his adviser, agreed. "It seems more comfortable and the exhibits less crowded," he said. "I see, so far, less photography." Is the selfie spectacle aspect of ABMB on the wane? "Well, that may change tonight or tomorrow," he hedged.
True, the party invites are still piling up in inboxes across Miami (stop sending as attached PDFs! One collector complained) but perhaps less emphasis on celebrity and lifestyle—be that an organic result of the fair's age or of the geopolitical and epidemiological events surrounding it this year—is what ABMB needed.
"I feel like a lot of people aren't here yet," said Justin Conner, the co-owner of a public relations firm that represents a number of art world figures. A private wealth manager who did not want to be identified agreed, and said that yesterday at Collins Park for the annual welcome bash, where it's usually impossible to get a drink, waiters were "topping up the Ruinart" before glasses were even empty. But no one was really complaining.
Fair patrons agreed that some young women had avoided the event over concerns related to the Zika virus. While the U.S. Centers for Disease Control does advise pregnant women to avoid travel to Miami-Dade County and those who have travelled there to avoid becoming pregnant for six weeks (and actually, the risk is more long-term for Zika-exposed men to transmit the virus), Miami residents and frequent visitors are somewhat incredulous at the fears. "We are not concerned," Hollander said.
To be sure, dealers were adamant that sales (Lorinsky estimated that 40 to 60 percent of works were pre-sold) were solid. At Mary Boone, one wall was dedicated to an untitled Kaws that was already promised to MoCA, said Boone's right hand man Ron Warren, and the Observer eavesdropped on more than one sale negotiation in the advanced bargaining stage early Wednesday.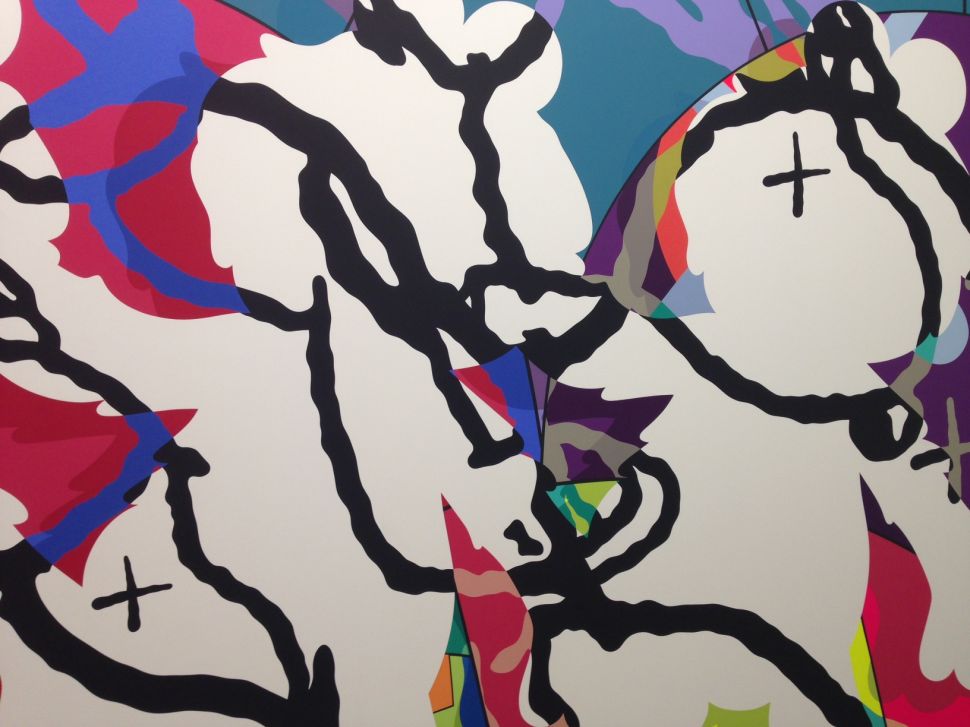 Petra Helck, with Berlin-gallery Kicken, said they'd come each year since ABMB began and never thought of pulling out this time. "No one even really asked questions," she said, though one client with a pregnant partner opted not to come. Indeed, more exhibitors are here than last year, and 24 satellite fairs, as the Observer has previously reported.
"The election is passed us, the stock market is soaring," Warren said. "People with money are actually feeling more comfortable." So perhaps only they are in attendance.
But with less crowding and more exhibits, fairgoers maybe got the best deal. Traffic on Collins Avenue was less the usual peristalsis and more rote constipation last night. Last year's flooding and stabbing might also have turned off some of the less determined collectors. Hollander went so far as to suggest the entire week might benefit from such streamlining. "It is almost impossible to cover all the fairs," that offer work he is interested in during Miami Art Week, he said. "Some of them should perhaps merge."
And the election was a matter of celebration for some collectors, even if those that produce the work they buy might be sorry to hear it.
Bruce Toll, co-founder of mega builder Toll Brothers, said he'd done business with Mr. Trump and lived near him in Mar a Lago. "I'm not upset about the election," he told us. "I'm upset they are doing a recount." Hollander expressed similar political inclinations.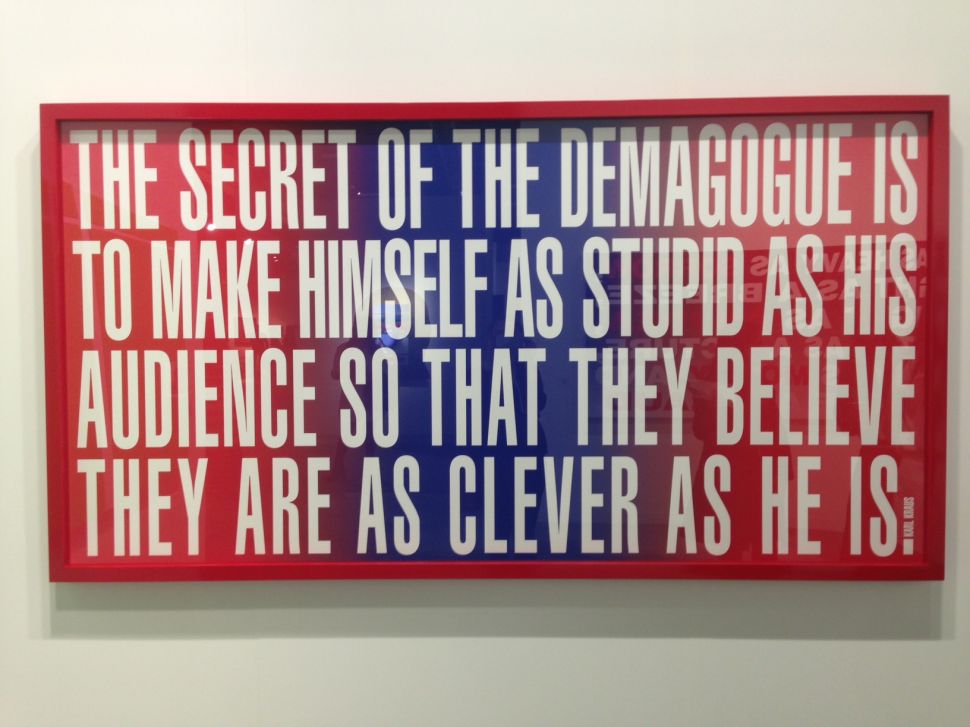 Meanwhile a Barbara Kruger edition print, which was created for the Art for Hillary campaign earlier this year, was for sale at Mary Boone for $100,000. It read in white letters on red and blue background: "The secret of the demagogue is to make himself as stupid as his audience so that they believe they are as clever as he is."