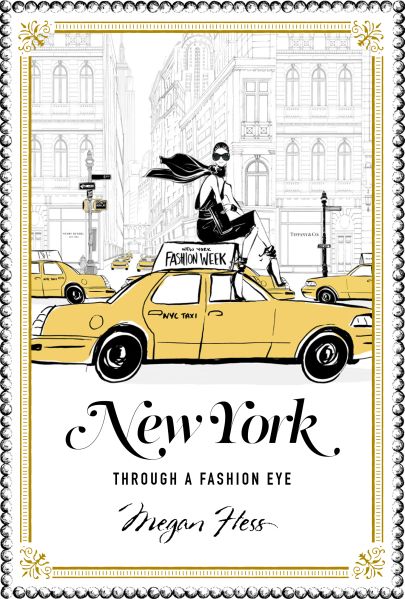 New York is a haven for shoppers, with women flocking from all over the world to flash their credit cards and stock up on exclusive product. With classic department stores like Bergdorf Goodman, local designers like Carolina Herrera and Alexander Wang, and unique boutiques, including Jeffrey New York, it's easy to see why. Influenced by the great Carrie Bradshaw, visitors to NYC are unabashedly looking for labels (and love).
With that in mind, Megan Hess, the Sex and the City book cover artist and fashion illustrator, has pieced together an illustrated book, New York: Through a Fashion Eye. Selecting the best in stores, hotels, restaurants and activities, this guide for fashion lovers features her stylish sketches throughout.
The book boasts 200 pages of suggestions, so fashionistas who are short on time may find themselves confused about where to start. But not to worry! Below is an example of a perfect 24 hours spent in the city, as illustrated (and suggested) by Hess.
Ready, Set, Shop
9am
Time to caffeinate! One of Hess' favorite coffee spots in the city is Little Collins, a café created by Australian expat Leon Unglik. Don't worry, you can avoid the Vegemite on toast if it's not quite your thing; Hess recommends the avocado toast and Bircher muesli.

10am
We know you're here for the shopping, but why not check out some culture, while you're still free of shopping bags? Beat the crowds by going for an early visit to the Guggenheim Museum on Fifth Avenue, for some creative inspiration.
Hess likes to imagine Peggy Guggenheim accompanying her through the spiraling interior. "The famous collector [is] known for her precocious style!"

11am

Have your purse at the ready, because you're hitting the stores. On your way towards Midtown, stop by Fivestory, a boutique department store with a Hess-recommended personal shopping service. They also have a shoe garden that is a must-visit.
Once you've had your fill of Narciso Rodriguez and Jason Wu, decide whether you're a heels girl or a flats girl. For the former, make like Carrie and visit Jimmy Choo. Otherwise, consider a stop at French Sole, a brand beloved by Olivia Palermo and Cindy Crawford. A word from the wise (also known as Hess): "If you can't find the perfect pair, their outlet store is across the street!"

12:30pm
You've earned a break and some lunch, but you also want to stay in fashion dreamland. The solution? Eat at BG by Bergdorf Goodman, the department store's in-house restaurant. There are views of Central Park and an Alice in Wonderland theme. As for food? "The Gotham Salad on the lunch menu is a specialty," recommends Hess.

1:30pm

Head downtown for a different vibe, making sure to buy a sweet treat for later at MarieBelle New York Chocolates. Now it's time to revel in the more edgy options available in Soho and the West Village. Anna Sui and Rick Owens are a perfect contrast of color palettes, but favorites like Marc Jacobs, Opening Ceremony and Proenza Schouler are also worth a peruse.
If you've had your fill of clothes, but still fancy swiping your credit card, stop by Aedes de Venustas for a scent sensation. Art lovers can thumb through tomes at Bookmarc, Marc Jacobs' boutique dedicated to (you guessed it) books. "Even revered fashion editor Grace Coddington graced the Bookmarc premises for a signing," Hess pointed out.

4pm
Give both your eyes and bank account a treat and pop into Artists Space, a not-for-profit gallery in Soho. Both Barbara Kruger and Jeff Koons have shown here since it was founded in 1972. As Hess puts it, it's "the perfect place to get lost and find a little inspiration."

5pm
After a busy day of shopping and culture, you deserve some relaxation. That means it's time for a treatment at Elizabeth Arden's Red Door Spa. Hess suggests getting a facial or massage for a bit of indulgence. Once you're all pampered, it's time to head back to your hotel and get ready for dinner…

8pm

Perhaps the only thing New York does better than shopping, is food. Hess' absolute favorite place to eat in the city is Balthazar, famed for its Parisian interiors, celebrity clientele and steak frites. If you can't snag a reservation, try Beatrice Inn. Once heralded as a fashion late-night hotspot, it's now a meat-focused brasserie that's equally as popular.

10pm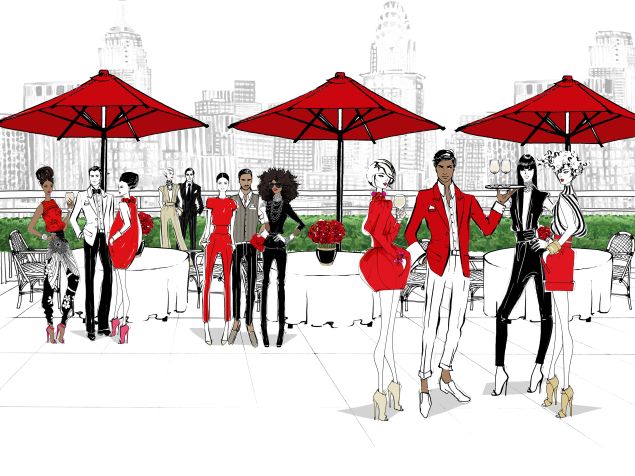 If you wanted to head straight to bed, we couldn't blame you…but we'd still suggest grabbing an after-dinner drink. For perfect martinis, stop by The King Cole Bar at the St Regis. Or, for a view of the Manhattan skyline at night, visit Salon de Ning at the Peninsula Hotel. The vibe is distinctly Oriental, named after a fictional Shanghai socialite, but "catching a glimpse of the soaring Manhattan skyscrapers will bring you right back to New York," Hess explained.

Midnight
Now that the night is over, it's time to hit the hay, in style. Luckily, there's an endless choice of luxury hotels to pick from. For those of you at home on the Upper East Side, try The Surrey; which packs a perfect punch of Art-Deco and modernity. They have some wonderful art, so Hess recommends asking for a private tour of the collection.
If you're a Downtown gal, then Crosby Street Hotel will give you the perfect boutique experience. The rooftop garden means that the restaurant has a constant supply of fresh produce.
Finally, if you really want to make this a trip to remember, there's the Dior Suite at the St Regis Hotel New York. Inspired by the label's atelier in Paris, the room includes Louis XVI-style furniture and lots of silk and velvet. Plus, it's only a red-carpeted walk away from those infamous martinis.
Of course, this doesn't cover the entire New York shopping experience and Hess has many more recommendations, which means only one thing: you'll just have to come back. Bring your copy of New York: Through a Fashion Eye.