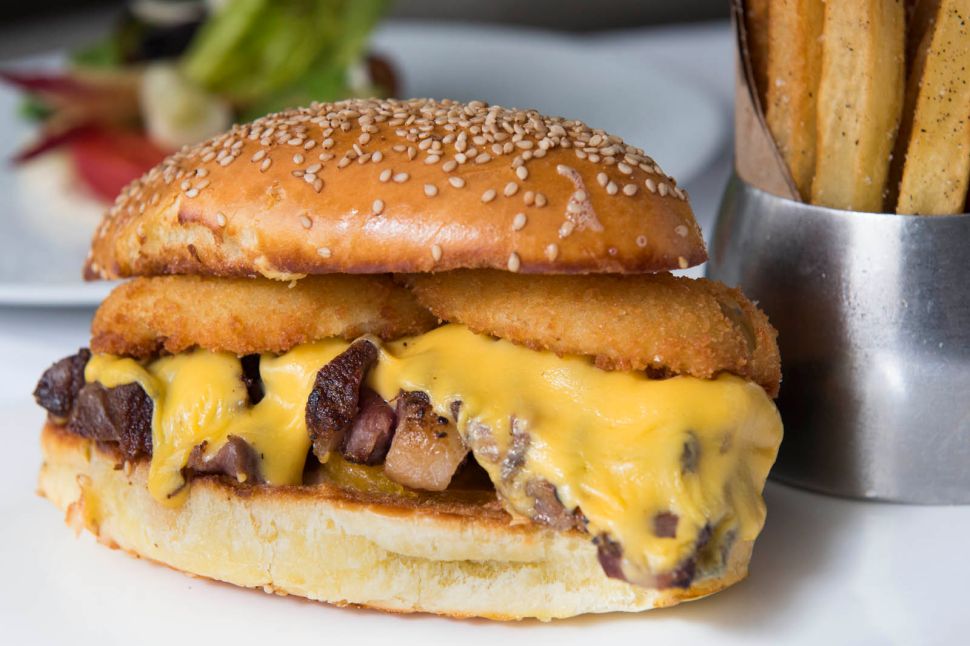 Following a two-month-long redesign, Blue Water Grill in Union Square has been split in two, now offering an entirely new dining experience downstairs at an eatery called Metropolis Oyster Room. On a recent Friday night, the dimly lit 85 seat jazz club-restaurant hybrid was entirely booked. Tables varied between date night duos to large group gatherings, and a talented crooner in a slinky number named Katini crooned with a trio of musicians behind her. 
The menu was designed by Chef Adam Raksin, formerly of L20 in Chicago and Thomas Keller's Per Se, and it seems the talented gourmand has loosened his collar. The experience isn't stiff but rather relaxed and fun. Stand out dishes include the French Press Skull Island Shrimp Bouillabaisse, in which the meal's broth is served using a traditional coffee press that extracts "rouille" sauce from a base of roasted garlic, egg yolk, lemon juice, saffron, espelette and extra virgin olive oil, as well as the $28 Metropolis "Cheesesteak," elevated through the use of dry-aged beef topped with cheddar cheese and onion rings  
Though as an "oyster room," the eight flavored oyster pairings shine through. The Latin American-inspired Escabeche and Ocean Water Ponzu Shooter, topped with a rim of toasted Nori seaweed, draw inspiration from savory foreign dishes, but the best of the lot come cocktail-infused. Both the Bombay and Fever Tree Tonic and Baron Margarita Oysters are crowd favorites, while the Champagne & Caviar oyster comes topped with, among other fresh additions like finger lime caviar, a Krug champagne gelée. 
https://www.instagram.com/p/BKrsFi1AJcK/