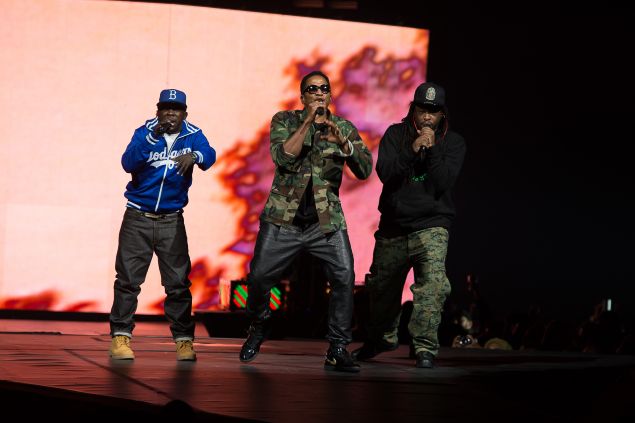 It seemed a little askew, at least to me, that A Tribe Called Quest didn't celebrate the 25th anniversary of their greatest album, The Low End Theory, this fall. One would even believe the unexpected passing of Phife Dawg earlier this year would have expedited such plans. Q-Tip, long-estranged original member Jarobi White and DJ Ali Shaheed Muhammad did us one better, though, by celebrating the anniversary and paying homage to their fallen brother by surprise-releasing an album this week that's on par with their 1991 all-timer.
Hearing Phife back on the mic on a brand new Tribe album, entitled We Got It From Here, Thank You For 4 Your Service, this past weekend was no doubt just the right salve to sooth a human soul torn to pieces from the events of the last seven days, which saw the election of a polarizing new president, the Legislative version of "The Red Wedding" and the deaths of two titans of North American pop in Leonard Cohen and Leon Russell.
It's been a tough month of an already brutal year, and to have Phife's welcome voice return from the great beyond was indeed a gift from Heaven.
What's perhaps most impressive is that We Got It From Here doesn't feel rushed, nor is it hobbled by any maudlin eulogizing or tacky attempts to capitalize on the loss of a founding member. This is as legit a Tribe record as any in the group's holy cannon of classics.
For 16 breathless tracks Tribe invite you to sit on the couch in their living room. From the first seconds of "Space Program" it's clear this is a modern hip-hop classic moonlighting as the real Irish funeral of the group's Holy Ghost. That sense of down-home inclusion is pervasive, and their grief over losing lifelong friend Phife Dawg is heartrending; genuine love, friendship and camaraderie are palpable in every song.
"Heart of a largest lion trapped inside the little dude," proclaims Jarobi White on "Ego", a song as touching and heartfelt as anything hip-hop has experienced since Dr. Dre belatedly mourned Eazy-E on 2001's "What's The Difference", and one soulfully wrapped around a sample of CAN's "Halleluwah".
It's just one of several incredible performances from White, the most elusive of the ATCQ quartet whose last significant contribution to a Tribe album was on 1990's People's Instinctive Travels and the Paths of Rhythm.
[youtube https://www.youtube.com/watch?v=vO2Su3erRIA&w=560&h=315]
White is prominently featured on several tracks across We Got It From Here…, including "Whateva Will Be", one of the better tracks to incorporate Phife's posthumous vocal contributions, and "The Killing Season", a true school cipher also featuring Q-Tip, longtime ATCQ associate Consequence, Talib Kweli and Kanye West atop a seamless mid-tempo groove constructed by Tip on bass, keyboardist Masayuki "BIGYUKI" Hirano and guitarist Louis Cato.
The musicality spread across every track is a well-deserved victory lap that offers this keen composite of all of the group's contributions and advancements in incorporating live instrumentation into the language of hip-hop. Q-Tip especially, who's always been the true brains of the operation, and whose heavy hand in the arrangement and production of We Got It From Here… is audible in the best possible way.
It's almost like People's Instinctive Travels if it was conceptualized in the way the unreleased version of the classic Q-Tip solo album Kamaal The Abstract was, from this organic place of studio creation through musicianship, the reason why A Tribe Called Quest is just as renowned in jazz as they are in hip-hop.
Another great contributor to the musicality of this record is session guitarist Chris Sholar, a William Paterson University graduate who has been working with Tribe since 2001 and has played his axe on such modern classics as Kanye West and Jay-Z's Watch The Throne and, most recently, Solange Knowles' excellent new album A Seat At The Table, particularly on the song "Borderline (An Ode to Self-Care)", which also features Q-Tip.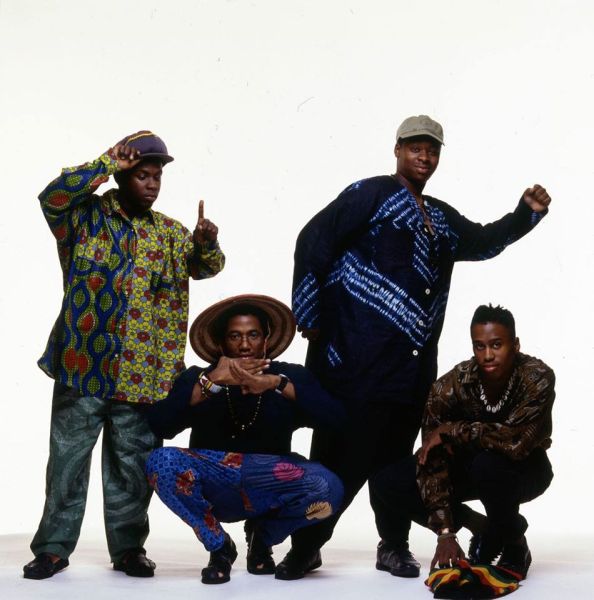 The hottest move Sholar makes on We Got It From Here… is on "Movin' Backwards", where he turns Joe Walsh's indelible opening riff to The James Gang's "Funk #49" sideways as Q-Tip and Anderson .Paak alternate between rhyming and singing in a way that totally blurs the map separating 1996 Linden Boulevard and 2016 Malibu.
Then you get some Jack White/Elton John shit, where White's acoustic guitar and John's piano facilitate a loop centered around the lyrical refrain of "Solid Wall of Sound" (also the song's title) from "Benny and the Jets", providing the plaintive groundwork for the ultimate toaster's showdown between Phife's Mutty Ranks and Busta Rhymes in full Dungeon Dragon mode, a push-pull contrast that somehow balances steadily on its own edge.
And we can't forget about the welcome inclusion of Andre 3000 on "Kids…", who delivers a lyrical performance better than anything he's done in OutKast since Aquemini while Tip responds in kind, spitting some of his hottest bars on the record and making this long overdue dream match an overwhelming success.
Other key musicians who give this record its fuel include keyboardist Casey Benjamin of The Robert Glasper Experiment, pianist Chris Bower, guitarists Chris Sparks and Blair Wells, drummer Mark Colenburg, bassist Thaddeus Tribbett, singers Katia Cadet, Marsha Ambrosius and Abbey Smith and DJ Scratch on the turntables. They are the House That Tip Built and one can only hope the Abstract keeps this ensemble together in the years to come as his own criminally underrated solo career will no doubt receive a second wind from the blowback of this final Tribe LP (though hopefully the reunion between Tip and Jarobi will yield more results).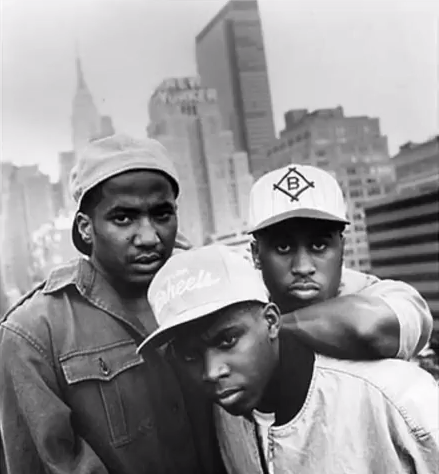 Of course, the whole reason why we're even talking about a new album from A Tribe Called Quest in 2016 to begin with is Phife Dawg. The Phifer, Phife Diggy, The Five-Foot Assassin, The Five-Footer, Malik The Five-Foot Freak, The Funky Diabetic, Dynomutt, Mutty Ranks, The Trini-Gladiator. The man born Malik Izaak Taylor, whose last gift to hip-hop fans before he was called up to the sky were the money rhymes he left behind as the seeds of this magnificent work.
He tears up a Bill Ward sample from Black Sabbath's "Behind the Wall of Sleep/N.I.B." on "We The People…", one of the songs Tribe tore up on SNL last weekend, and on "Black Spasmodic" he reminds us why he was considered one of the nastiest battle rappers out there: "Come on fuccboi, sit down/Shit can only get worsen/How dare you touch a mic with flows uncertain?"
On closing track "The Donald", Tip and Phife meet back up with Busta Rhymes and Jack White for a jam that's not so much a commentary on our new president-elect so much as it's a reminder why neither The Donald nor anyone else should try and question the Dawg's bite on the mic: "Keep the iPhones home/Skill sets must be shown/I'mma show you the real meanin' of 'The Danger Zone'." It just goes on from there before Busta and Jack White trade licks like Peter Tosh and Keith Richards in praise of the mighty Mutty.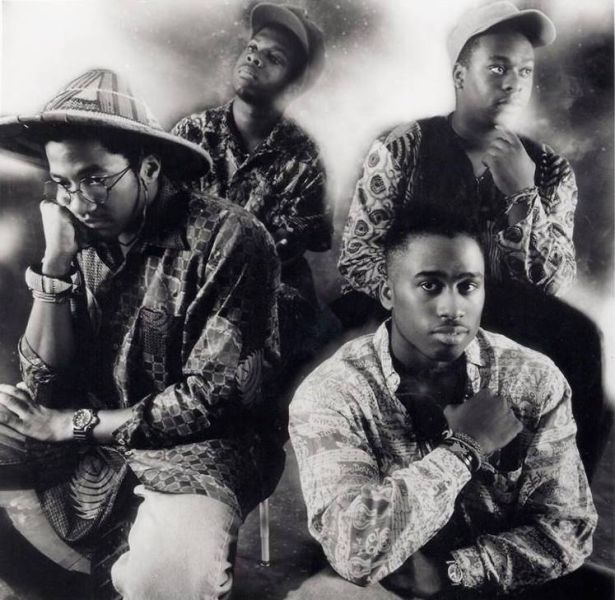 "It's far-fetched that we will," Phife Dawg told writer Jesse Kinos-Goodin at The Boom Box in October of 2011 when he was asked if Tribe would ever make new music again.
"Personally speaking, for the fans, I would love for it to happen. But everyone has to realize we can't just get together to get together, we can't just put anything together or else it will be like, 'We waited this long for this trash?' I would rather leave it alone. If it came together like we never left, then cool, I'm cool with it. We don't want to disappoint the fans. People hold us dear to their hearts so that's the last thing I would want to do."
This Sunday, November 20, marks Phife Dawg's 46th birthday. And just in time for his first celebration in Heaven, Phife's wish came true: not only the creation of a fitting final masterpiece as per his expectations but the emotional uplift the world needs at this point in time.
Disappointing? Mr. Taylor, with all due respect, I'm having a hard time whether or not I should be calling this A Tribe Called Quest's best album period.