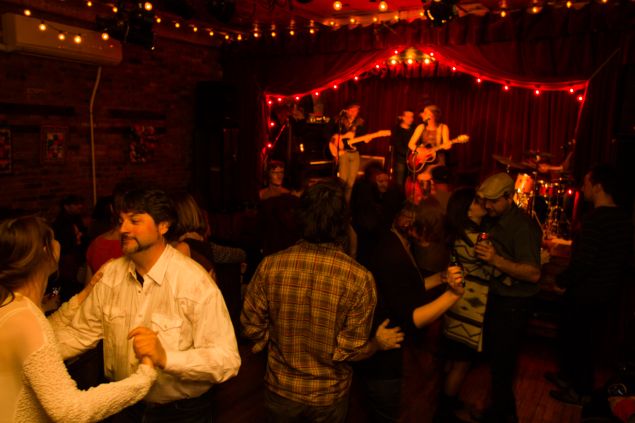 By late afternoon, the shaggy bass-fiddle player is still standing…barefoot. His pale, parsnip-colored toes straddle the scuffed wooden floor. In a concerned tone he asks the man beside him with the banjo, "What looks so different about you today?"
"I shaved," banjo man replies.
"Beardless in Brooklyn?" bass-fiddle scoffs. "It's a total sin!"
With that, the dozen or so ladies and gentlemen, perched in a lopsided circle, get going once again with a slow-jam version of a song that seems to be called "Paddy on the Turnpike." Or something.
Fiddles outnumber guitars. A man playing harmonica looks sort of like he's kissing it. The billowing, old-fashioned cadences of bowing and twanging and plucking fall and rise with a lackadaisical sweetness, as if the entire room were breathing with us. Could it be?
This is a typical Saturday at Jalopy, the mom-and-pop music hall and school without a subway stop to call its own in South Brooklyn.
To find it, walk from Smith Street and the F train across the Brooklyn Queens Expressway. Here the pressed-tin ceiling is painted with an indescribable hue of archaic glow. An unshuttered skylight pours wanton clarity on battered pew seating. Good thing those pews aren't bolted to the floor. Now 10 years old, and still in the making, this deliberately small Red Hook institution for roots music faces a turning point that mimics the relaxed grace of revivalist waltz time.
Jalopy is officially going nonprofit in order to plot another decade for itself: that means appointing a board of directors, installing a "donate" button in its website, expanding staffing and extending musical programs into neighborhood schools like PS15. Beyond that, Jalopy may even head to Zanzibar.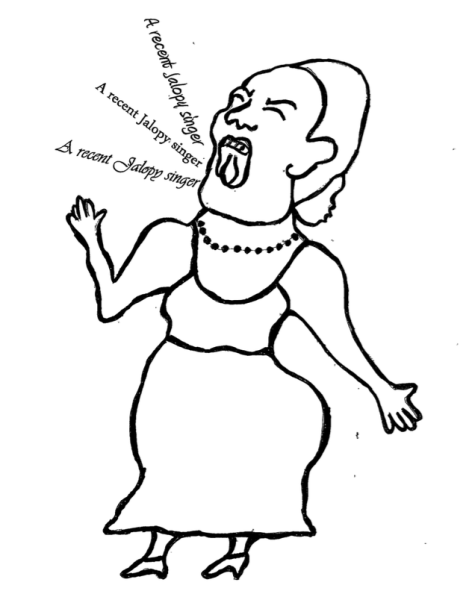 None of this was in the cards when Jalopy first started, soon after the joint's co-owners became parents for the first time. Twin boys forced certain cutbacks. "When we stopped working a hundred hours a week, things got a little shaky. We didn't have the money to pay the bills," admits Lynette Wiley, who bought the three-story brick rowhouse at 315 Columbia Street with her musician husband Geoff in 2005, of their very first day in Brooklyn.
As Chicagoans, they'd long doted on that city's beloved Old Town School of Folk Music, then decided to build their own with funds earned from a lucky real estate investment. "We loved what Old Town was doing and how it grew from being just a storefront." After considering Portugal and both Portlands as possible settings, the Wileys chose Red Hook instead. They drove there in a 1966 Plymouth Barracuda, which could be regarded as the original jalopy.
Nine months of building and renovation included constructing a wooden sink in Jalopy's bathroom. "Geoff wanted to build a wooden toilet, too, but we gave up on it. I was really worried about the things that might fall out of it." Wiley pauses, considering this prospect with a twinkling earnestness that is her trademark. "I should always let my husband do the crazy things he wants to do. But…"
"Crazy" is open to interpretation. "Right now," she confides, "Geoff really wants a firetruck." What for? "To take Jalopy bands around the country," she explains, playing music whenever and wherever he wants to park that firetruck. They'd also like to establish a Jalopy boite outpost in Zanzibar, where "there's so much phenomenal music," and a potentially hearty tourist base.
[youtube https://www.youtube.com/watch?v=FDlb-9MsMmI&w=560&h=315]
For now, though, Jalopy is mainly about jug bands, washboards, honky-tonk, ukuleles and the occasional accordion or chorus singing in Serbo-Croatian. Performances range from folky new discoveries to standing-room-only gigs by the likes of Maria Muldaur. Lessons are given six days a week in guitar, banjo, mandolin, and more, as well as special themed weekend workshops. Geoff Wiley runs a musical repair business, and sells vintage instruments. Jalopy also issues recordings on its own label.
Next door to the theater is the Jalopy Tavern, "a really tough business," according to the proprietors, where one can sometimes catch freaky live ragtime renditions of classic Chopin on the piano.
The annual Brooklyn Folk Festival is a Jalopy enterprise, too, where I first heard the wistfully ferocious klezmer ensemble Litvakus and, more recently, the bleating trials and tribulations of a jovially rivalrous harmonica contest. (Also on call were the Hickhoppers, the Pearly Snaps, the Old Scratch Sallies, the Down Hill Strugglers, and the Whiskey Spitters, to name but a few.)
I can't recall who won the 2016 harmonica contest. But I did learn this much from it: some harmonica musicians try to make the harmonica sound even more like itself than it usually does, while others—the virtuoso tricksters—aim to make it sound as little like itself as possible. I can't take sides in such elating campaigns.
Jalopy's 10th birthday celebration in mid-September ushered in a weekend of saturated strumming, howling, crooning and other carryings-on, all sounding undeniably authentic. Musicians who've been playing or teaching there for years took turns thanking anyone who didn't run away or interrupt them.
[bandcamp width=350 height=470 album=179170687 size=large bgcol=ffffff linkcol=0687f5 tracklist=false]
"Audiences at Jalopy are more open-minded to the music. They don't have to know all about it beforehand in order to be willing to encounter it," said Dennis Lichtman, who leads the swing band Brain Cloud.
Jalopy also tends to attract a certain breed of music aficionado. At a concert last week, I met a man who steered me expertly to no less than three distinctly different and dynamic local music haunts, none of which I'd ever heard of before. He did not demand a quid-pro-quo.
Then there's what's called "the warm acoustics" of Jalopy to entice the wary or unwary who come humming. Though Dahlia Dumont usually prefers to sing fortified by a large ensemble, during Jalopy's birthday party she was more than willing to do it a cappella for a trusting, trusted crowd.
Professional musicians head to Jalopy in droves. So do plenty of amateurs, young or not so young, toting music cases of all shapes and sizes. Why? "Jalopy is a simple, calming and homey place," says 19-year-old Clem Goodman, an aspiring blues guitarist who signed up for Jerron Paxton's guitar workshop in September. "Playing there, I feel very comfortable, as if I am sharing a love of music with friends rather than performing for an audience."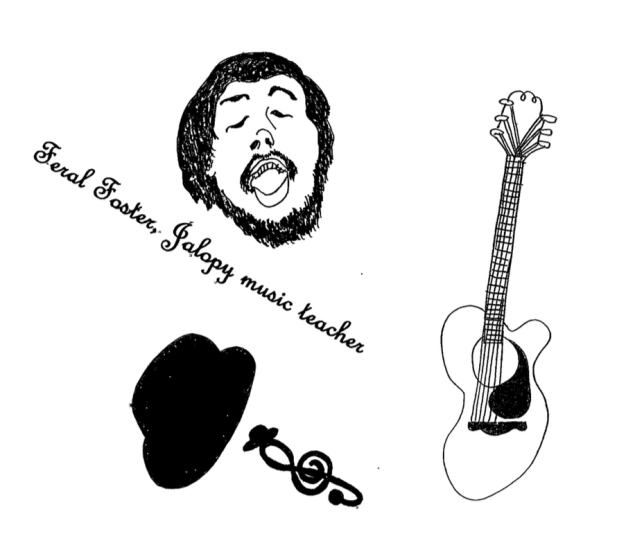 This inclusive atmosphere is precisely why Jalopy's weekly open mic night is held in such high esteem. Each Tuesday, Ernie Vega hosts, with these rules cheerfully enforced: "Two songs each, or eight minutes—whichever happens first." With Vega's help, if you're lucky, you might hear a song or two like "Nun on the Run," as played by somebody called Alistair, or "A Girl's Got an Itch to Scratch."
Or you might seek and find a measure of musical guidance from the husky-voiced regular known as Pete. (Pete plays Elvis with assorted scruples.) Or, you might just close out a Tuesday evening at Jalopy by listening to a stripped-down version of "The Sounds of Silence" as played on solo sax by Ricky from Staten Island, his graying long Robin Hood locks swaying just slightly, like a librarian ready to liberate his own cardigan from its righteous buttons.   
"Jalopy was made by hand," notes singer-songwriter Feral Foster, who teaches music there and curates the weekly "Roots 'n' Ruckus" performance series. His raucous fusion of blues, rock, gospel, Elvis, Patsy Cline, and maybe just a nod or two to the French troubadours takes its cue from his adopted name—and from the scarlet sequins of some favored Feral outfits.
"To survive in this city for 10 years," declares Foster, "is a miracle."