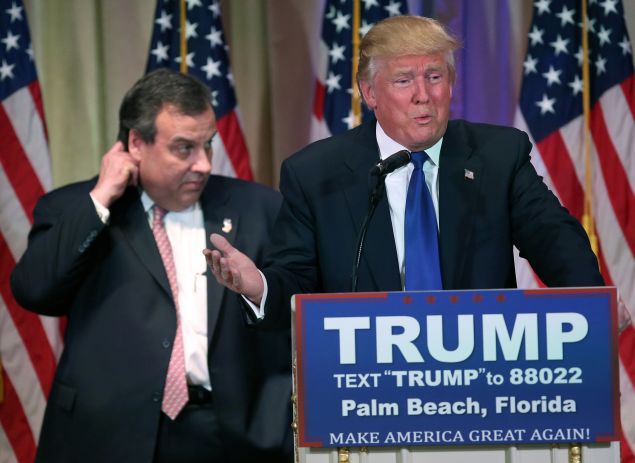 Following Friday's news that New Jersey Governor Chris Christie had been replaced as the leader of president-elect Donald Trump's White House transition team, the governor's prospects for several coveted appointments dwindled further on Monday as Trump appointed RNC chairman Reince Priebus as his chief of staff.
But experts at home say the chances of Christie being rewarded for his loyalty to the one-time casino magnate are still good—the governor could still be under consideration to replace Priebus, or to head the Department of Homeland Security.
Monmouth University pollster Patrick Murray said that Christie's early and unwavering support for Trump will still likely lead to him being offered a position and a flattering exit from a state where he is suffering from a dismal 19 percent approval rating in the wake of two Bridgegate convictions. On top of that recent Rutgers poll, calls for impeachment and another investigative committee from N.J. Democrats could motivate the governor to beat a hasty retreat to preserve his future in public service.
The incoming Trump administration's desire not to get bogged down in Senate confirmation hearings, Murray said, will likely disqualify Christie from positions like Attorney General.
"We don't know what's going to happen. All we know is that there's been the big demotion," Murray said. "But in the end, I would expect they would find something for Christie in the administration. It would probably not be his preferred position.
"Unless Mitch McConnell was willing to use the nuclear option, there would be no question that an AG appointment and almost any other appointment that requires Senate confirmation would be filibustered for Christie because of Bridgegate. So that rules out those kinds of appointments."
But absent those opportunities for bad publicity, the governor still stands to gain. Seton Hall University political scientist Matt Hale believes the RNC chairmanship is Christie's best bet.
"He has a history of raising money for Republican candidates, so if I was betting I would say it's RNC chair. The only other one that might make sense is, I think he has an outside shot at the Department of Homeland Security.
"That would have to be Trump and his team being willing to roll the dice on talking about Bridgegate for a week, which they may decide is worth it to get Christie in Homeland Security. The RNC chair, there's no confirmation, there's no hearings. There's just the president saying 'This is what I would like' and the RNC presumably following suit."
Asked whether the long-developing scenario in which Christie leaves for Washington and hands the keys to governor's office over to Lieutenant Governor Kim Guadagno is an inevitability at this point, Murray said yes.
"That's been my feeling having watched him all along, and that's been my feeling since day one when he endorsed Donald Trump."
Disclosure: Donald Trump is the father-in-law of Jared Kushner, the publisher of Observer Media.