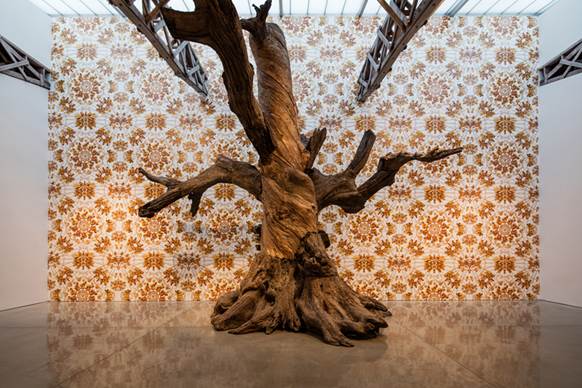 Ai Weiwei, who some consider the most famous, if not the greatest living artist, was on the eve of opening shows across town on his first visit to New York in five years, when he met with journalists at Deitch Projects last Friday. His return has been met with fanfare. At the Wooster Street space, Ai, 59, walked around his newest show, "Laundromat," which is a collection of 2,046 articles of clothing and shoes discarded by refugees when they fled the demolition of the Idomeni camp on the Greek-Macedonian border.
Earlier this year, after Ai visited the camp, he gathered the garments left behind, took them to his Berlin studio, and cleaned, pressed and sorted them. At Deitch, they've been tagged, assorted onto racks, and arranged in aisles like a second-hand clothing store or, as New York magazine put it, as though "Ai Weiwei brought a refugee camp to Soho."
Ai, who is known for his politically and socially-conscious works, takes a different tack in "Roots and Branches," on display at the Mary Boone and Lisson galleries and open through Dec. 23, where he reflects on his own uprooted life. Weiwei grew up in China where his father, a poet and activist, spent the first 20 years of his son's life in a labor camp after running afoul Mao's regime. Later, as a young artist, Weiwei spent a decade in New York City in the 1980s.
Starting uptown at Mary Boone's Fifth Avenue gallery, a display of 40,000 porcelain spouts from broken, antique teapots is cast in a circle on the floor. Behind is a white wallpaper bearing Ai's severed arm and hand flipping the bird, a nod to his Study of Perspective photographs, where he did the same to iconic landmarks across the globe.
At Mary Boone, the 25-foot Tree dominates the center of a loft-like white room. Composed of hunks of dead trees from Southern China reassembled and bolted together, like everything in the room, the viewers distance from the works is crucial. Tree first appears seamless, but a closer look shows it's a composite of segments. From afar, the wall paper behind Tree features golden chandeliers. Up close, however, something unsettling happens: the gleaming ornaments are actually comprised of surveillance cameras, Twitter's bird symbol, handcuffs and chains. Sitting in the center of a smaller adjacent room is Treasure Box, a paneled cube made reclaimed huali wood; and Self-Portrait, Ai's face created with bright Legos and repeated in Warhol fashion.
Just down the street, Lisson Gallery has a cast-iron tree, although it's been felled and scattered, as though sawed into segments. Trunks are placed throughout the room. Roots are upturned and exposed to air. Bark — shaved and piled into a corner.
There's more wallpaper, which stretches the length of one wall from floor to ceiling. Starting from either edge, the images are easily recognizable and some form a cultural critique: military helicopters fly above peacekeepers battling protesters, while refugees walk with all their worldly belongings in a long train, or huddle in tents in front of chain-link fences reading, "No one is illegal" and "safe passage." Moving middle, the images become less obvious: there's Michelangelo's "Pieta" near backhoes dumping clothing into dumpsters. Drones fly overhead, as Chinese lions fight another, towering over the bombed-out remains of a city. A Greek-ish figure—Orpheus?—fiddles with a harp, and something that looks like a clock with Ai's disembodied, elongated arm flipping off someone or something centered around an ankh, the symbol for life.
Even fleeting familiarity with Ai's work reveals how inseparable political acts are from his art. He has angered authorities with his work. He launched a grassroots investigation into the deaths of 5,000 schoolchildren during an earthquake in Sichuan in 2008 on a blog. Ever since Chinese authorities returned Ai's passport last year, the artist has spent considerable time preoccupied with the plight of refugees. Since his travel ban was lifted, Ai has toured refugee camps in Europe, the Middle East and Africa, earning commendation from Amnesty International.
With "Laundromat," Ai asserts the value of human dignity while, managing to question media saturation surrounding the refugee crisis. The clothes, assorted onto racks by type and size, are arranged in aisles like a second-hand clothing store. But any other resemblance to shopping vanishes. The walls are a mosaic of thousands of unlabeled images Ai took at Idomeni: a picture of a girl holding a fact house cat; a series of a person emerging from a tent; everywhere, Ai with refugees, Ai with the media; or streams forming a muddy delta upon which no tent is erected. The effect is disorienting. But seeking a break by looking down at the floor is a mistake. It's been plastered with online articles, lots of these, tweets and agenda from the European Union meetings on the refugee crisis. There's a picture of Putin, and one of Angelina Jolie. You can view the posts individually, but soon realize that piecing them together is hopeless: They've been arranged seemingly at random, without coherence. The overload of information feels like distant noise.
Above the racks on a raised platform, in the only continuous white space in the gallery, are shoes from the camp in neat, orderly rows. Up close you can see matching sets and identify them as children's shoes, sandals, adult shoes, while from afar they form a part of the mosaic. On the wall, a short documentary Ai's team put together on the camp plays on a loop.
By Friday afternoon, the room had filled for a press conference. Reporters form a ring around Ai, who's stands at one end of the the gallery's owner Jeffrey Deitch. Across the room the documentary continues to play. Deitch tried to soften spin Ai's controversial comments last month to Cuban artist Tania Bruguera, wherein he criticized her for criticizing his piece where he impersonated a dead Syrian refugee toddler.  Ai, Deitch said, cared about humanity: the show was about rituals, how ironing the clothes and agonizingly cleaning the shoes with tooth brushes restored human dignity. Ai had a few words to say, Deitch said. By now the throng of journalists was closely pressed together, phones out, waiting. Collectively, they leaned in. "Thank you," the artist said. "Enjoy the show."