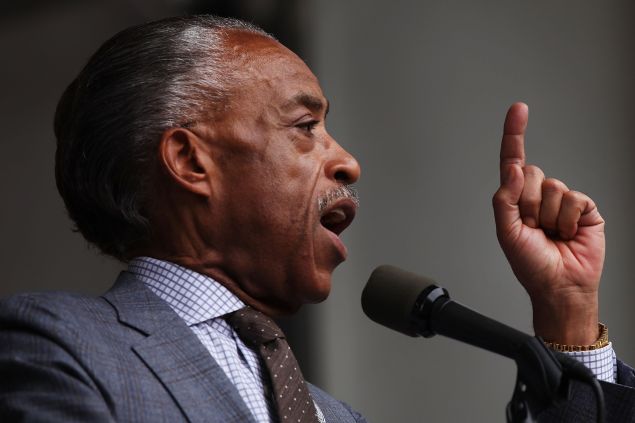 Rev. Al Sharpton warned President-Election Donald Trump to "saddle up your horse" because he's planning to spend the eight weeks leading up to Trump's inauguration fighting any changes that could adversely impact communities of color—starting with a rally at the Dr. Martin Luther King Jr. Memorial on January 14.
At a special edition of his Saturday gathering and radio address at the Harlem headquarters of his National Action Network, Sharpton announced his plans to march on the on the monument in Washington, D.C.  just two days before the official Martin Luther King, Jr. holiday and six days before Trump's inauguration. He urged people to put pressure on the Senate to maintain the Affordable Care Act and to push back on every proposed member of the Trump cabinet at every confirmation hearing.
"I want Trump to know that you can take Dr. King's statue out the Oval Office, but the children of Dr. King just like we fought back and forth, we gon' fight back now," Sharpton said. "It's gonna be a day of recommitment. We are not going to let you turn us around. We got eight weeks. We gonna criss-cross this country." 
And he doesn't plan to allow Trump to roll back the achievements of President Barack Obama.
"I had to fight for the right to vote," Sharpton said during his weekly National Action Network Saturday Action Rally in Harlem, garnering raucous applause from the audience. "I'm gonna fight to keep the right to vote. I had to fight to get a job. I'm gonn fight to keep a job. I shifted my gear, I'm ready to fight. Saddle up your horse. This gonna be a fight for the future of this country."
Indeed, he pointed out the irony of Trump meeting with Obama following his defeat of his Democratic opponent Hillary Clinton given that he questioned whether the country's first African-American president was born in the United States—he noted that Trump met with Obama right beneath a statue of the late civil rights leader Dr. Martin Luther King, Jr.
"Over Trump's shoulder was the bronze statue of Martin Luther King," Sharpton said. "Trump had to sit in the Oval Office shaking a black president's hand with Dr. Martin Luther King looking down at him."
He also got some laughs when he some people expressed surprise at the fact that Obama was meeting with Trump to discuss transitioning, saying that even with all of Trump's vitriol, the president-elect knows that "you gotta talk to the folk ahead of you to know what to do."
"Even Donald Trump had to go ask Obama, 'Now how do I deal with these nuclear codes?,'" Sharpton said. He has enough sense to know, 'I better find out from him how to do this and Melania, go over there and talk to Michelle. We don't even know how to get up the back stairs here. You wanna lead without talking to the folk that led? You don't know nothing!"
And he recalled how the National Action Network came into existence in the aftermath of racist attacks in the outer boroughs in the 1980s. Sharpton led rallies after through Howard Beach, Queens in 1986 after a white mob there chased the 23-year-old, African-American Michael Griffith onto Cross-Bay Boulevard, where the young man got fatally struck by a car.
The controversial civil rights leader did the same in 1989 following the murder 16-year-old Yusef Hawkins at the hands of another gang of white men. Sharpton himself became the victim of a stabbing during one of these rallies.
The reverend recalled that, during roughly the same period of time, Trump and his father were facing charges from the federal government for housing discrimination. He also reiterated that Trump had advocated for five black and Hispanic men imprisoned for the 1989 rape and beating of a female Central Park jogger—all of whom were later exonerated—face the death penalty.
"While I was marching in Bensonhurst and Howard Beach, they were in court defending charges of housing discrimination," Sharpton said. "I know what I'm talking about. Well reverend, you've been out here a long time. So has Donald. But we were on different sides of the discussion."
Just two days ago, TMZ published a video of Sharpton's comments in the immediate aftermath of the election results in which he insisted he was joking when he said he'd love the country but reiterated that Trump's "got a lot he's gonna have to deal with" and said he "can't deliver half of what he said."
And this isn't the first time the civil rights leader has spoken out against the Queens-born businessman.
At the end of last month, he accused Trump of plotting voter intimidation after the then-candidate called on his supporters to watch the polling places. He also blasted Trump and his opponent, Hillary Clinton, for not mentioning Haiti the second presidential debate in the aftermath of Hurricane Matthew.
Last November, he said that a group of African-American pastors and leaders who were expected to endorse Trump should bring up issues such as gun control and immigration that matter in black churches.
The president-elect and the African-American leader were not always bitter foes. A report last year in the National Review—a conservative publication hostile to both men—revealed the pair had collaborated in the past to promote boxing matches in Atlantic City.
Disclosure: Donald Trump is the father-in-law of Jared Kushner, the publisher of Observer Media.