Hashtags, "likes," memes, comments, Instagram—this is what constitutes an online identity today. But this behavior also pervades our culture, our language, and our social awareness to such an extent that the digital and physical are no longer separate; we can no longer tell where one ends and the other begins. Our digital footprints can hold more weight than the ones we've left in reality. Now we see more pixels of people than actual human faces.
Alxndr London's vulnerable, introspective songs traffic in such post-modern complexity, straying far from the virtual world through poetic, deeply human meditations on identity, fear and hope, while simultaneously blurring lines of technology and genre. A Long Time Ago, the British singer-songwriter's debut EP, produced by fellow Brits JP and Harrison, whisks listeners away on a journey of self-discovery through fever dreams of soul, funk and electronica.
"I want to write about what I've experienced, my memories and poetry," London says. "The way I know how to do that is not through the Instagram, it's not through the tweets and all of that, it's through the music."
In an industry built on marketable personas, London maintains a rare, genuine mystique. Currently an unsigned artist with a scant social media presence outside of his SoundCloud page, where he's amassed thousands of plays, his disconnect from the machine feels sincere and refreshing.
"I feel like we're a lot more in touch with each other but we've never been more distant from each other," he says of technology.
"People are literally like, 'oh my gosh, no one's liked my picture, I'm deleting it off Instagram,' or 'I didn't get that many likes my value has decreased.' What? Excuse me? You're a human being. Your worth is not built on X amount of people following you. That doesn't inform who you are in the reality."
London might be a relative newcomer to the music game, having only written his first songs at the beginning of 2015, but his mature, thought-provoking songwriting defies any supposed amateur status.
"I tell everyone to come into Noah's Arc, almost like I'm about to save you from this reality. I'm about to share a truth with you," he explains of the EP's first track, "Intro."
[soundcloud url="https://api.soundcloud.com/playlists/265387239″ params="auto_play=false&hide_related=false&show_comments=true&show_user=true&show_reposts=false&visual=true" width="100%" height="450″ iframe="true" /]
"Intro" sets an ominous tone with a whispering voice that plays into Alxndr's introversive personality, taunting him with questions of fame and pop star success. A riddle is then spoken with a hidden acronym—"What is the day before the day after yesterday/ The only day after yesterday is today," i.e. T.O.D.A.Y.—followed by a gospel-inspired organ and harmonies that sets in motion a pilgrimage-like chapter.
Hiding his face behind his signature straw hats—which derive from Asian and West African traditional wardrobe—in almost every press shot and photo of him, London's very protective of his personal space. But while he's uncomfortable in the spotlight, with such captivating music and a such a unique style, he might have to get used to the attention—The New York Times and Noisey were drawn to him at the Afropunk music festival and photographed him simply for his eye-catching wardrobe.
"I'm in no way shape or form ready to put myself on a pedestal," he says. The same hats that attract photographers are ironically worn as a safety net. He describes them as all-purpose hats that are built to survive elements of nature and torrential rain, or in this case flashing cameras.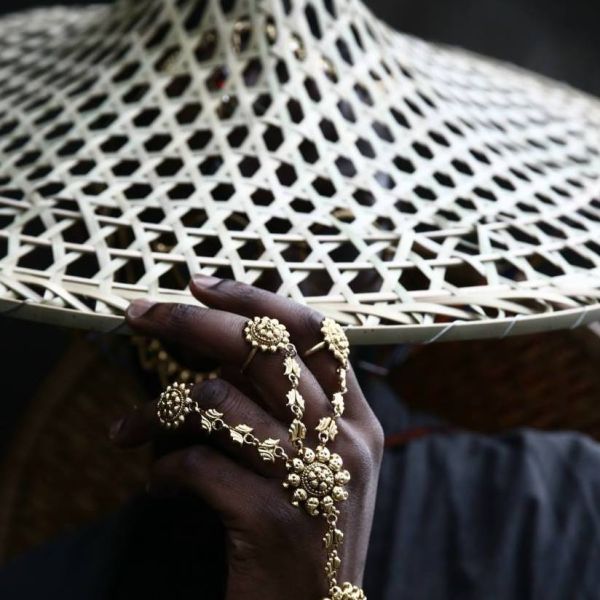 It's these kinds of personal struggles and insecurities that translate well on his EP.
After shedding doubts on "Intro," London conducts a funk-infused symphony on "XXX," which taps into a raw, dark journey of introspection that he still needs to overcome.
He teases listeners with outright revelation but never explains the whole trauma. "I would tell you so much more/ But I don't play the violin," he sings, a cheeky reference to a sob story.
London's shape-shifting, hybrid sound is the hallmark of this promising debut EP that functions as a reflection on fluid identity. London is a singular, striking voice that asks plenty of questions while seeking few answers, a theme that culminates on the release's final track, "Harrison," where he sings lyrics of drinking up every memory:
"You should appreciate all these moments as they come/ You should appreciate where you're at, 'Cause where you're going, it's going to be a different place."