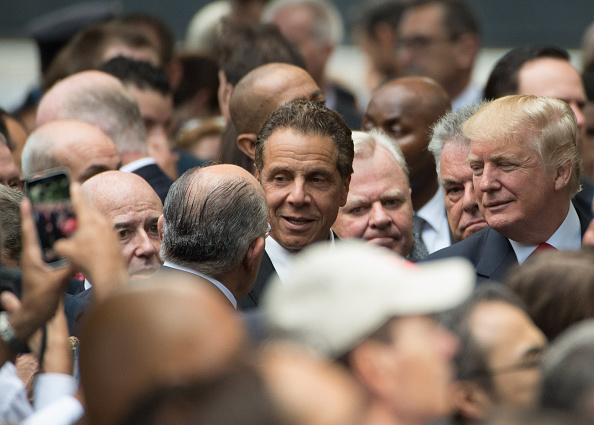 Gov. Andrew Cuomo took to Facebook today to try and revise his remarks on Wednesday that imminent ascent of his fellow Queens native and longtime donor President-elect Donald Trump would be a "bonus not just for this state, but for other states also."
The day after Trump defeated Hillary Clinton, the Democratic governor phoned into NY1 to recount how he called the Republican commander-in-chief-to-be to proffer his congratulations, and to discuss the possibility of securing further federal funds for his plan to fortify New York's infrastructure. The comments earned Cuomo—who has pointedly refused to return the $64,000 Trump and his family have donated to his past campaigns—ire from liberal groups, and apparently prompted him to backpedal furiously on social media this morning.
"As New Yorkers, we have fundamentally different philosophies than what Donald Trump laid out in his campaign," the governor wrote on Facebook, recalling the Republican's often intolerant comments about minorities. "Whether you are gay or straight, Muslim or Christian, rich or poor, black or white or brown, we respect all people in the State of New York."
In particular, he promised to shield undocumented immigrants from the president-elect's promised deportations.
"We won't allow a federal government that attacks immigrants to do so in our state. We are a state of immigrants," the Facebook post reads. "We are New York, and we will stand up for you. And on that, I will never compromise."
Cuomo has an odd history with Trump, beyond the tens of thousands of dollars the braggadocious businessman has poured into the governor's campaign coffers.
The governor was among the first endorsers of Clinton after she announced her campaign last April, two months before Trump kicked off his own bid. Cuomo has repeatedly mocked the mogul's calls for a wall on the Mexican border.
But he attracted criticism from other Democrats for publicly meeting with the Republican then-candidate at this year's 9/11 memorial service. The pair later bickered over the effectiveness of several of Cuomo's economic development plans, and the governor called upon Republicans across the state to disavow Trump after a video leaked of the mogul talking about sexually assaulting women.
Cuomo was among the New York pols to pump the crowd at the block party outside Clinton's election night gathering at the Javits Center.
Disclosure: Donald Trump is the father-in-law of Jared Kushner, the publisher of Observer Media.