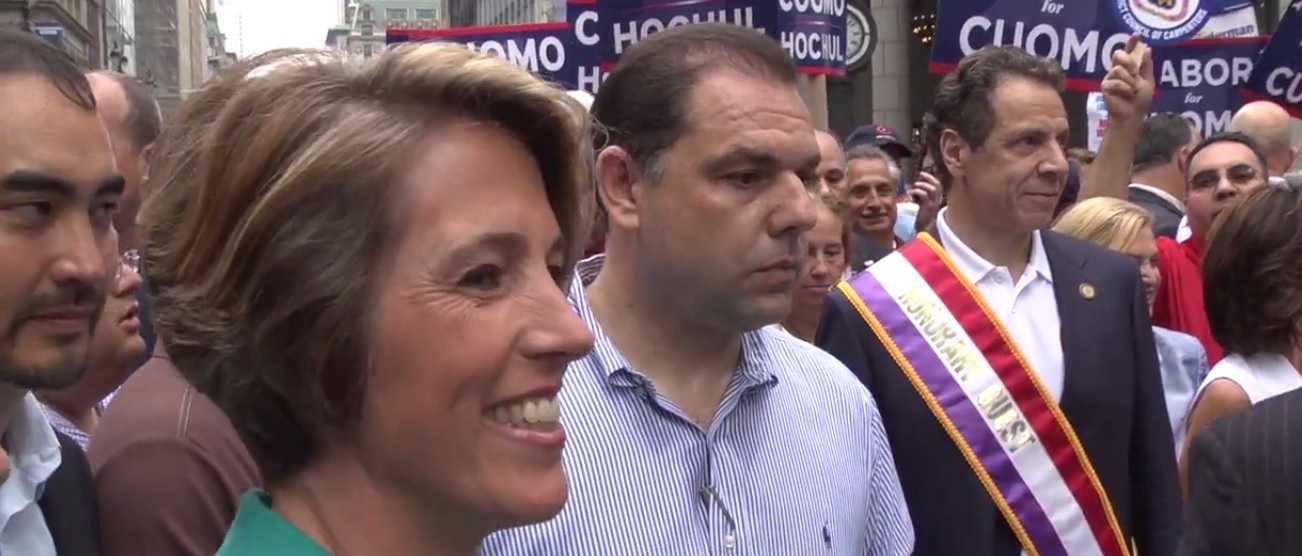 An array of figures from Gov. Andrew Cuomo's inner circle—including a confidante so close the governor called him "my father's third son"—got slapped with a sweeping 14-count federal indictment today, which alleges they colluded in a pair of schemes to solicit bribes for state assistance and to rig economic development contracts for companies that gave to Cuomo's campaigns.
A grand jury gave crusading U.S. Attorney Preet Bharara the go-ahead to prosecute his case against Joseph Percoco, the governor's former campaign manager, deputy executive secretary, political fixer and body man, on charges he solicited bribes and a "low-show job" for his wife from two major Cuomo contributors. In return, the federal government alleges Percoco pressured executive agencies and entities to offer assistance and loosen regulations for the companies' operations in New York State—and lied about the arrangement on disclosure forms.
"Percoco had a longstanding relationship with the governor and the governor's family, and was generally seen as the governor's 'right-hand man,' who coordinated access to the governor and often spoke for him on a broad array of substantive and administrative matters," the indictment reads. "Percoco also served as the 'gatekeeper' of opportunities to speak or meet with the governor, oversaw logistics of the governor's events and travel and supervised appointments and administrative matters for the executive chamber."
Executives from the two companies, Competitive Power Ventures and COR Development, were among the seven other men indicted today.
Also among the accused is Dr. Alain Kaloyeros, the former head of the State University of New York Polytechnic. Acting under the auspices of the Cuomo-controlled SUNY system, Kaloyeros ran the governor's signature economic development initiatives through several semi-private companies, including the Fort Schuyler Management Corporation.
The biggest of Cuomo's revitalization programs was the Buffalo Billion, which Bharara charges became a cash cow for "friends of the administration"—developers who channeled cash into the governor's campaign. The indictment claims Kaloyeros colluded with mega-donor executives from the company LP Ciminelli to rig the bidding process so their firm received fat contracts for building facilities in Western New York.
The linchpin of both cases appears to be former lobbyist Todd Howe, another longtime Cuomo aide, who has already pleaded guilty
Asked for comment, Percoco's attorney Barry Bohrer responded with a string of Thanksgiving puns and an allusion to the Supreme Court's Skilling v. United States decision, which substantially narrowed the scope of honest services fraud statutes like the one Bharara hopes to convict his client on.
"This case is a real turkey. We will knock the stuffing out of it at trial," Bohrer said in an emailed statement. "We give thanks for a system in which a jury can reject the government's efforts to criminalize conduct that has been found unworthy of prosecution by the highest court in the land. Mr. Percoco is innocent and will enter a plea of not guilty because he is."
Kaloyeros's lawyers said they were "disappointed" in the grand jury's decision, but expressed similar confidence he would ultimately be acquitted.
"Dr. Kaloyeros is innocent of the charges filed against him and looks forward to being exonerated," said attorney Michael Miller, noting his client's pioneering work in the field of nanotechnology. "Dr. Kaloyeros has dedicated his life to training young scientists, developing cutting-edge research, and attracting outstanding tech companies, economic development and jobs to Upstate New York. We are confident that, at the end of this process, a jury will conclude that he committed no crimes along the way."
Cuomo, who does not face any accusations of wrongdoing, has maintained that he was utterly oblivious to any nefarious dealings allegedly going on in his administration. He has shifted responsibility for his upstate New York initiatives from SUNY Polytechnic to the Empire State Economic Development Corporation, another entity he unilaterally controls.
"This is a profoundly sad situation for me personally. Now the justice system must take its course, and any of those found guilty of abusing the public's trust should and will be punished," the governor said in a statement sent to the Observer, vowing to pursue ethics reform in next year's legislative session. "Changes need to be made to restore faith at every level of government. My administration has taken a number of steps in the past several months to reform the procurement process, and has proposed additional measures for the Legislature to take up when they return."
The governor has also pointedly refused to stop taking campaign donations from companies seeking contracts with the state.
Last year, Bharara convicted two members of the infamous "three men in a room" troika which controls New York State government: former Assembly Speaker Sheldon Silver and ex-State Senate Majority Leader Dean Skelos.
Updated to include comment from Cuomo and from Miller.