I'd been planning to write about aromatherapy for a few weeks. But after last Tuesday night, I found myself repeatedly anointed the insides of my wrists with soothing aromatherapeutic oils at my desk. Then it occurred to me that that perhaps this small, quick self-care practice might be useful to others in the days to come.
Once relegated to the beauty aisle of health food stores, essential oils and aromatherapy at large are having their moment. Perhaps it is precisely because we live in a strange, mad world where we so rarely disconnect and so constantly engage.
Sara and Sean Panton are siblings, as well as founders of Vitruvi, a decidedly modern aromatherapy company. Sara became introduced to aromatherapy while in med school, after learning about the powerful effects of scent on the brain.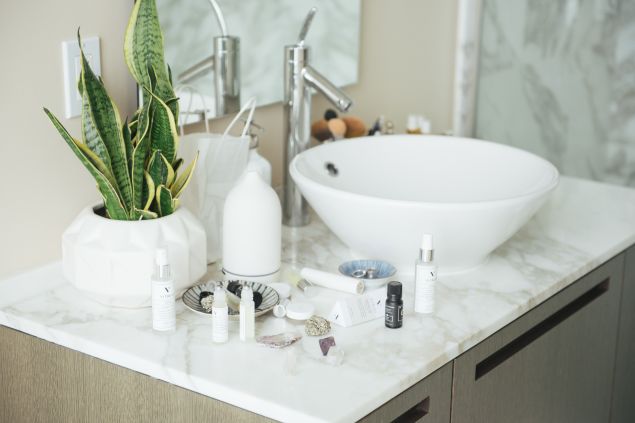 "In using essential oils throughout your day, you can expect to help create moments of pause in your day. Our goal is always to help simplify and bring small grounding practices to your day," they explained, noting that their all-natural products are free of synthetic perfumes. Moments of pause cannot be underestimated in uncertain times.
So, let's use some science to give ourselves these small, grounding moments. "Because the brain likes routine, creating a specific scent for different moments of your day can help the brain and body navigate hectic schedules," Sara said. "If you have a busy schedule or are looking to create some consistency in your days, try pairing different routines, like going to bed or working at your office, with specific scents. By creating scents for these routines it means that regardless of where in the world you fall asleep, or if you need to work from a plane, [the associated sccent] helps take you back to that consistent experience and to get you in 'the zone'." By habitualizing aromatherapy, we train our brains to associate certain moments, or routines, with designated scents.
If you are overwhelmed and need a quick fix—here are six easy ways to begin:
1. Try a diffuser: "Start small and in a way that works for your schedule. Most people's mornings and evenings are relatively routine so try adding an essential oil practice like using Lavender essential oil in a diffuser beside your bed in the evenings," suggested Sara. Vitruvi's diffuser is designed in Japan and made from the highest quality porcelain. It's the opposite of an eyesore and allows you to completely customize your usage of essential oils, in the comfort of your own home. Setup takes about 60 seconds and the diffuser works for the next six hours. Enjoy.
2. Indulge: The Rolls Royce of essential oils comes in the form of incredible and complex blends by Tata Harper, who is known for never compromising on the quality of the products, all of which are famously produced on her Vermont farm. Her blends, particularly Irritability, and Stress are purse-sized but potent, and may prove crucial. Apply to palms and pulse points, cup your face, and take a few deep breaths.'
3. Do what works for you: If roll-on's are not your style, check out Scentered which offers perfectly portable aromatherapy in balm form. I've been spritzing Vitruvi's face & body mist at my desk. I've been using Focus, in hopes of being able to do just that, but when all else fails, allow yourself to indulge in Still, which Vitruvi calls "an ode to modern meditation." It is a blend free of parabens, sulfates, synthetic fragrances, and synthetic dyes, with the scent of Vetiver, Clary Sage, Egyptian Geranium, Rose, Mandarin, Frankincense.
4. For deeper relaxation: Release just a few droplets of one of Desert Essence's results-oriented blends onto an eye pillow. Pop it in the microwave for 15 seconds. Place over your eyes and breathe in—four counts in and six counts out is one of countless recommended techniques.
5. Take a fancy bath: Opt for something pretty in packaging and scent like Aromatherapy Associates Deep Relax Bath & Shower Oil. Vetiver, chamomile, and sandalwood will help you unwind after one of the many long days we've all been having of late. Pair with an aromatherapeutic candle for some calm reading before bed.
6. Get some (good) sleep: For the past six months, I've sworn by two spritzes of This Works Deep Sleep Pillow Spray and two spritzes of This Works Sleep Plus Pillow Spray to tell my brain it's time for bed. If you want to treat yourself, and you very well might, I can't think of a better investment in yourself and your well being than The Big Sleep—a giftbox with the Deep Sleep Pillow Spray, an eye mask, and a few other iterations of this ultra calming blend for sleep. Tie on Aromatherapy Associates Relax Eye Mask, the most luxurious eye mask the world has ever known. It is silk, lavender-filled, and velvet-backed; trust me, there's no easier way to elevate the already wonderful moment of getting in bed.