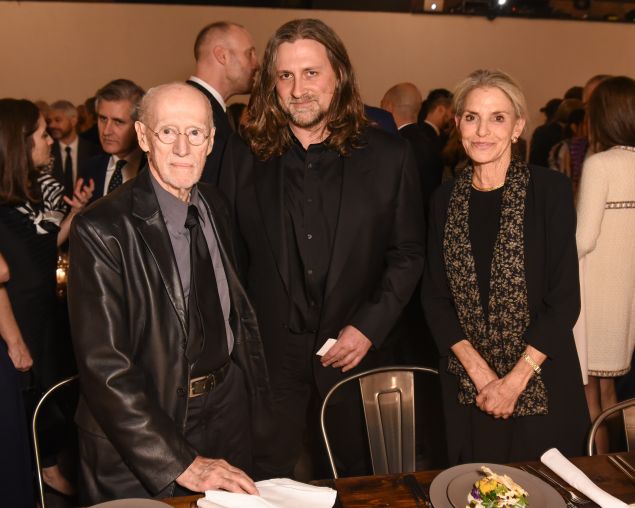 On Sunday evening, the Dia Art Foundation's Fall Night reminded guests that today's security guards can be tomorrow's major artists, so make friends now, before their auction prices rise.
Wade Guyton, a member of a long tradition of artists who worked at museums before making their names, that includes Robert Ryman, Sol Lewitt, and Dan Flavin, spoke during dinner about his days as a Dia employee. "I worked here as a guard—a very prestigious position," he said, eliciting a few laughs. "Jessica [Morgan, Dia Art Foundation Director] said that this [appearance] was still in my contract." Guyton then launched into a speech about artist Robert Morris, the evening's honoree. Then Morris, in turn, told the audience about how, after he spun a Duchamp bicycle wheel in a gallery at MoMA, a guard reprimanded him: "Don't you know you're not supposed to touch that shit?"
The conceptual artist, writer and sculptor also involved himself in experimental dance and Minimalist art throughout his career. "I don't understand everything he makes because it's so many different things," artist Urs Fischer told the Observer. He recalled a Morris show in New York in the mid-1990s that New York Times critic Roberta Smith panned. Everyone was talking about the review. Fischer wasn't living in New York at the time, and he recalls that it was the first time someone said to him, "It's brutal, New York." Clearly, the artist, who's now a member of the Gagosian stable, didn't let that deter him.
Before the cocktails and dinner portion of the evening, guests wandered through Dia's new exhibitions at their 22nd street spaces: Hanne Darboven: Kulturgeschichte 1880-1983 and Kishio Suga. If viewers were overwhelmed by the 1,590 works on paper and 19 sculptural objects in the Darboven show, the Suga exhibition provided a reprieve. Comprised of wood, wire, and stones, the artist's sculptures created a spare, contemplative space.
Viewers wandered over to the ArtBeam building on 21st Street for cocktails and dinner. Lights strung from the ceiling provided a dim, romantic glow to complement the white candles of varying shapes and sizes that served as centerpieces on the long tables. A first course of purple, green, and yellow cauliflower with pistachios and pumpernickel croutons preceded the main course, branzino baked in parchment, each serving of which had to be individually cut open.
If the dining room featured a sea of mainly black, two artists made a statement with torn jeans. La Monte Young and Marian Zazeela—two of the first artists that Dia supported—stood out in the crowd. "Some people say that Heiner and Phillipa [Friedrich and de Menil, Dia's founders] created the Dia Art Foundation for La Monte and Marian," Young said. "Marian and I performed before them. They sent us to a Western store to buy Western clothes. Everybody was supposed to buy one thing and I bought two things—a pair of Tony Lama boots and a fringe leather jacket." He praised the de Menil family as some of the greatest art patrons of all time.
After dinner, artist Fred Wilson (another former security guard) told me about his own experiences as Robert Morris's student. He wasn't matriculated, but a friend advised him to see Morris directly. He showed the older artist his work, and, according to Wilson, Morris said "sure." In the late 1970s, Hunter College didn't have studios, so students met at Wilson's East Village loft for critiques. "I had a piano that was upright but it was standing on its side," remembered Wilson. "In the middle of the crit, my cat started plucking and licking the cords. It just made perfect sense that this would prompt a performance from my cat."
Artist Nate Lowman remembered something he'd learned from Wade Guyton when the pair worked at Dia together. "He taught me how to make a cappuccino in the cafe on top of the space on 22nd Street when I was an art student," he told the Observer. And as anyone who's ever tried to steam milk, pull a well-balanced espresso shot, and perfect his or her latte art knows, that's no small accomplishment. Lowman says he still makes a mean cappuccino today.