Perhaps, at the end of week of major Impressionist/Modern and Contemporary art sales at Christie's, Sotheby's and Phillips, the big surprise was that there was no big surprise. Still lagging oil prices, the effect of Brexit on the British and European economies and, most of all, the unexpected results of the U.S. presidential elections, appeared to have little impact on art buying behavior.
"We usually schedule our Impressionist and Modern sale for the week before our contemporary sale," said Jeremiah Evarts, head of Sotheby's Impressionist and Modern evening sales, "but this year we thought it a better strategy to put distance between the election and the auctions, insulating the market players by moving the sale to the contemporary week." That strategy seems to have worked, as international stock markets dipped briefly in the immediate aftermath of Donald Trump's victory but then recovered and even moved higher. "Whatever worries they had the week before, they moved on," he said.
Those pre-auction jitters were "more on the minds of our sellers than our buyers," said Christie's head of post-war and contemporary art Sara Friedlander, which made it "challenging to put together these sales." One collector, she stated, had considered consigning a major piece but decided to hold off until next May before putting it up for sale.
Still, Friedlander noted that the strong prices and a "high sell-through rate" indicated that "art is one of the more stable things in the world and, considering the recent election, people are happy to be thinking about art instead of other things." This is not a "frothy moment when people are overpaying," but spend collectors did, if quite often nearer the lower estimate than the higher.
There were no nine-figure prices for works in any of these sales, reflecting the auction houses' difficulties in obtaining the most exceptional consignments at a time when the art market does not appear to be as robust as in past years, as Natasha Degen, professor and chair of their art market master's program at New York's Fashion Institute of Technology, told the Observer. "If I had a nine-figure work of art, I'm not sure that I would put it up for sale right now, either," she admitted.
Philip Hoffman, founder and chief executive officer of the Fine Art Group in London, called the week's sales "exceedingly ordinary except for maybe 10 lots, but with all the uncertainty leading up to these auctions ordinary does not sound all that bad." Both he and Manhattan art advisor Suzanne Modica found that the contemporary art sales were livelier affairs than those of Impressionist and Modern art. "Just sitting in the gallery during the auctions, there seemed to be more excitement during the contemporary sales, more bidding," she said.
There were a number of record prices set throughout the various sales, including:
Claude Monet's 1891 Meule (Grainstack). $81.4 million (estimate "in the region of $45 million"): Christie's
Willem de Kooning's 1977 Untitled XXV. $66.3 million: Christie's ("The opening price was pretty aggressive, but I guess they needed to do that to win the consignment," Hoffman said. "And it turned out alright.")
Wassily Kandinsky's 1935 Rigide et Courbe. (Rigid and Bent). $23.3 million (estimate $18-25 million): Christie's
John Currin's 1999 Nice 'n Easy. $12 million (estimate $12-18 million): Christie's
David Hockney's Woldgate Woods, 24, 25, and 26 October 2006. $11.7 million (estimate $9-12 million): Sotheby's
László Moholy-Nagy's 1923 porcelain enamel on steel Em 1 Telephonbild. $6 million (estimate $3-4 million): Sotheby's ("A connoisseur's choice, a super sophisticated work, which is reflected in the fact that the buyer was the Museum of Modern Art," said art advisor Todd Levin, director of the Levin Art Group.)
Njideka Akunyili Crosby's 2012 acrylic and colored pencil Drown. $1.09 million(estimate $200,000-300,000): Sotheby's
Carmen Herrer's 1965 Cerulean. $970,000 (estimate $600,000-800,000): Phillips
Mira Schendel's 1985-86 Sem titulo (XII). $970,000 (estimate $800,000-1.2 million): Phillips
Mike Kelley's 1984 Cave Painting. $516,500 (estimate $500,000-700,000): Sotheby's
Perhaps, one post-war artist whose collectors might have been reticent about selling was Agnes Martin, for whom only work was put up for sale, her 1983 Untitled #6, which Christie's estimated at $5-7 million and achieved $6.7 million with buyer's premium. A retrospective of the artist's work, organized by the Tate Museum in London, is currently on view at New York's Guggenheim Museum (through January 11). "When there is a current exhibition, there usually is a lot of buzz, and we expected that the market might be flooded by her work, especially since we set an auction record for her work last May," Friedlander said, referring to Martin's oil and graphite on canvas Orange Grove, which earned $10,693,000 (estimate $6.5-8.5 million). The strong price for Martin's Untitled #6, she suggested, reflects the "market's sense" that "her work is undervalued."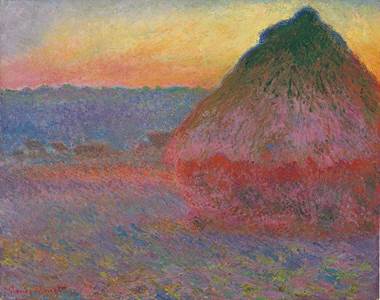 The artist who may have been the biggest winner of the week for whom there was no record auction price set is 84 year-old German artist Gerhard Richter, whose works were sold by Christie's, Phillips and Sotheby's, and images of his paintings were the covers of both Phillips and Sotheby's contemporary art catalogues. The Sotheby's November 17 contemporary art sale included seven of the artist's paintings from the Steven and Ann Ames collection, of which six sold, among them the 1988 A.B. St. James($22,737,500) and the 1986 A. B. Still ($33,987,500). As one New York art advisor noted, "Richter has entered the pantheon that has long included Picasso, Pollock and Warhol, the standard bearer of a commodified currency."
By the numbers, Sotheby's evening November 14 sale of Impressionist and Modern art brought $157.7 million, down from last year's $306.7 million, and the number of lots was a bit lower (42 this year as compared to 47 in 2015) while the percentage of sales was a bit higher (81 percent, as compared to 76 percent).
Christie's November 15 evening sale of post-war and contemporary art earned $277 million, down a bit from last year's $331.8 million, but the number of artworks for sale (61 this year, 66 in 2015) and the percentage of lots sold (89 percent this year, 80 percent in 2015) were in the same general range.
Christie's November 16 Impressionist and Modern Art sale generated $246.3 million in sales, which was higher than last year's $145.5 million, with the higher totals achieved with fewer artworks for sale (48 this year, 59 last year) and similar percentages sold (81 percent this year, 83 percent in 2015).
Phillips November 16 evening sale of 20th century and contemporary art earned $111.2 million, a sizeable jump over last year's inaugural sale in this category of $66.9 million, and selling 92 percent of the offerings, similar to 2015's 90 percent sell-through rate.
Sotheby's November 17 sale of contemporary art earned $276.6 million, close to last year's 294.6 million, with more artworks for sale (64, compared to 2015's 54) and a higher sell-through rate (93 percent this year, 81 percent in 2015).