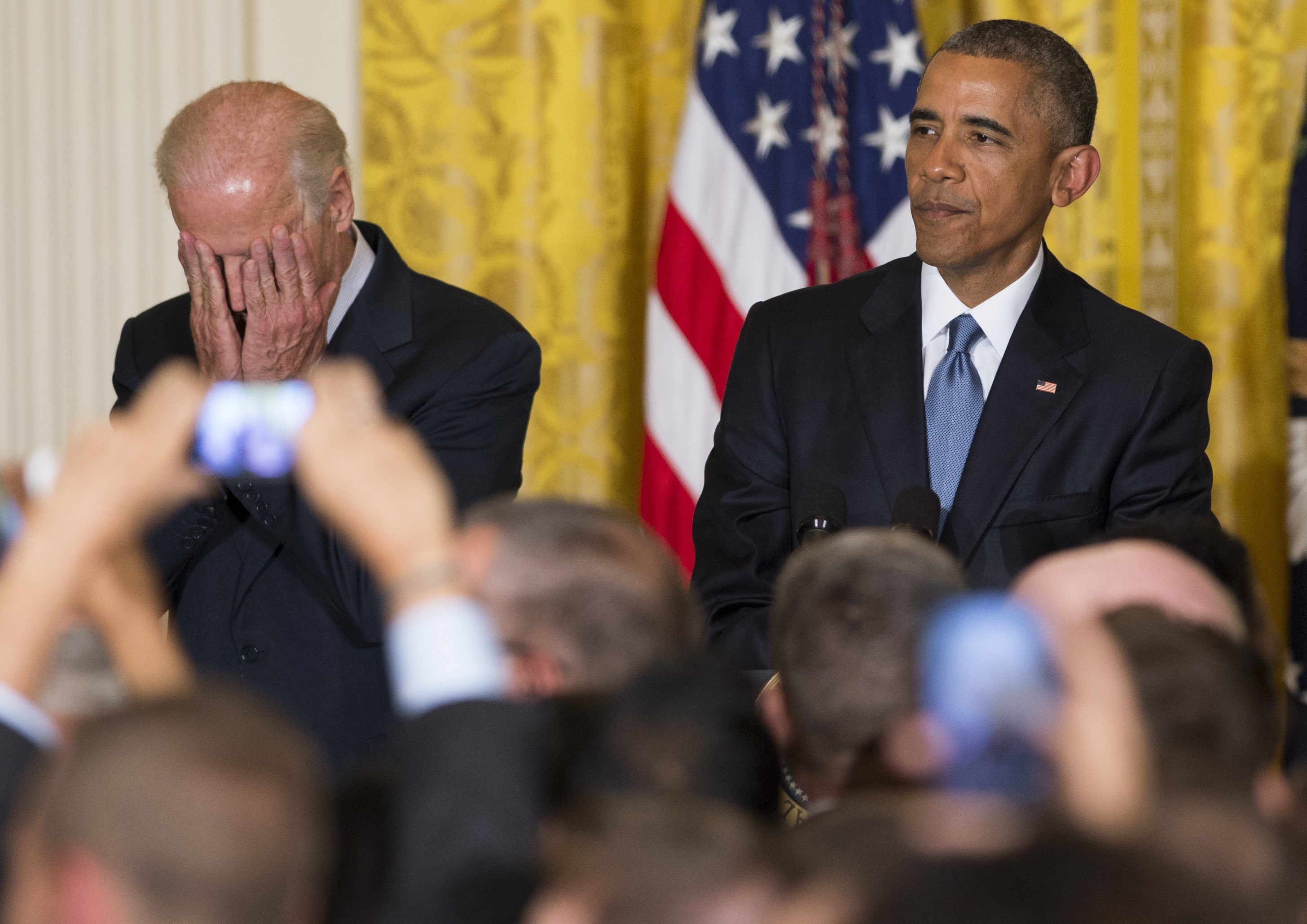 President Barack Obama addressed the nation from the White Rose Garden today to proffer his congratulations and cooperation to President-elect Donald Trump, who for years trafficked in untrue claims that Obama was born in a foreign country and was thus constitutionally ineligible for his office.
With Vice President Joseph Biden visibly grimacing beside him, Obama announced he had invited the Queens-born businessman to visit the White House tomorrow, to begin the process of a smooth transition to a Trump administration in January. In 2011, the president took the astonishing step of releasing his long-form birth certificate to quiet the reality TV tycoon's incessant claims that he had proof that the Hawaii native did not leave the womb on U.S. soil.
"It is no secret that the president-elect and I have some pretty significant differences," said Obama, recalling how he himself campaigned against the policies of President George W. Bush. "We are now all rooting for his success in uniting and leading the country. The successful transition of power is one of the hallmarks of our democracy."
Trump only finally renounced his "birtherism" in September, claiming credit for having finally and officially resolved the matter of where Obama drew his first breath. He and his surrogates have pointed to reports that Sidney Blumenthal, a close confidante of Hillary Clinton, encouraged reporters during the 2008 primary to investigate the possibility Obama's emerged into the world in his father's native Kenya.
As recently as August, Trump's New York campaign chair was still spouting a related conspiracy theory that Obama is a Muslim.
The president encouraged fellow Democrats everywhere, including in his own administration, not to lose faith in the American process.
"Everybody is sad when their side loses an election. But the day after, we have to remember that we're all actually on one team," he said. "That's the way politics works sometimes. We try really hard to persuade people that we're right. And then people vote. And then if we lose, we learn from our mistakes, we do some reflection, we lick our wounds, we brush ourselves off, we get back in the arena."
"I'm looking forward to doing everything I can to make sure that the next president is successful," he continued.
Disclosure: Donald Trump is the father-in-law of Jared Kushner, the publisher of Observer Media.