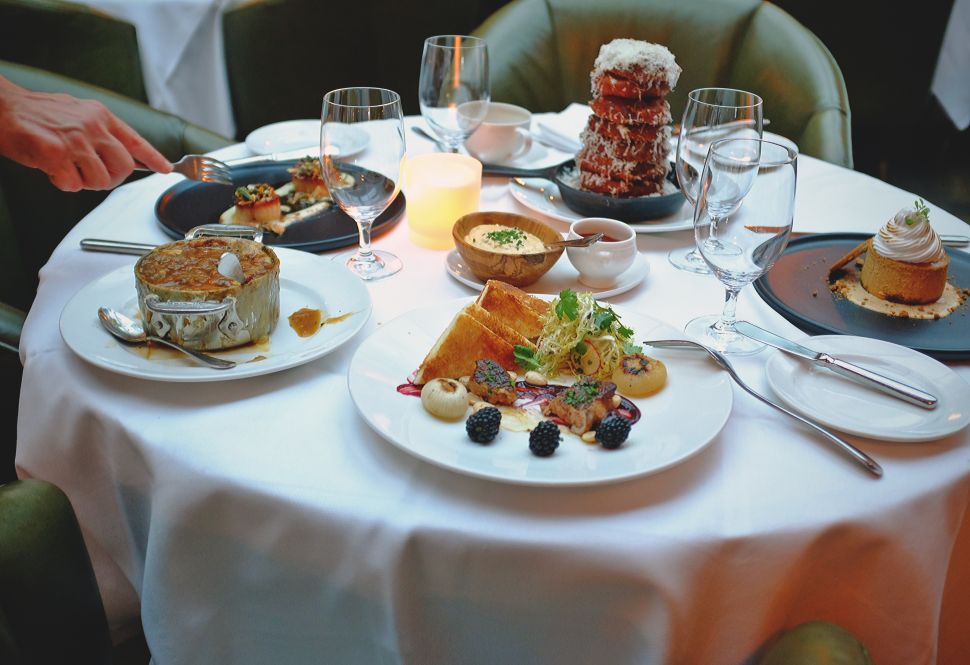 Baltaire is an unlikely destination restaurant, a new-school steakhouse in old-school Brentwood, a neighborhood where classic Italian dominates the so-so dining scene and where residents head to Santa Monica when they're not spending obscene amounts of money using Postmates to order from all over town.
Baltaire is a sleek, gargantuan, 271-seat restaurant, located in a space that formerly housed a Cheesecake Factory, and it serves some of the most baller meals in all of Los Angeles. Its new $185 wagyu tasting (which can work as a shared entree, especially if you get hearty sides like the macaroni and cheese topped with either Alba white truffles, king crab or lobster) is around-the-world bliss: three ounces of Snake River Farms rib eye filet, three ounces of Darling Downs N.Y. Strip from Australia, and, best of all, three ounces of the marbled madness that is Miyazaki A5 Japanese strip loin.
The latter doesn't quite melt in your mouth as much as it oozes pure beefiness and beautiful fat. If you're not down for such richness, you can always order lobster, Dover sole or a petit filet—because executive chef Travis Strickland knows how to play the classics, too.
His new French onion soup tastes delightfully retro, and there are a lot of seafood towers and (organic) iceberg wedges served here. Would you like a fantastic Greek salad made tableside to offset the tyranny of Caesar salads made tableside in restaurants across America? You've come to the right place.
But Strickland, who previously cooked at top Chicago steakhouses, is also greatly influenced by the time he spent working at Blackberry Farm, the legendary food-focused luxury resort in the Great Smoky Mountains in Tennessee.
Blackberry Farm, of course, is a culinary wonderland that celebrates butchery, cheese, hyper-local produce and the highest-end ingredients in its seasonal cooking. At Baltaire, Strickland's new fall menu includes Hudson Valley foie gras with blackberry-balsamic jam and cipollini onions. Another winning new dish is the spinach fettuccine with a duck ragu that's there to comfort you because the weather has gone from hot to cool. (It never really gets cold in L.A.) Maine diver scallops with brown butter are another sumptuous new addition.
This is Brentwood, where I've seen valet attendants and pizza-delivery guys get $50 tips.
There's pumpkin cheesecake for dessert, but you'd be remiss not to take advantage of the new cheese cart (which you're welcome to use for any stage of your meal; pre-appetizer cheese, anyone?). You'll see this cart wheeled throughout the dining room all night. It offers a rotating selection of choices from around the globe, like aged Manchego, aged Comté, Point Reyes Toma, Drake Family Glacier and Capriole goat cheese from Indiana, Strickland's home state. At $25 for five selections and served with housemade apple butter, candied pecans, a cinnamon-parsnip compote (the accompaniments will change seasonally) and crostini, it might even seem like a bargain compared to $50 for a five-gram truffle supplement atop the $12 macaroni and cheese.
But this is Brentwood, where I've seen valet attendants and pizza-delivery guys get $50 tips, so Baltaire knows what it's doing with its premium ingredients. This is an over-the-top restaurant for many, but it's also a place where the locals can afford to visit over and over again. (An early-'90s alt-rock playlist on a recent night—The Cure's "Friday I'm In Love" and James' "Laid" back to back!—was a reminder that aging hipsters run the world now.) Strickland's wide-ranging menu gives them a reason to return.
A couple weeks before visiting Baltaire, I crashed an hour of the Cure Camp at Republique. This is where former Blackberry Farm meat maven Michael "The Reverend of Fat" Sullivan shared his butchery and charcuterie knowledge with top local chefs including Republique's Walter Manzke, Sotto's Steve Samson, Trois Mec's Ludo LeFebvre, Michael Hung (formerly of Viviane and Faith & Flower) and, perhaps most notable of all for meat lovers, Chad Colby. (The last time I encountered the truly legendary Sullivan, he was happily slicing steak I had cooked on a parabolic solar cooker in Aspen.)
Colby made his case for being L.A.'s best meat-centric chef at Chi Spacca. He was set to partner with Curtis Stone on Gwen but walked away from the restaurant before it opened. His name comes up often whenever those in the industry talk about some of L.A.'s future blockbuster restaurant openings (like whatever April Bloomfield eventually creates) and who might end up cooking there.
I mention all this because, after seeing Colby and his contemporaries take notes and ask questions while Sullivan was talking about fermenting whole muscles, and checking pH levels, and making lardo in Pappy Van Winkle barrels, and how high-barley diets affects pigs, it was clear that some of L.A.'s most respected chefs, and especially Colby, worship at the altar of the Reverend of Fat.
Which is to say, this is a great time to be eating meat in Los Angeles and it's only going to get better.