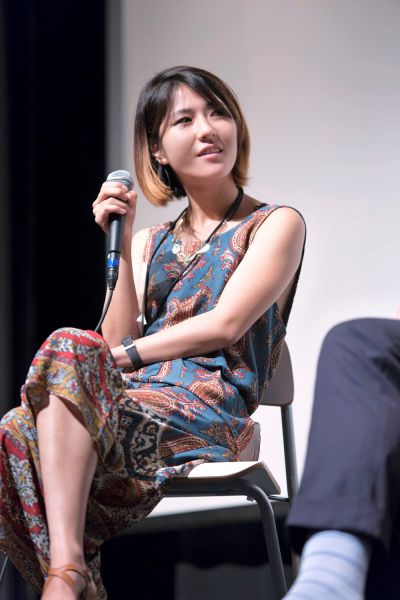 Welcome to "Behind the Screens" a new feature where we interview the people who decide what the most influential arthouse and indie theaters in New York put on their screens. Along the way, we'll uncover some of the challenges, thrills, and secrets of the trade and, hopefully, get a sense of what gives the American cinematic landscape its unique identity.
You'd expect a place with a respectable name like the Japan Society to play it safe with their film programming. Schedule a few Kurosawa and Ozu classics, maybe throw in a Miyazaki flick for the kids, and call it a day. Luckily, Japan Society Film, led by Senior Programmer Aiko Masubuchi, prefers to schedule movies with titles like Sailor Suit and Machine Gun and The Little Girl Who Conquered Time. Both films are part of the "Pop! Goes Cinema: Kadokawa Film & 1980s Japan" mini-retrospective that kicked off November 8 with the aforementioned "schoolgirl-goes-yakuza" Sailor Suit and runs through December 17.
Four additional Kadokawa Studio-produced titles, including the post-apocalyptic Virus (directed by Kinji Fukasaku of Battle Royale fame), the surreal heist film The Beast to Die, the romantically adventurous Play It Boogie-Woogie, and the experimental showbiz drama W's Tragedy round out the lineup, along with a lecture by guest curator Alexander Zahlten entitled "Kadokawa & The Shaping of Japanese Popular Culture." These films, unabashedly commercial in their use of pop stars and their embrace of genre, were smash hits at the box office, but received a cold shoulder from critics and the rest of the film industry. So great was the disdain for these hyper-stylistic pop films that Akira Kurosawa himself famously refused to shake the hand of studio head (and sometimes director) Haruki Kadokawa. We spoke to Ms. Masubuchi about the Kadokawa series, as well as the general challenges and pleasures that come with her position at the Japan Society.
Observer: How did you get into programming?
Aiko Masubuchi: When I was at NYU, all my friends happened to be filmmakers and I thought, "My friends are making such fun films. What can I do about it?" Then, my roommate said, "Hey, why don't we just host a film screening? These movies should be seen and we'd get to tell people why we like them." I think we just started off in our loft apartment, which had a big wall we used as a screen. Then it grew until we ended up doing screenings at Think Coffee. Around that time, I was applying to an internship at MoMA and was told to rank the three areas I'd like to work. My first choice was publication, my second was education, and then, just as a throwaway, I put in film. But then I got a call back from the Film Department, and I guess they saw this tiny line at the end of my application that said I host my friends' films at coffee shops. So I got the internship and worked for Josh Siegel and Jytte Jensen, who just passed away recently. Those two were amazing mentors to me. Both of them were busy and established people, so they gave me lots of things to actually do beyond just filing things. That, to me, was incredibly inspiring and also made me realize, "Oh wow, these people's jobs are to be able to talk about something they love?" That, to me, was so beautiful.
Growing up in Japan, did you consider yourself a cinephile?
You know, I think about this often, because ever since I can remember, I've been going to the cinema at least every weekend, if not more. But it was never this thing where I was like, "Oh, I'm a cinephile. Film is my thing." I guess my mom just really liked movies and would take me, and then eventually, through teachers or friends, I was always going to the cinema. But I was never like, "I want to see this kind of film." I just wanted to see everything.
So the Kadokawa movies were a little before your time, but what were the kinds of movies that you remember being really into in middle school or high school?
Honestly, I watched more American movies than I did Japanese movies because I could. I went to an International School where they taught in both English and Japanese, so it was really fun for me to not have to read the subtitles. And I think there was also this snob part of me that liked looking at the subtitles and thinking, "Ooh, that's wrong." (laughs) So I'm not entirely sure, I feel like, more American movies and European movies were in my mind then.
So you were like the equivalent of one of those American teenagers who'll only watch Japanese anime. 
(laughs) Exactly! I was the exact opposite, for sure! And coming here, one of the first screenings I went to in New York was a Kurosawa movie. There was a retrospective Film Forum did for his 100th birthday, and I went to basically every single one of them. Watching Hidden Fortress in a packed cinema and the lady next to me giving a standing ovation to [iconic actor Toshiro] Mifune coming in on a horse was such an amazing thing for me to experience, and I was like, "Wow, cinema is so alive!" So that's how I really began to consciously watch Japanese cinema.
As head of Japan Society Film, do you have your own personal mission and, if so, how close is yours to the overall mission of the Japan Society?
I really do take seriously Japan Society's overall mission, which focuses on the dialogue between cultures. It's like, I've been doing translation for a while because neither of my parents speak any English. So, between my school, which was an English language program, and then home, I was always growing up translating between two cultures. And I realized that that has an effect on my mission here at Japan Society. As somebody who can straddle both cultures, I can help Japan Society Film create some sort of dialogue. And I think it's also so much about context. I think almost everything is worth seeing. It's just about how you see it and how you show it. So, I guess I try to be updated on both cultures, in order to find where dialogue can happen.
In addition to creating that dialogue, one of Japan Society's goals is to promote Japanese culture and society. As a result, do you ever get any pressure not to show movies that show Japan in a less-than-flattering light?
The thing about Japan Society is that it's a non-profit, non-government-affiliated, U.S. organization, so…no. (laughs) We don't owe anything. But there's still something to be said about being sensitive to certain feelings. I try to be keenly aware of how certain things may be perceived. Like, during [Japan Society's annual festival of new Japanese film] Japan Cuts, when we bring our actor and director guests from Japan to our theater and have them actually see the audience response, it's so inspiring to hear them realize how different it is when a Japanese film is shown in America. The certain things people find funny are really different. And that's something to be aware of. Sometimes, you want to give a little more context to people, just so they have more footing in what they're about to see.
And how do you provide that context? I imagine most Americans that come to the Japan Society have some knowledge of the culture, so how do you determine how much context to give? 
I feel like I have to be a person who understands what it means to not understand something. So, for me, it's important to go see other international cinema that isn't just Japanese. To see American, French, Iranian cinema. And also read. I feel the more I can be curious, the more lenses I can provide. That's also why I work with guest curators and why the Film Program isn't just me, but also my colleague Kazu Watanabe, who has his own view on things. I think it's also important in any film curating to be interested in something other than film, because sometimes it's great to watch movies from another perspective, not just a cinephile's. Like the perspective of someone who's more interested in music or colors. The great thing about cinema is that it has the ability to be seen through these different lenses.
So it's not really about giving a lot of background information before the movie. Obviously, you have promotional materials that say what Kadokawa Studios is and what pop culture was like in the '80s, but you don't have anything like a glossary of terms and concepts. 
AM: I just think it would be kind of an endless thing if I tried to provide context for everybody. But it's just true of any sort of curating or selecting that you provide some kind of context. That was actually a concern of ours because Kadokawa doesn't mean anything to the American audience. That's something that Alex Zahlten, our guest curator of this series, Kazu, and I talked about. So we thought, "Okay, so what is going to capture an audience?" And I think the '80s is generally an interesting and relevant time, so it would be a great way to create a point of dialogue.
When you say the 1980s are a relevant time, do you mean, specifically 1980s Japanese culture or the general culture throughout the world? 
Sort of throughout the world. BAM recently did a 1980s series, and I was really intrigued by it. In some ways, when decades pass, you reflect back and think, "Oh, that was an interesting time." So I'm hoping that's also a way to get people in. At the end of the day, there's so much programming around New York City, you're just trying to feel the pulse of the city and stay connected to what else is going on.
What about Kadokawa signifies the '80s for you?
The glitziness. Also, it was the bubble period. There was money. The Post-War period had disintegrated away. I mean, it's there, obviously, but war isn't what was in people's heads at that moment. And, in some ways, it's a hyper-capitalist time. And, right now, we're in this time when capitalism is breaking, but that's just my own personal reading of it. That said, I think about why the 80s were so hyper-capitalistic, hyper-glitzy. Why was it all hyper? And you can see the allure of it. The allure of money and fun times and dancing, going to the disco. Kadokawa recently did a festival in Japan and showed basically all their films and released a booklet that had a timeline of big events that happened and the films that came out of it. I think they realized that the films that came out that year speak to what happened at the time. That's an amazing way to approach something.
At a time when so much of Japanese culture has made its way to the United States, why do you think none of the movies in this series have ever been available here?
It's hard to pinpoint. I feel like it's so many things. But it's also like how Kurosawa didn't want to shake Kadokawa's hand. Kadokawa was doing something incredibly different and outside of what was "proper," so there probably was a lack of support on the Japan side, maybe even some shame, to export that. But there was probably something about America, as well. Maybe distributors just weren't interested. It wasn't what was "cool" at the time.
I guess, also, in 1981, the "Cool Japan" concept hadn't yet been established in America, so if Japan wasn't ready for it, America certainly wasn't ready for it. Now, though, how are the movies looked upon in Japan?
What's interesting is that Kadokawa's festival did so well, they're going to do a re-run later this year. I think it has a lot to do with the fact that it really did capture something about the imagination of Japan.
Before the festival happened, had these movies been mainly forgotten in mainstream Japanese pop culture?
Not really. Haruki Kadokawa used this "media mix" approach, using advertising, bookstores, everything to garner crazy attention, so I would be surprised if you found someone in their 20s in the '80s in Japan who doesn't remember a single Kadokawa film. There are some people who work at Japan Society who were living in Japan at the time, and they flipped through my booklet of Kadokawa films and said, "I remember this!" They have their own stories. So I don't think they're forgotten. A lot of the actors and actresses [in Kadokawa films] are still big staples in Japan, whether that's on TV or somewhere else.
I guess my question is more about whether this has led to a critical reappraisal of these films in Japan. 
I think so. Just the fact that that series did really well is saying something. I wouldn't discount the nostalgia that's involved, but then again, I think younger generations are going because they may have heard from their parents or an older generation how seminal it was for them. Actually, when we did our [surrealist auteur Nobuhiko] Obayashi series last year, we had Obayashi himself come, and we did screen [his 1982 film] Exchange Student. Obayashi is very connected to Kadokawa films, and we had families come to Exchange Student because the mother remembered seeing it and it was important for her when she was growing up, so she wanted her daughter to see it. It's very much in people's heads.
This leads to a more general question about the audiences that come here. In my experience coming to the Japan Society, there's a significant number of people who are Japanese ex-pats or first-generation, in addition to the Americans that are interested in the movies. Do you keep that balance in mind when you're programming?
Yeah, it's definitely about finding that balance, and it isn't always easy. Through my job, I'm so steeped in Japanese cinema. Sometimes I need to be taken out of it. To me, I've been thinking so much about Kadokawa this past year that it feels like a term that everybody knows, but that's definitely not true. For me, a movie is only alive when it's being seen, so the more kinds of audience members it can capture, the better work I'm doing. If the audience skews more to a certain demographic than another, that's probably a failing of my own.
What is your relationship with the film studios in Japan? Is it important to them to have these kinds of screenings and to get the respect of American audiences?
It really depends on the distributor. I'm always reminded over and over that cinema is a human art. It's run by people. And that doesn't just extend to filmmakers and actors and people in production, but also to the distributors, so it really depends on who's there. The people who I talk to, sometimes as is true in America, you find people working in distribution companies who don't even like movies, who found themselves with the job. And those people are always tougher to work with, as opposed to people who are there because they love film. So it really is dependent on that, but that said, I'm in a lucky position because the Japan Society Film Program has been around for so long. It's been around as a program since the '70s. The first film screening that happened through Japan Society was 1922. We also did the U.S. premiere of [Kenji Mizoguchi's 1953 masterpiece] Ugetsu, so there's a long history of introducing Japanese cinema to U.S. audiences. In some ways, I can use that legacy and the relationships Japan Society already has with these companies. That said, people are always changing at distribution companies, so we still have to work to maintain the relationships.
As you said, Japan Society used to be the only place you could see a movie like Ugetsu, but how do you think the role of Japan Society's Film Program has changed since there is so much more Japanese content readily available in the United States?
That's a question I'm always asking myself: "What is it that we can do that no one else is doing?" There are so many theaters in New York where you can see Ugetsu now. I have a lot of faith in the audience that comes to Japan Society already, and that comes down to me being very lucky that this is a long-standing program with an audience that comes back often. A lot of the audience already knows quite a bit, so they might be curious to know a little bit more. So, in that sense, the film program is able to go beyond what is already known. I think we're always trying to feel out how far we could go past what's already known, but I think we're able to push the envelope a little bit farther than can another institution that relies on a more general film audience.
Are there any major blind spots you've seen, even among people who are Japanese cinephiles who live in New York? 
I would say Japan Cuts is really trying to fill that hole. Generally speaking, not that many people watch new Japanese cinema, so people just don't know what's coming out now, and that might be true in Japan, as well.
I know you recently screened [2006 anime film] Paprika, but in general, you don't screen a lot of anime here. Is there a specific reason for that?
It goes back to the question of "What can we do that nobody else can do?" Comic-Con exists, and I think there's a vibrant anime culture here already with lots of places people can go to see these films. I think there's something to be said about representing that here, though. In fact, though this wasn't through our film program, Japan Society did a lecture program on anime. So we're very aware of it. It's such a prominent thing, though, and what we want to do is fill in the gaps.
So it's not so important to you to show the Dragon Ball Z movie, for instance. 
Not to say it's not important. The other thing is, the anime industry and the film industry operate separately in a way, so it would be a whole slew of new contacts I'd have reach out to, and they'd have to get to know us and all that stuff. And I'd like to see more, in a way, but at the same time, it's a lot more work. Our program is me and Kazu, so it's like, "How much more can we do?" And also to understand anime to the deep extent that I might know Japanese film is another thing, and I feel like I might not be personally equipped. It's a huge, huge, huge industry.
In the three years you've been in the job, how do you feel the programming here has changed? 
To me, it's like, more of a question of, "How am I not able to be different?" because I am a different person. Maybe it's the fact that I am younger than previous programmers, but to me, it's about the films that I show and it's the dialogue. It always comes back to the dialogue. I thought Japan Cuts this year was so successful because everyone was talking about the films, talking with the filmmakers, talking with us about what they thought. And that's super-important because talk is super-important. We've also brought back series lectures to our programs, just to give extra content for anyone who's curious to know more and also provide the space for people to feel comfortable to dislike or like a movie. I hope people find this to be a welcoming place. The tough thing about any place called a "society" is that it already feels like it's not welcoming. But really, it is. I want as many people who have the slightest interest or even no interest to feel like they can come.
And that speaks to the fact that, in the promotional materials for the Kadokawa series, you're very clear that these are divisive movies. The guy you know as the God of Japanese Film, Kurosawa, he thinks these movies are crap. As opposed to if you're going to a series of Kurosawa, you're coming in, thinking, "I better like this because I'm supposed to." You're not saying these are the best movies ever made, but you are saying they're worth seeing. 
And I've always honestly been charmed by people who hate something. You have to have some kind of investment to hate anything. So it's fine! Thank god there are things you hate in this world. If you didn't, there would be something wrong. I think everything is worth seeing. It's just how you approach it.
Does your personal taste in movies ever differ from what you program at the Japan Society?
Well, Japan Cuts is a good example of this, because there are three people programming. Joel Anderson steps in to help program Japan Cuts. Certainly we have our clashes on what we like and don't like, but it's always a good exercise to talk about why. And every single film in the festival is us deciding, "Okay, you have a point. We'll throw that in there."
You're working with Alex Zahlten as a guest curator. Was it his idea to do this Kadokawa series? 
Actually, it was mine. I try to seize moments when other people are talking about something to me. I feel like Kadokawa really came to me as an idea through doing the Kon Ichikawa Series and showing movies that had been restored recently by Kadokawa. We obviously work with Kadokawa for the Japan Cuts film festival, and we actually have a poster of Sailor Suit and Machine Gun in our offices, so I see her everyday. So Kadokawa is always on my mind. And then the 40th anniversary is coming up and news was popping up here and there from Japan, so I thought, "Hmm, could be interesting." And then through Japan Cuts, we worked with Alex Zahlten, who we invited as a speaker for a panel, and he said, "I'm actually writing a book on Kadokawa," and I was like, "Perfect!"
Without thinking at all about budget, rights issues or other practicalities, do you have a "dream" series or festival you'd like to program one day?
Before I was here, I worked at the Margaret Mead Film Festival, which is the oldest documentary film festival in the U.S. And I do have a special place for documentaries and sometimes I think how great it would be to do a documentary series, but we have to test the waters in terms of what kind of audience we have. And documentaries tend to not do as well as fiction films here, which is interesting because I've heard that, at Asia Society, documentaries tend to do better. I have no idea why that is. I'm sure there's a slew of reasons we can all come up with, but I have to gauge what's possible. However, if we were able to highlight documentary filmmaking a little bit more, that would make me very happy. But, that said, it's good to have, in mind, certain things you want to do. I'm very much all about seizing that moment when that spark happens. Like, if suddenly the New York Times is talking about something that's relevant, maybe that's an opportunity. It's really about listening to what the talk is around Japan and the U.S. and maybe the bigger world.
For more information about the "Pop! Goes Cinema: Kadokawa Film & 1980s Japan" and other Japan Society film programming, check out https://www.japansociety.org/page/programs/film.