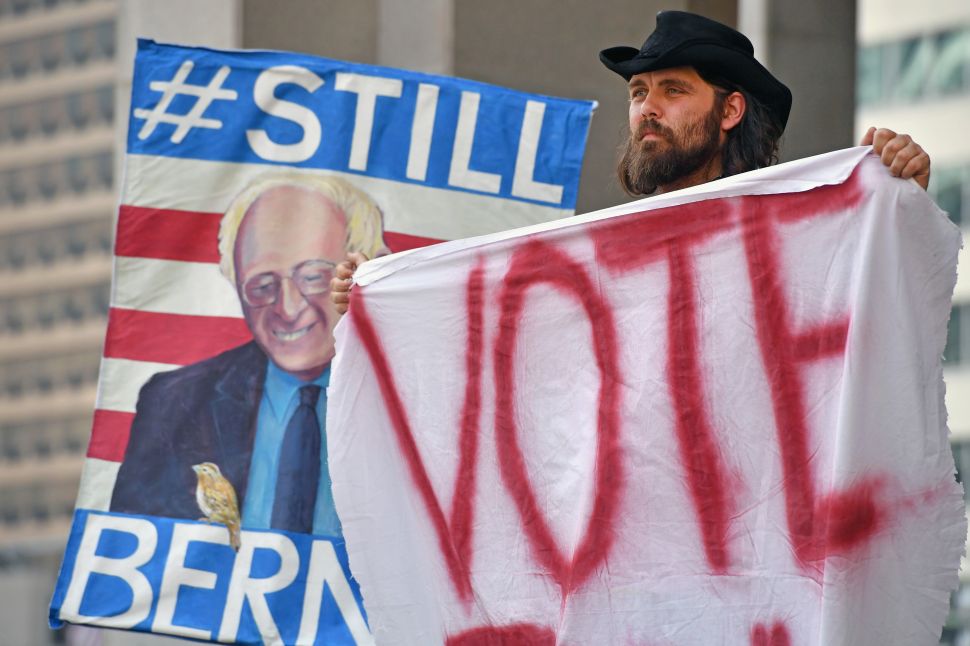 Sen. Bernie Sanders is using his Our Revolution book tour as an opportunity to mobilize supporters disheartened after Hillary Clinton's election loss. Progressives are facing a Republican president with a Republican majority in both houses of Congress. The Democratic Party has an arduous recovery ahead of it, and progressives are looking to Sanders to push things in the right direction.
"We create a kind of grassroots party, where the most important people in the party are not just wealthy campaign contributors, but working people, young people, people in the middle class, who are going to come in and going to start telling us what their needs are and give us some ideas as to how we go forward," Sanders said in a November 28 interview with Democracy Now's Amy Goodman. "And I accept this responsibility as outreach chair with a lot of trepidation but also with excitement. I'm going to be going around the country to try to do everything that I can to create a party which represents working people and not just the 1 percent."
As Sanders frequently noted during his campaign, the revolution isn't about him but about inspiring millions of working and middle class Americans to get involved in politics.
"People are going to have to rethink their commitment to democracy," said Sanders during a November 22 speech he gave in his hometown of Burlington, Vermont. He explained that now is not the time to give up on it. "You do not have the right to do that. If you want to lock yourself in some room and close the door, fine. But it's not just you. It is your children, it is your grandchildren, it is the future of this planet, so you don't have the right."
While Sanders has urged participation as the first step to challenging Donald Trump and rebuilding the Democratic Party, Clinton has remained silent on political matters.
Since November 8, Clinton managed to pose for selfies while hiking in the woods, resurfaced on Twitter to follow Snoop Dogg, and retweeted a blog post in Medium written by her campaign's general counsel, Marc Elias, on what the Clinton campaign's involvement will be in the push for recounts in states where Trump won by small margins.
But rather than rally her supporters to hold Trump accountable leading up to his presidency—or illuminate important issues like the ongoing water crisis in Flint, Michigan, and the efforts to stop the Dakota Access Pipeline (which she pretended to care about during the primaries)—Clinton has focused on self-serving political expediency.
In 2012, after Mitt Romney lost to Barack Obama, he pushed for the Republican Party to build a grassroots infrastructure comparable to the extensive one Obama used to win. After McCain lost in 2008, he worked to increase his engagement as a leader in the Senate.
But in the post-election diagnosis for Clinton and her partisans, introspection, reform and political engagement like Sanders' is falling by the wayside in favor of touting a popular vote victory and blaming everyone else for Clinton's loss to an unpopular, rookie presidential candidate. Clinton hasn't cited any explanation for why she lost, or provided the millions of people who voted for her in hopes of avoiding a Trump presidency any encouragement or direction to constructively rebuild the Democratic Party. She appears to have no interest in helping to mitigate the damage a Republican Red Tide in each branch of government will have on the Democratic Party's political agenda.
The results from November 8 have shown that the American people have gradually been repelled by the Democratic Party. Party leaders, including Clinton, need to either actively and publicly embrace Sanders' recovery efforts, or offer their own solutions. As Sanders noted, they don't have the right to give up and remain silent.