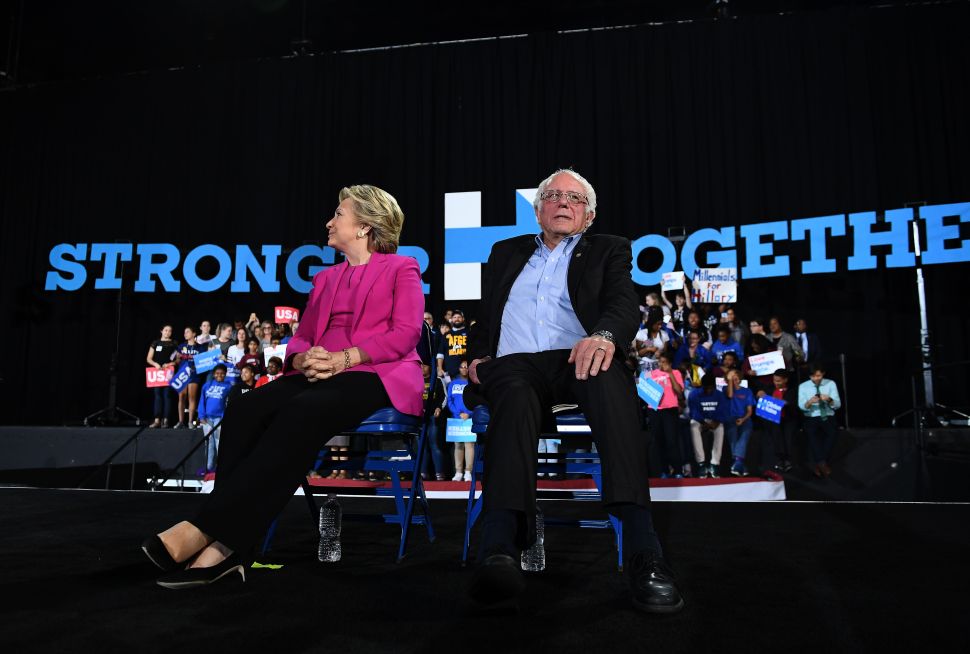 The hysteria over Donald Trump's election win has led the entirety of the mainstream media to search for culprits who committed this crime. Many of them have blamed fake news stories about Pope Francis endorsing Trump, R.E.M. suing Trump and articles by writer Paul Horner who told Rolling Stone he was actually trying to keep Trump out of the White House. Fake news may indeed have played a role in electing Trump, but no one in the media seemed to care when the the lies were benefiting Hillary Clinton—and attacking Bernie Sanders. In fact, fake news was propagated throughout the Democratic primaries in order to sabotage Sanders' campaign, and distract from the challenge he posed to Clinton.
"Democrats would be insane to nominate Bernie Sanders," "Bernie Sanders's fiction-filled campaign," Bernie Bros Made Me Finally Recognize Misogyny in America," "The Bernie Bros are out in full force harassing female reporters," "Bernie Sanders's real problem with black and Hispanic voters," "Hillary Clinton Made History, but Bernie Sanders Stubbornly Ignored It" and "Stop sending around this photo of 'Bernie Sanders' " were just some of the popular fake news headlines published during the Democratic primaries.
The Bernie Bros narrative has been largely debunked as a myth, and Sanders' campaign was whitewashed to silence his diverse supporters. It wasn't fake news outlets driving these narratives, but rather mainstream media outlets.
WikiLeaks emails from the Democratic National Committee (DNC) and Clinton campaign chair John Podesta implicated several mainstream media journalists in colluding with the Clinton campaign. Clinton was portrayed as the progressive who could get things done, and mainstream publishers endorsed her in droves. Reporters, columnists and political pundits pined for her centrist policy stances, while denigrating the far left and far right as falsely equivalent extremes. But the moderate center is rife with poor policy stances, predicated by the underlying theme of favoring corporations and the wealthy. And the mainstream media has increasingly fallen into the ownership and influence of these same corporations and wealthy interests.
In 1983, 50 corporations controlled most of the media in the United States. By 2000, that number had dropped to six corporations, with many of the media outlets run by these corporations practicing the spoils system for elites who propagate their own interests and agenda over independent and investigative reporting.
"It is critical in an election year to hear how policies affect people on the ground—not to get the pundits but to get the people themselves," said Democracy Now host Amy Goodman in a video for AJ+ earlier this year. "The media manufactures consent—for war, for candidates in elections—by bringing you more, for example, of one person like Donald Trump."
The mainstream media disproportionately covered Trump during the 2016 election over any other candidate, with Clinton in second. Trump was provided nearly $2 billion in free media coverage. Sanders received a small fraction of that, despite his surging popularity.
Goodman added, "Bernie Sanders is breaking every record. It's the only reason he's getting any coverage right now. He is shaming the media. In March [Sanders] raised something like $44 million. Hillary Clinton raised $29-and-change million. $44 million. That hasn't been done before. You break every record and there's a blip in the corporate media radar screen. It just shows how astounding it would be if he got anything near the coverage of the other candidates. Could you imagine where [Sanders] would be right now?"
The mainstream media ignored Sanders' campaign when they weren't scorning his policy stances of economic populism. The corporate-owned Democratic Party coalesced around Clinton's candidacy, and directly coordinated with the corporate-friendly mainstream media to subvert Sanders. Private parties and dinners were held with journalists, who in turn offered the Clinton campaign editorial authority over their work. The press suppressed democracy, rather than expand and promote it. Instead of questioning and challenging power, journalists are protecting it. The problem isn't "fake news" and it never was—the problem is the mainstream media.
Disclosure: Donald Trump is the father-in-law of Jared Kushner, the publisher of Observer Media.