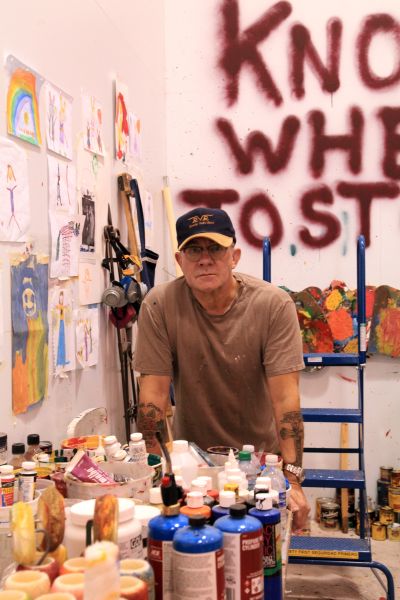 Alongside works comprised of found stuff, twine, wood and toys, an array of battered but ultimately whole visions of the American flag complete "Antiphona," Bernie Taupin's new collection of works. "The American flag has been an important element and symbol in my work for more than a decade," Taupin told the Observer recently. "Since the earliest recollections of my youth, America and things American have influenced my life. Although often stressed or as you say 'stretched,' the American flag in my work is a symbol of the nation's strengths and abilities to recover from every challenge."
Born in rural England, Taupin is a farm boy who returned to his roots by choosing live on a ranch in California but not before he spent decades traveling back and forth across the continent with his music partner, Elton John. With cohorts including David Bowie, Alice Cooper and John Lennon, song lyricist Taupin saw pretty much all there was to see of the demise of the 20th-century rock 'n roll lifestyle. His observations, shaped by the immense, raw talent of the players, are buried deep in his consciousness and emerge sporadically in his work.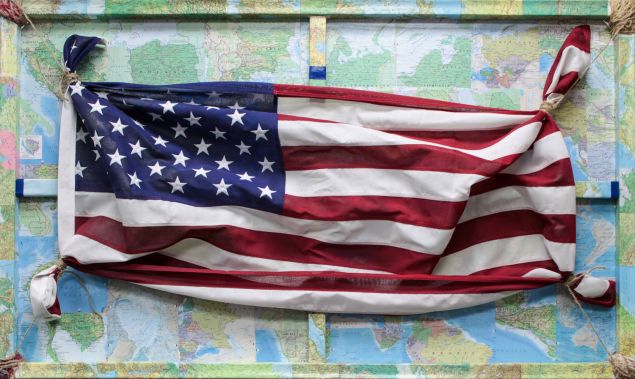 Many people regard you as a living legend for your songwriting talents, but how do you organize that fame in your mind, something so huge, in order to be able to begin a piece of visual work?  Thank you for this, and I appreciate it, but the "fame" is in other people's minds. My work comes from a totally internal place just as all my written works have as well. They are my story and stories I like to tell, both in word and in visual art.
How has your mastery of visual art grown? Are you gravitating to one kind of medium—mixed media, over print or paint—or always evolving?  Every day is a new creative endeavor. I think I have found my language in my current work, a unique expression that every artist seeks. I started with paint and for years followed the energies, the abstract gestures, the feeling of freedom, free expression found in the abstract expressionists.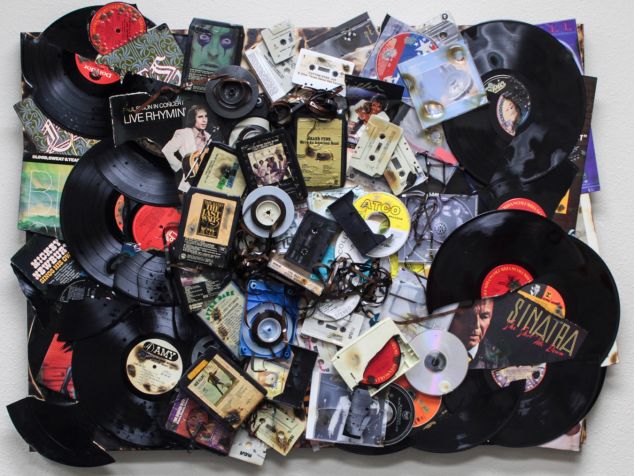 How did you come around to showing and selling your art?  A small group of an inner circle knew I was a visual artist for many years, primarily a painter. Again as with any artist you have to start somewhere, and I had a number of privately arranged shows. The selling part has evolved, as that was not my initial purpose. Eventually, my art was discovered outside of my other career.
  For mixed media pieces, do you seek out the materials you want to work with or just come across stuff that makes you think about a form or idea? I'm familiar, comfortable with many materials. I like the dynamics of aggressive materials—both raw and repurposed. The idea is always the hardest part. Sometimes it comes from the material or object, sometimes the concept first. At this point my bill at the hardware store far exceeds my bill at the art store.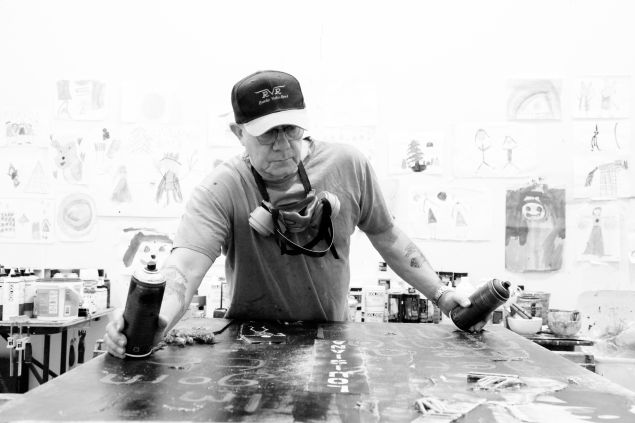 Are you a tough self-critic? The work has to be correct. But I don't compare with others. The work itself tells me when it's finished. There's not an element that is not complete to my satisfaction and must stand on its own, before it leaves my studio.
 Where was the first place in the U.S.A. that you set foot and what was your impression? When Elton and I moved to the United States in 1970—remember I was just 20 years old—my most frequent place to visit in New York was the Museum of Modern Art. It became my creative sanctuary. What I had learned about art and literature came from my mother, from, for instance, seeing the works of JMW Turner and the writings of Tennyson and Lord Byron. At MoMA what impressed me the most, had the greatest impact on me, was the work of the abstract expressionists, Anselm Kiefer, Hans Hofmann and discovering De Kooning and Pollock.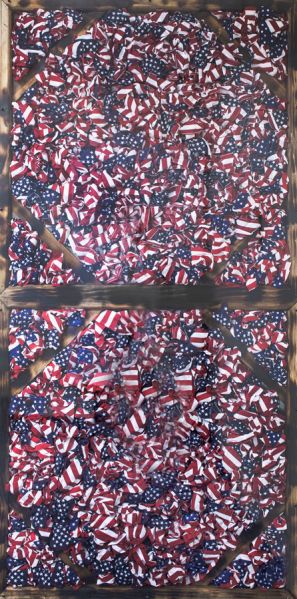 Is there a particular natural element that resonates with you or is represented in your work, such as the sky or the sea? I don't try to replicate nature. I don't try to interpret nature. My creativity comes entirely from within, engages and involves my vision of history and the future and the experiences I've had over the past 60 years.
 Do you always work in the same place and where is that? What can you see from the windows? My studio is on my ranch in Southern California where I have lived for over 20 years. It's funny about the windows; I don't have any. The previous owner had built a racquetball court, solid walls and high ceilings. That's my studio.
Would you describe yourself as "town" or "country"? I grew up on a farm in very rural Northern England and was born just five years after the end of World War II. I have lived on a ranch for decades now. You can see in my work—wood, wire, nails, using a propane torch, I'm country. However, having traveled so much in my music career and lived many places, I believe the work is very metro.
 How do you live—do you stick to rituals and a daily routine or are you just fluid for the most part? Art is with me 24/7. If it is a ritual, I'm in the studio every day. 
Antiphona by Bernie Taupin is at Waterhouse & Dodd, 960 Park Avenue, New York, 10021. Then moves to Miami, 11/29