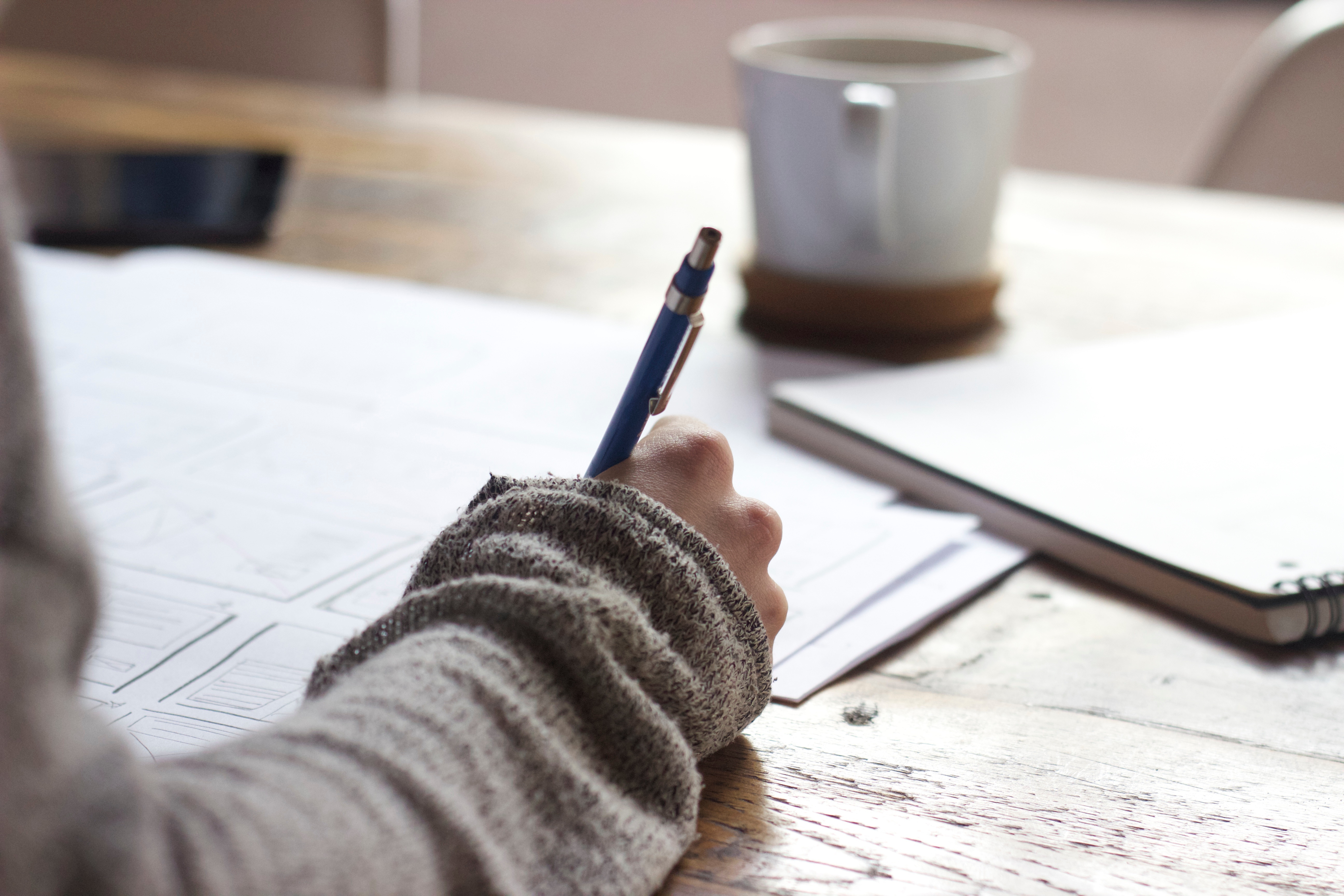 Writers everywhere go a little crazy in November. National Novel Writing Month—better known as NaNoWriMo—fever is upon the world.
If you're a writer, or just want to be, you've probably experienced this phenomenon of working like a maniac for 30 days, trying to pound out 50,000 words, then heading into the holidays exhausted and completely burned out. Forget writing, you don't even want to read another book for months.
And your 50,000 words just sit there on your hard drive. Right next to all your other NaNo wins. Or, worse, you throw on a homemade cover and proudly publish your story on Amazon without any editing.
What if you used the energy and excitement of NaNoWriMo to kick off a whole year of novel writing? Here's an outline of how you can spend the other eleven months of the writer's year (you know, December to November).
Set a More Sustainable Goal
Go ahead and spend November shoving writing into every crack and crevice of your day, but the rest of the year? Develop a sustainable daily writing habit by slowing down.
Commit to writing for at least ten minutes every day from December first until next Halloween. I know, I know, ten minutes? What kind of goal is that?
It's a goal you'll keep. It's so small that it's psychologically harder to skip it than it is to stick with it. You can capitalize on that head game by getting a calendar and giving yourself a gold star every day that you keep your goal. Who wants a gap in their stars?
(I came up with this printable goal chart and writing log that I call FRED—Folder for Reaching the End of your Draft. You can download your own FRED here. I swear, it works like magic.)
You can write more than ten minutes, of course. Chances are you will most days. The magic of a tiny goal is that it gets you past the nasty hurdle of actually sitting down and starting to work.
Evaluate Your Story
What I love about NaNoWriMo is that it facilitates the move from wanting to write a book to actually writing one. That's huge.
Once you've won NaNoWriMo, though, what you're left with on December first is a 50,000-word draft that you've written with an eye more toward speed than quality. Let's be honest. Your book probably isn't very good in its current form. What it does have, though, is potential.
Before you do anything else, take some time to evaluate your story. The best way I know to do that is with a plot board. I like analog, so I use a physical plot board. You can also use a digital system, like Scrivener's corkboard.
Read your draft. Don't worry about editing or the quality of the writing right now. Pay attention to the story. Take a note of each scene and plug it into your plot board.
You'll be able to see if your story is balanced. You'll easily be able to see where you have too much or too little. And you'll have a visual outline of your story that you can play around with before you start working on your actual edit.
Learn Your Craft
I'd like to challenge you to spend the next year learning your craft. Pick eleven writing craft books and read one a month. Don't skim, either. Really read and implement what you learn.
Here are my favorites to get you started:
On Writing by Stephen King
Steering the Craft by Ursula Le Guin
Just Write by Walter Dean Myers
The Writer's Journey by Christopher Vogler
The War of Art by Steven Pressfield
Bird by Bird by Anne Lamott
Writing Down the Bones by Natalie Goldberg
The Story Grid by Shawn Coyne
It isn't enough to just read these books. Do the exercises. Use what you're learning to improve your writing. Try keeping a notebook throughout the year to take notes in. Treat this like an intensive course in creative writing.
Find a Writing Community
Make a concerted effort in the year before your next NaNoWriMo to find a writing community and become a part of it.
If you can't find a writing group meeting in person near you, turn to the internet. I'm partial to Ninja Writers, which is a group on Facebook that I founded after NaNoWriMo 2015. (I'd love to have you join us!)
Try finding a national or international organization for writers in your genre. Romance Writers of America and the Society for Children's Book Writers and Illustrators are two that I belong to. They both have online chapters.
Connecting with other writers is a good way to keep yourself motivated to continue your writing journey beyond November. It's a good way to find a critique partner or beta reader who you can trade feedback with. And it's just way less lonely than writing all alone.
Become a Solid Self-Editor
I have one more book I want to recommend. If you decide you only want to read one craft book, make it this one. Self-editing for Fiction Writers by Renni Browne and Dave King teaches a single editing principle, then walks you through implementing it in your manuscript.
Learning to polish your own work is important on a couple of fronts. First, it will help you learn how to create a cleaner draft the next time. Trust me, once you've replaced 743 weak verbs with stronger verbs, you'll just use the stronger one in the first place next time.
If you plan to try to publish traditionally, you need to be able to be able to prepare a professional-level manuscript to send to agents and publishers.
If you plan an indie career, being able to competently self-edit will save you a lot of money. You don't want to pay someone to fix things for you that you could have fixed yourself.
Save Your Pennies for Professionals
The slush pile used to live in the editor's office. Now it lives on Amazon.
Don't be part of the slush pile.
If you're an indie author, you're a publisher. That means it's your job to make sure your book is professionally edited and designed.
If Penguin wouldn't publish your book with your best friend's edits and your homemade cover, then you shouldn't either.
If your friend isn't someone you'd pay good money to for edits, they aren't someone you should use for free. If no one would pay you for your design skills, you aren't good enough to make your own cover.
If indie publishing is in your future, spend the next eleven months saving up. Resign yourself to the fact that publishing a novel is not a free enterprise. Your book needs to look and read like a traditionally published novel. It deserves that.
Here's a calendar for the months until the next NaNoWriMo:
December: Read a craft book. Look for a writing community. Let your NaNo book rest for a few weeks and spend your ten minutes a day working on a palette cleanser. Maybe write a short story or work on whatever project you abandoned for NaNoWriMo.
January: Read a craft book. Make a commitment to yourself to join a writing community and participate in it (even if you're an introvert). Set up your plot board. Use your ten minutes a day to start to read through your NaNo book. Write each scene on a sticky note and place it where it belongs on your board, or do the equivalent in whatever program you're using.
February: Read a craft book. Keep participating in your writing community. Finish your plot board and when it's completely filled out, evaluate it.
March: Read a craft book. Keep participating in your writing community. Pick up a copy of Self-editing for Fiction Writers. Read the first chapter and spend your ten minutes a day implementing what you learn in your manuscript.
April through October: Repeat March.
Shaunta Grimes is a writer and teacher. She lives in Reno with her husband, three superstar kids, and a yellow rescue dog named Maybelline Scout. She's on Twitter @shauntagrimes, is the author of Viral Nation and Rebel Nation, and is the original Ninja Writer.