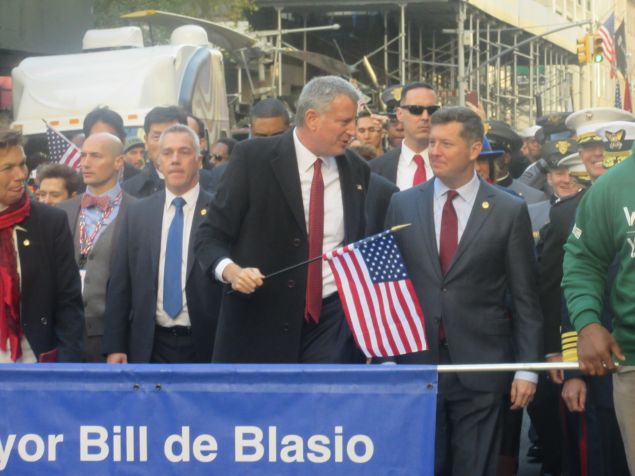 Mayor Bill de Blasio used the occasion of Veterans Day to reiterate that his administration had ended chronic homelessness among former service members—and promise the city "will not rest" until all veterans have a permanent place to live.
In August 2014, the mayor announced that Loree Sutton, a retired U.S. Army Brigadier General and psychiatrist, will serve as commissioner of the Mayor's Office of Veterans' Affairs. And last December, the mayor signed legislation creating a Department of Veterans' Services into law. At the time, the mayor said he and the City Council had quadrupled funding and staff in support of the Veterans' Affairs office. And on December 30, he proclaimed that the city has ended chronic veteran homelessness even though some veterans advocates warned that more work remained to be done.
He commended President Barack Obama and First Lady Michelle Obama for saying the whole country has to end the scourge of veteran homelessness and that the idea of veterans being homeless for years on end "was an affront to our ideals."
"We took up their call. I'm very proud to say in this city, we have ended chronic veteran homelessness," de Blasio said during the opening ceremony for the annual Veterans Day Parade that started in Madison Square Park, garnering applause from attendees. "But there are still veterans who become homeless and we will not rest until each and every one of them has a home—literally, each and every one of them. That is the standard we hold."

Roughly 25,000 people from every conflict going back to World War II participate in the parade—organized by the nonprofit United War Veterans Council—and more than 200,000 veterans live in New York City, according to de Blasio.
The mayor said that all New Yorkers can be a part of the solution, calling on landlords to call 311 and the city will connect them to veterans they can rent apartments to them. He also said that veterans with disabilities have a right to a rent freeze and encouraged people to hire veterans because they take "extra responsibility" and provide "extra leadership."
"We all know—and this is a statement that's truly bipartisan—that for too long we've seen our nation fall short when it comes to taking care of those who served us, and it shouldn't be," de Blasio said. "And part of the solutions for us in New York City can show what can be but part of the solution is also for every single individual to be part of serving our veterans.
And the issue hits close to home for the mayor. His father served in the Pacific Theatre in the army and his mother served in the Office of War Information, a 1940s U.S. government agency. His wife, First Lady Chirlane McCray, served in the army in France and in Italy and her mother served in the Springfield Armory creating armaments for the armed forces.
"We grew up in a family that understood how powerful military service is, what a measure it is of one's devotion to their nation," de Blasio said. "But the honest truth is we also saw all of the challenges that come with returning from military service. My wife saw it with her father, I saw it with my dad."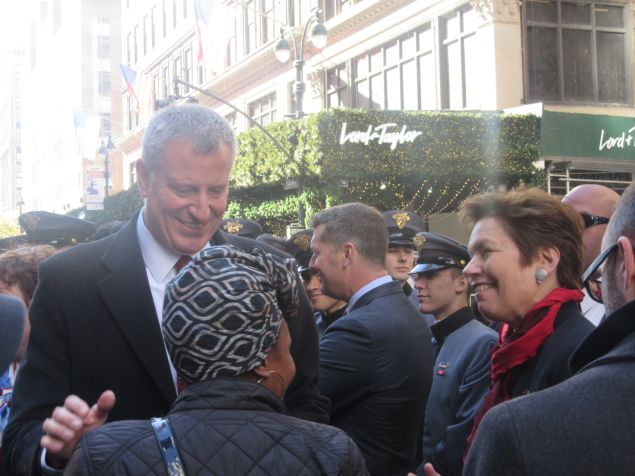 Sutton said the Mayor's Office of Veterans Affairs is working with McCray and her ThriveNYC mental health initiative and the agency is getting jobs for veterans and their family members. She said the city is the number one employer for veterans.
"You know Mr. Mayor, what a difference a year does make," Sutton said to the mayor enthusiastically. "A year ago, June, we had four folks in our little Mayor's Office of Veterans' Affairs. Today, I'm pleased to say that we've got over 20 and we're still building and we're doing the things that the mayor mentioned."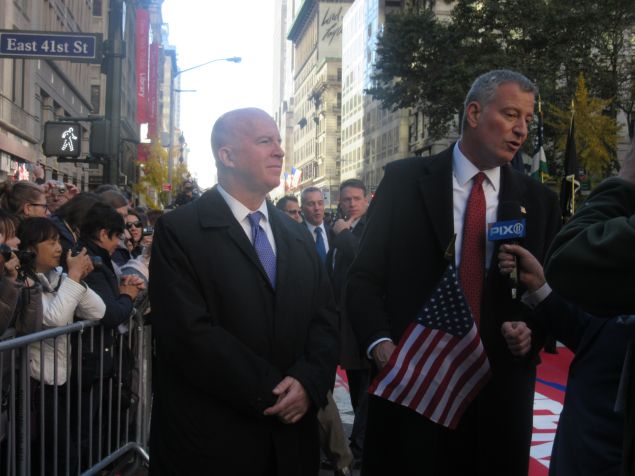 Sutton and de Blasio marched in the parade with Dan McSweeney, president of the United War Veterans Council and others. They stopped and greeted veterans, children and other attendees along the way. Police Commissioner James O'Neill also marched in the parade, with him and de Blasio participating in an interview with Pix 11 at one point.
New York City shelters housed an all-time record of 60,000 families a night in September.