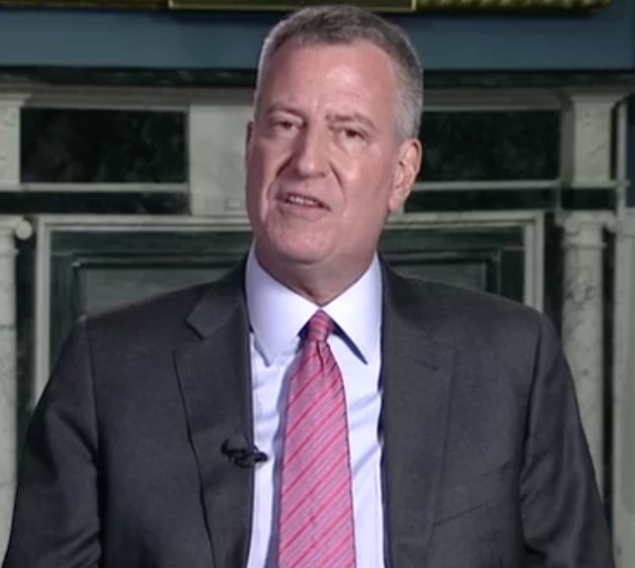 Mayor Bill de Blasio proclaimed himself "confused" at his former deputy mayor of Health and Human Services' attacks on him and his administration's plans to combat the city's homelessness crisis—plans he says she helped shape.
In an interview with NY1 Noticias the former deputy mayor, Lilliam Barrios-Paoli, said the administration doesn't have a long-term and permanent vision for addressing the homelessness crisis. She also said she believed leaving the administration was the best decision and reported difficulties in working with de Blasio.
The mayor said he has "a lot of respect" for Barrios-Paoli, noting that they worked together for many years and that "she did a lot of good for this city"—but professed perplexity at her harsh remarks.
"I'm confused by the criticism because she was deeply involved with us in creating the plans to address homelessness," de Blasio said during his first weekly "Mondays with the Mayor" segment with NY1 host Errol Louis. "We greatly expanded the availability of services to stop evictions. We greatly expanded the housing vouchers to keep people in their homes."
De Blasio named Barrios-Paoli—who was commissioner of the Department of Aging at the time—as his deputy mayor for health and human services when he was first elected mayor in 2013. She was a veteran of the Bloomberg, Guiliani and Koch administrations but frequently butted heads with Giuliani, who eventually removed her from the position.
Among her responsibilities was overseeing the Department of Homeless Services, and tackling the city's homelessness crisis.
When she resigned last year, the mayor said she made a voluntary "personal decision" to leave the administration and take an unpaid position as chairwoman of the Health and Hospitals Corporation. Her resignation marked the first time a deputy mayor had left the administration during de Blasio's time in office.
The mayor said his administration had started an effort to get people out of shelters, and gotten 45,000 people who were in the system at some point in the last three years into permanent housing. He also said his administration put forward a plan almost a year ago to create 15,000 supportive apartments—which he said Barrios-Paoli helped put in place during her 20-month tenure as a deputy mayor—to get individuals with mental health and substance abuse problems into long-term domiciles with on-site social services.
"The big pieces of the plan—which are very public and have been for quite a while—our overall affordable housing plan to create enough affordable housing for half a million people," de Blasio continued. "That's gonna bend the curve and change the reality in the city and help us address homelessness, too."
The mayor also noted that homelessness has bedeviled the city for decades and his predecessors, "going back to Ed Koch." And when Louis asked him whether the administration's steps are driven by circumstances or an emergency situation or if it has put together a long-term plan, he said the city has more to lay out for people to show how all the pieces connect.
He also added that the city has anti-eviction legal services, rental subsidy programs to keep people from losing their housing or getting them out of housing and back to their family and that the city is willing to subsidize families to take in family members who are on the verge of becoming homeless or who have become homeless.
Since the Great Recession, many New Yorkers' personal economic situation has worsened, the mayor said.
"Too many people have low wage jobs and the cost of housing has continued to skyrocket," de Blasio said. "Even during the Recession, it just kept going up. So yea, there's a sense of urgency for sure. There's a lot of challenges but at the same time, we've put the building blocks in place to turn the tide."
This comes as a number of Queens politicians, including one considering challenging the mayor, rallied in front of City Hall to protest what they perceive to be the administration's "failed policies" for addressing homelessness. They, and other critics like former Council Speaker Christine Quinn, point to the record-obliterating 60,000 people sleeping each night in city shelters as proof de Blasio has not properly addressed the mushrooming dilemma.