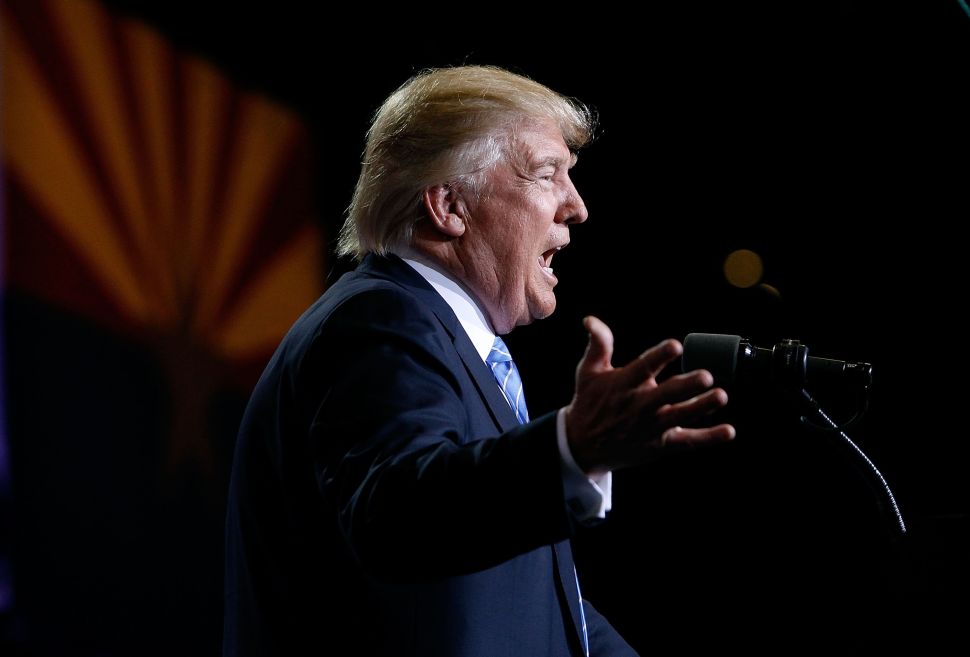 Bitcoin's price went up over $30 last night as it became clear that Donald Trump would be elected as the next president of the United States. It's a result the markets hadn't expected, and the markets don't like surprises. "Last night, Dow futures plummeted," Perianne Boring, founder and president of the Chamber of Digital Commerce, wrote the Observer in an email, referring to markets for instruments based on upcoming prices in the market, which can be traded when markets are closed. They dropped as much as 750 points. "In the first hour of trading today, the market is experiencing significant index swings, but seems to be leveling off."
As Election Day dawned, bitcoin was trading at around $705. It rose as high as $738 and now sits at roughly $724, a roughly three percent gain. We reached out to members of the cryptocurrency community to get their take on what happened with trading in the internet's native currency.
'Bitcoin will rise and rise with more unknowns'
"Market uncertainty and volatility typically leads investors to assets and currencies that aren't directly tied to a government. We've seen a similar trend in gold time and time again, especially when the market encounters a surprise like last night's election," Boring added. Indeed, gold also rallied last night, but it still hasn't reached its high from a few days ago, whereas bitcoin hasn't been at its current price since the bitcoin halving, in July.
Michael Moro, CEO of Genesis Global Trading, part of the Digital Currency Group, wrote the Observer in an email, "Genesis saw activity over the last week or so from institutional investors with whom we hadn't traded in a few months. My theory is that investors went long bitcoin in case of a Trump victory and a corresponding sell-off in the equity markets."
"The surge happened due to a couple of reasons. Number one: the lack of trust in the government," Ameer Rosic, CEO of Blockgeeks, a cryptocurrency forum and media site. "Number two: future insecurities. Bitcoin will rise and rise with more unknowns that approach."
Both Rosic and Boring projected the leading cryptocurrency would be unlikely to quickly lose last night's gains. We suspect that the prospects for the dollar to become a cryptocurrency have somewhat dimmed, however.
Other leading cryptocurrencies also reacted, but not nearly so severely. Of the top five cryptocurrencies, none of last night's movements look significant when considered against their prices over the last month.
Disclosure: Donald Trump is the father-in-law of Jared Kushner, the publisher of Observer Media.