While many people will forever associate them with their pop-metal heyday of the late 1980s, Bon Jovi has not only escaped the hair band ghetto but thrived by launching heartily into different musical phases.
They've gone hard and gritty (Keep The Faith and Bounce), pop-rock (Crush), Nashville-esque (Lost Highway), and misguidedly adult contemporary (2013's What About Now). While some of the various twists and turns have not always pleased longtime fans, the band gets props for their lyrical maturation and for not sticking to the straight and narrow.
Which brings us to This House Is Not For Sale, their first studio album in over three and a half years and the first without original guitarist and chief Jon Bon Jovi songwriting collaborator Richie Sambora, whose skilled, soulful playing has been a vital part of the band's sound since its inception back in 1983.
The six-string icon abruptly absconded with his guitar a quarter of the way through their 2013 world tour, their highest grossing ever and one of the highest grossing of all time, and his prolonged absence has had many fans wondering what's next for JBJ and his Grammy-winning group. Their latest studio effort makes it clear that, with guitarist Phil X in tow, they are steadfastly moving forward.
Part of this trajectory includes reportedly naming longtime unofficial bassist Hugh McDonald an official member (it's about effin' time) along with Phil, whose other band The Drills revels in raucous hard rock. This roster change could offer a throwback to the days of Bon Jovi yore even as they carve out new territory, and with Jon feeling the need to purge his feelings about events of the last three years, those harder licks would make a nice fit.
Bon Jovi even returned to Avatar Studios, once known as Power Station, where they recorded their first album and where Jon cut the demo for "Runaway" (which included McDonald on bass) that helped land him his long-running deal with Mercury Records, which has since been revived through Island Records. It seems to be a conscious effort to return to their roots.
[youtube https://www.youtube.com/watch?v=_Ri2KEiXlNk&w=560&h=315]
Many of the new Bon Jovi songs can be interpreted in two ways: as prototypical tunes about the struggles of everyday, working-class people ("I set each stone and I hammered each nail/This house is not for sale") and as autobiographical confessionals about grappling with his record label ("The Devil's in the temple and he's making a mess/Got the Mona Lisa, got his hands up her dress") and coping with the loss of his musical compatriot ("Are you living in a nightmare, are you living in a dream/Do you stand for something, will you fall for anything").
The catchy title track, "Living With The Ghost," the infectiously propulsive "Knockout" (with its grooving bass line), and the edgy "Devil's In The Temple" in particular focus on coping with change and uncertainty, overcoming adversity, and pushing ahead. They are both personal and universal and among the best cuts—punchy and hooky. The vocals on those tracks are also among the most angst ridden on the album, with Jon sounding impassioned and sincere.
While there is some vim and vigor to be found on This House Is Not For Sale, a majority of the tunes veer toward mid-tempo, steadily chugging tracks that are often U2-ish in their sonic architecture. There are not a lot of rhythmic changes to be found. The big pop-rock anthem "Born Again Tomorrow" stands out mainly because the rhythm section drops out in the radiant chorus while the song loses little propulsion.
Throughout the album, those now standard "woah-oh" and "hey-ey" chants surface a lot ("sha-la-la" rears its head, too). Two of the ballads, the Chris Isaak-esque "Labor Of Love" and the romantic piano and string swooner "Real Love" (on the special edition), while pretty, are predictably housewife-friendly.
[youtube https://www.youtube.com/watch?v=LWr3WuThh-c&w=560&h=315]
Guitarist Phil X has good hard rock credentials and chops, but it feels like, riffing aside, the man just isn't allowed to truly let loose here.
"Devil's In The Temple" serves up snarling riffs and rhythms that lead up to a mid-section that cries out for a nice, wailing solo…that never comes. Phil plays flashy but brief lead breaks on the title track and "Born Again Tomorrow" and is allowed a short, tasteful solo on the closing song "Come On Up To Our House," but they feel almost obligatory. They are exactly eight bars each time.
The third and last bonus track on the special edition, the snarling and majestic "We Don't Run," one of the few solid tracks on Burning Bridges that gets imported here, would have made a great ending to the regular edition of the new album. It's one of the most driving and aggressive tracks on This House Is Not For Sale, but ironically John Shanks is the one who gets to tear things up for a few bars. Phil X is like many younger members brought into a veteran band, often stifling their individuality somewhat to fit into the whole, but this is where he could have made a difference. He has big shoes to fill, but he really needs to get a proper shot at it.
Then there is keyboardist David Bryan, the most underutilized man in rock.
Here you have a classically trained player who also has a passion for blues and rock. He was set to go to Julliard when his high school bandmate Jon enlisted him into the ranks. Some of the songs Bryan wrote on their early albums had larger than life choruses that totally fit with the group's oeuvre. He has worked on movie soundtracks with Larry Fast, released two solo albums, and not only co-wrote a cheeky off-Broadway musical (The Toxic Avenger) but a multiple Tony Award-winning Broadway one (Memphis) as well.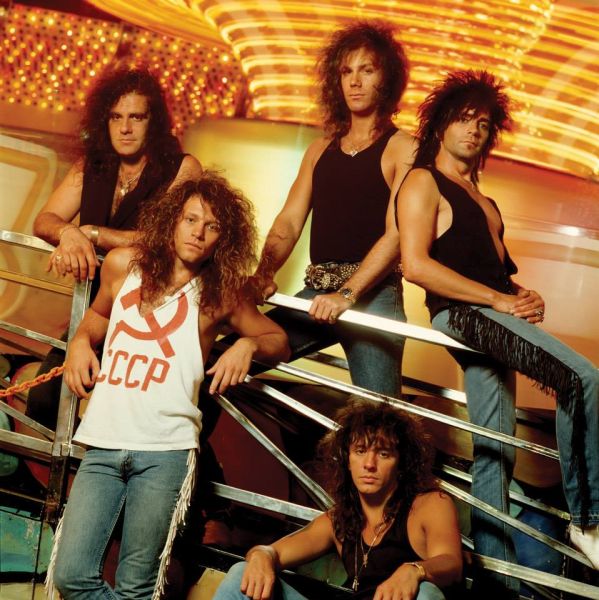 In the way that Phil X, Hugh McDonald, and drummer Tico Torres are churning out straight eighth notes on a lot of the new songs, Bryan has generally been relegated to playing chords over a majority of the last few albums and often gets buried in the mix. He rarely gets to shine anymore. Even the delicate, pretty piano work fueling "Real Love" could have shown more color. What gives? He's a great talent. Exploit him.
A principal culprit here beyond JBJ is longtime producer John Shanks. He came onboard with Have A Nice Day in 2005 and has been co-writing many of their songs over the last 10 plus years.
He plays guitar on this album as well and is now part of their touring line-up. Shanks undeniably has a great pop pedigree that has racked up millions upon millions in record sales, and yes, he worked on the last Van Halen studio album. But he has been smoothing out and polishing Bon Jovi's rough edges too much, notably here and on 2009's The Circle. The latter, while one of the Jersey boys' best albums, actually could have used less refinement. Bon Jovi have been at their most successful when they straddle the line between hard rock crunchiness and pop melodicism. The pop side has taken over too much over the last decade. It's time for a change.
Don't get me wrong, This House Is Not For Sale has its moments, and many of these new songs are better than I expected, particularly in light of the baffling castaways collection Burning Bridges released last year. But many of them are simply middle of the road and lack the bite that made us fall in love with these Jersey boys to begin with. This feels like a lost opportunity to fully match the emotional turbulence that Jon is channeling with a heavier sound and more gusto. I'm not feeling nostalgia for 30 years ago either; more like a decade back.
I've been contemplating the future of a lot of hard rock bands in recent months, especially with many heritage acts now in their 60s. Some people can grow older gracefully, others not so much so; it depends on the group and their raison d'être. With members still in their 50s, Bon Jovi could indulge their adult contemporary side further and probably remain accessible to a lot of their loyal audience.
But right now, especially with a younger gun in tow, these guys still have energy in reserve to keep rocking hard for a little while longer. Bring it on. Knock us out.
(NY Observer contributor Bryan Reesman is the author of the new biography Bon Jovi: The Story, which is out now through Sterling Publishing.)