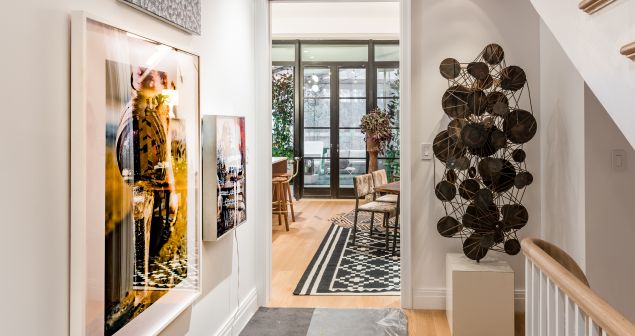 The holiday season is upon us, which means it is time to prepare for a lots of turkey, eggnog and tree-lightings. It is also time for the ninth annual Holiday House event, in which a number of tastemakers come together to design an open house that benefits the Breast Cancer Research Foundation.
The $40 ticket grants you admission to peruse and admire the designs and décor of Holiday House, with the entirety of the proceeds going to the Breast Cancer Research Foundation. Each of the twenty participants designs a room and this year that included Geoffrey Bradfield, Ryan Korban, Brandon Maxwell, Jared Seligman and Sasha Bikoff.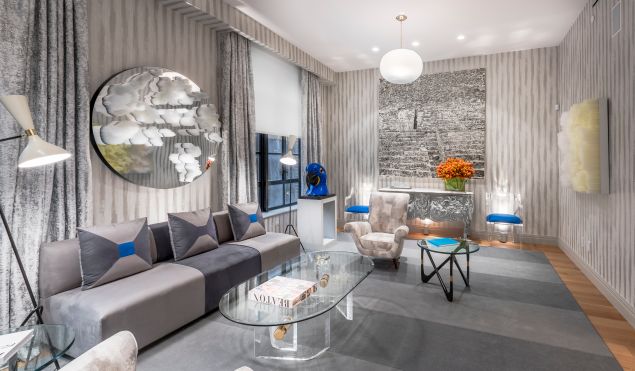 For the first time since its creation, Holiday House moved from its usual Upper East Side townhouse to a downtown locale. More specifically, at the Cary Tamarkin-designed townhouses in Soho at 40 and 50 Sullivan Street. The relocation is in large part thanks to co-chair Jared Seligman, a real estate broker at Douglas Elliman who offered his luxury listings for the project. Naturally, the change in venue influenced the designers' aesthetics.
"The new setting was such an interesting concept," Seligman, who is co-chairing the event along with Holiday House founder, and breast cancer survivor, Iris Dankner, told the Observer. "To have two identical houses with identical finishes, floors plans, et cetera, but we also wanted to show many different ranges of design styles."
Fashion and interior design icon Iris Apfel is the honorary chair this year, and offered 150 pieces from her personal collection (including artwork and antiques) for use in the open house décor. "Honoring Iris Apfel, who truly exemplifies style—we wanted to honor her for her achievements in the interior world and as an inspiration to so many people," Seligman told the Observer. Seligman was in charge of designing the stairwell, hallway, entryway, landing area and two powder rooms, and in many ways it turned out much as an ode to Apfel.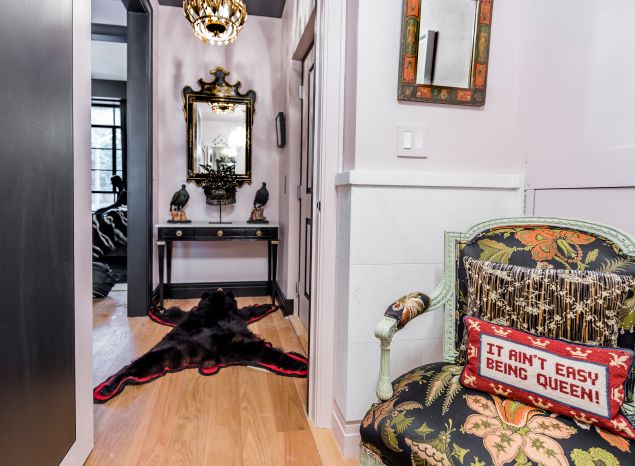 "I was most influenced by things I love, which is what I think one's home should be all about," Seligman said. "Coincidentally, I just happen to have an aesthetic that has been inspired from legendary designers over the past and present that share a lot of similarities to Iris Apfel."
"Everyone kept asking me, 'did you do these room as an homage to Iris or for Iris?' and the truth is, I just did me and wanted to showcase some archival fabrics she designed," he continued.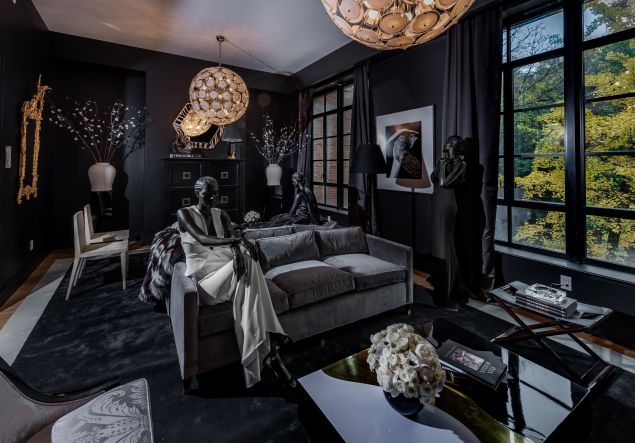 Elsewhere in the townhouses Lady Gaga's pal Maxwell collaborated with Korban on a second-floor sitting room, going with a theme of  "dark luxury" (Korban's words) that includes lots of somber hues and rich fabrics, accented with a modern light fixture.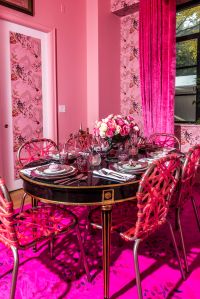 There is something for everyone, though. Those who prefer a modern look might find themselves drawn to Bradfield's blue-accented, lucite-adorned living room, while Bikoff's parlor room is unabashedly girly and vibrant, with rose-colored walls and pink velvet curtains.
Holiday House is running through January 8, and is open from 11 a.m. to 5 p.m. daily. If you happen to have some free time in the upcoming weeks and are strolling about the city, these fashionable interiors are the perfect way to get your daily design fix while contributing to breast cancer research. Plus, you're sure to get some major décor inspo to update your own space.