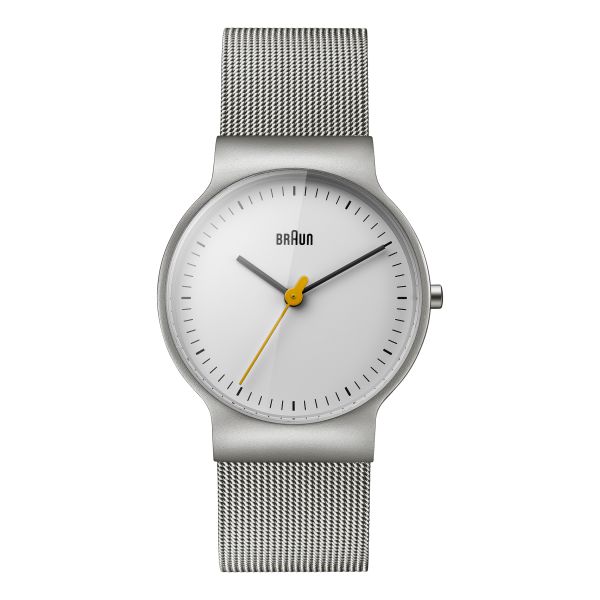 In the sleepy German village of Kronberg, about an hour's drive from Frankfurt, Braun is housed in a quiet campus of elegant glass buildings, a stark contrast against the rural and pastoral landscape. Something about being far from a major urban or industrial area speaks to the Braun brand motto: Less But Better. Out here, there are fewer distractions, and the hundreds of engineers, marketers and, of course, designers have more breathing space to think of the next great generation of Braun products. In America, Braun is recognized for two things: electronic shavers (which are not as popular stateside as they are in Europe, as most men here prefer a good-old wet shave) and their Oral-B electronic toothbrushes.
For the first time this fall, however, Braun is launching a complete offering of watches. Though the brand had dipped their toes in the category with a model or two over the last couple of seasons, this newly expanded line features a classic minimalist design ethos. Bands come in either sleek leather or stainless steel, and the faces skew towards the classic Braun alarm clock style with Helvetica numbers, or slightly more chronographic, for timepiece connoisseurs. Competitively priced between $200 and $800, there is something here for everyone.
Benjamin Wilson, a designer by trade and Braun's Global Scientific Communicator, pointed out the obvious to the Observer: in the age of smartphones, people don't necessarily need watches anymore. "It's more of an object of designer or want," he said. "It's part of your style and says something about your taste and who you are as a person. That's where Braun comes into play—the watches are not over the top, they don't scream 'Look at me!' And they connect directly back to our motto, Less But Better."
The move into watches comes at an interesting time for Braun, which for the last couple of years has been quietly repositioning itself as a full-blown design brand. The interesting thing is that this isn't a novel move for Braun, but more of a return to their roots. Founded in 1921 by Max Braun, the brand primarily focused on radios for the first thirty years or so. This was during WWII and the early part of the mid-twentieth century, when radios were the centerpieces of living rooms around the world. In the 1950's, Braun expanded into kitchen appliances, coffee makers, their now-iconic shavers, clocks and radios; through the 1970's, Braun remained as one of the world's leading industrial design brands.
Things began to change in 1984 when Gillette Group acquired Braun. For the next twenty years or so, Braun appeared to be thriving, but profitability became a clear issue. Globalization changed how household products were made, and suddenly, it became much more fashionable for Braun's competitors to mimic their uniquely minimal design aesthetic and produce products in cheaper places around the world. In 2005, Gillette sold its interest in Braun to Procter & Gamble, which, in a move to focus on raising profits, discontinued sales of all Braun products in North America except for shavers and electric toothbrushes (hence why Americans today feel like these are Braun's most familiar categories).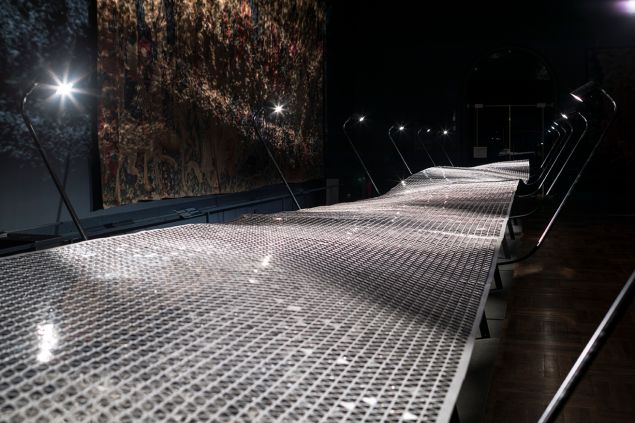 Lately, it feels like Braun has been making a concerted effort to return to its truest form. This year, Braun was a leading sponsor of the new London Design Festival, a weeklong event celebrating the best in industrial and product design. They collaborated with award-winning designer Benjamin Walker on "Foil," a 20-meter long undulating ribbon created from Braun stainless steel, in pieces that resembled razor blades from the brand's Series 9 shaver. It was installed in the long tapestry room at the Victoria & Albert Museum. Their interaction in the festival was part of a larger effort to bring Braun's commitment and history of design to the forefront, so people stop perceiving them as just purveyors of shavers and toothbrushes. "In our world," said Wilson, "the design and engineering that takes place behind the scenes is almost intangible—the consumer can't see it, can't touch it. The platform that the London Design Festival produced with us and the Braun Foil installation that we created started a great dialogue for people outside of the design community. For those that got to experience the combination of a tech tapestry in 2016 in contrast to 1000 year old tapestries that were hanging on the walls, it was quite an engaging and emotional experience."
That said, shavers remain a strong category — the Series 9, which was released this year, is wildly popular and has been met with nearly-flawless reviews from the grooming world. The watches have been met with similar enthusiasm, both from critics and retailers, including MR PORTER, alike. It's an interesting time for Braun, and appears to be a make-or-break moment for the brand. As Wilson explained, if the shavers can perform well, then so can other categories. "I wouldn't say that the shavers themselves influence the other categories, but more so the industrial design and manufacturing processes play a key role in informing our design today. We call this taking the past forward, which, as it says, takes elements, materials, and processes from the past, reinterprets them, and integrates them as important elements in the products of tomorrow… If there's an unmet need in our consumer's life, we will create something to help solve that problem."
Whether Braun can return to its midcentury glory days remains to be seen, but with the careful and calculated move into watches — applying their iconic minimalist ethos to must-have products that feel right for 2016 — it would seem that they are on the right track.