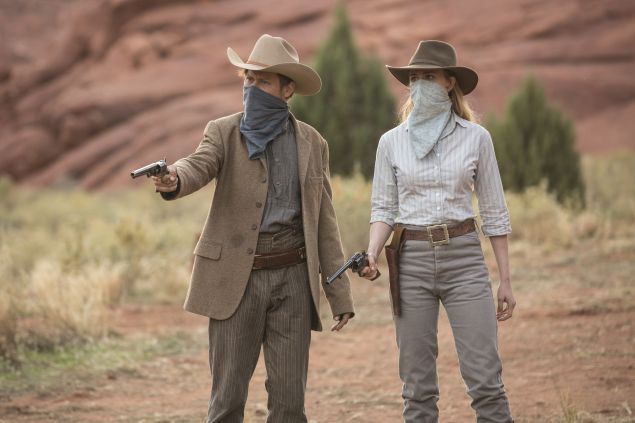 Welcome to our TV Fashion column, where TV Ate My Wardrobe's Emma Fraser discusses the trends in television apparel. This week: How wardrobe helps us understand HBO's ever-shifting Westworld. 
Dolores broke the mold when she put on a pair of pants on Westworld last week; prior to this she has worn the same cornflower-blue ensemble throughout the first five episodes or nothing at all and this change in clothes is significant. Hosts don't need multiple outfits unless there is something in their scenario that requires it, although there must be racks of the same outfit backups because bullet holes might be hard to explain and blood stains can be tough to get out. Seeing Dolores in an entirely different look all while brandishing a weapon makes her much more than the damsel in distress who always needs saving.
It is hard to discuss Westworld in any capacity without mentioning the multiple timeline theory ; if this is indeed the case then Dolores in pants somehow gets back to being Dolores in her original wholesome outfit in need of being rescued once again. In the park everything repeats and the past has a way of becoming the present. Dolores was notably absent this week in "The Adversary" and so for now the speculation of that particular part of the story is on hold. However, her face was prominent in the scrolling list of first generations hosts who are still in rotation. We already know that Dolores has been around since the park opened, but what this does is reinforce the notion that we could be witnessing threads from past and present. Even in her absence Dolores is providing pieces to the puzzle. Or should I saying giving directions to the maze?
One character who transcends time through costume is Robert Ford; his period specific waistcoat and pocket watch means he can visit the park whenever he wishes and he doesn't even need to change his outfit if he wants to interact with hosts and guests alike. Squirreled away in his own corner Ford has "survivors of the wreck of time" playing a version of happy families that he briefly experienced. Well, he has made a few adjustments to give a more authentic feel of his drunk and cruel father; even if this fantasy Ford lets in the darkness.
The little boy who has a habit of wandering is, as many suspect, a version of him as a child and this scenario was a gift from Arnold. They are first generation and unlike the blood filled hosts these ones are all robot. From the outside they look like everyone else, but when told to "turn the other cheek" their insides are revealed and they purely mechanical. And yet their emotions and responses seem just as real as the other hosts.
Arnold has a hold over a whole lot of people despite having 'died' thirty years prior (he's definitely alive, right?) and he continues to communicate to those hosts he created (see also Dolores). By gifting Robert with this image of his only happy childhood memory he is retaining some power in this partnership; first by creating something Robert cannot bring himself to destroy and secondly by actively commanding the boy version of Robert to kill their family pet. Robert is holding onto the ghosts of his family and because Arnold created this version of his family he is holding onto his former partner too. Neither seems like a particularly good idea when these ghosts mostly function like human.
From the outside these hosts look exactly as they should but unauthorized modifications have been taking place and now Maeve is taking it one step further; yes someone has tampered with her controls already, but now she is in command of this process by adjusting her different attributes to the levels she desires. While she might be the one sitting there stripped bare – I don't get quite why she went from clothes to being naked again later in the episode – the power now resides with her.
Maeve has been figuring out who/what she is through flashes of memories that have not been successfully wiped and she gets to see her 'dreams' play out on screen in front of her; in this life she is wearing white and plays with her daughter (as we know things get far more horrific after this moment in the sunshine). Now she gets to chose exactly what levels of intellect, loyalty, pain and other attributes she has. Maeve's journey of self-realization with Felix as her guide has been fascinating and the sequence when Maeve walks the Delos headquarter corridors is stunning. What she witnesses is the entire host circle of life from the bloody and 'dead' bodies to the process of creating a new host. Each level gives insight including how they train/condition each host to the initial blood injection that takes a body from abstract to what looks like and essentially is a living thing.
The color palette of Westworld is an intriguing one; bold color is mostly absent from both the costuming in the park and at Delos headquarters with variations of grey, blues and black tones dominating. The Delos staff mostly wear clean lines and in neutral tones giving off a slick futuristic vibe while Elsie wears small polka dot and check patterns subtly mirroring the texture and pattern of Bernard's layers. And Bernard at times mimics his boss and mentor with his choice of vests, but with a modern twist.
On the side of corporate, Theresa's structured silhouette dresses are unfussy and give off an air of authority. Sidsbe Babette Knudsen – who plays Theresa – is very good at giving off an air of steely power and three seasons of seeing Knudsen navigate Danish political waters on Borgen makes her ideal for this role and if you haven't seen Borgen/aren't tired of political theater by this point then I would highly recommend it.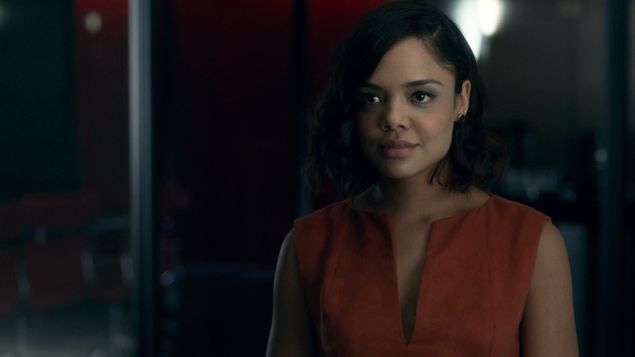 Enter Tessa Thompson as Charlotte Hale, a Delos executive; we first see her in casual pool wear at the Mesa bar giving Sizemore the chance to unknowingly embarrass himself in front of his boss not once, but twice. In the second meeting she is dressed in a red executive ensemble; a powerful color and one that has been mostly absent from Ane Crabtree's incredibly detailed costume design. The Delos headquarters is soaked in crimson from the walls to the furniture, but before Charlotte Hale's frock the only red clothing has been helmets and the butcher's boots, sleeve cuffs and part of their aprons. What the latter does is evoke the blood and bandage imagery of a barber when they used to perform surgery and bloodletting as well as a haircut or a shave.
The only use of bold color within the park comes courtesy of Maeve, Clementine and the other women of this establishment; to make them more appealing to the guests of the park and reveal their status.
Returning to the changing of clothing and its significance; when Dolores switched to pants it was so she could blend in with the rest of the group. The same goes for Teddy and the Man in Black when they need to get through a big group of Union soldiers alive. By taking the uniform of two soldiers they hope to blend in, but Teddy has a very recognizable face. Maybe he should've borrowed the Man in Black's hat to conceal his face. Teddy is important to the Man in Black, but he isn't quite the person he thought he was and modifications could hamper this maze hunt.
Rules and patterns are being broken by hosts, guests, staff and creators; changing what is on the inside of a host is just as easy as changing from a dress to pants. But the consequences are far graver especially when multiple hands are at play.
Emma Fraser is the creator of TV Ate My Wardrobe and spends most of her time writing about TV, fashion and costuming; Abbi and Ilana's Broad City style, the wigs on The Americans and Mindy Lahiri's pajamas are just as vital as talking about '90s, '00s teen shows. Emma has a MA in film and television, and she probably holds Angela Chase responsible for this path. You can find her on Twitter @frazbelina.