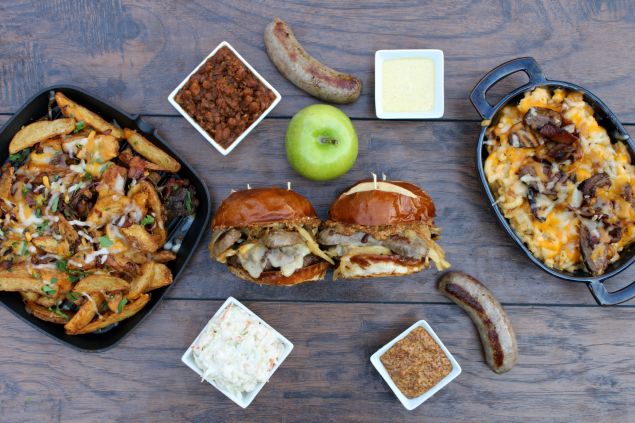 Since this article was published, I have reviewed even more subscription meal services. Go here to check out the Observer's full guide to these companies, which includes an infographic that will help you decide which is right for you based on your diet and other preferences. 
Despite their differences, nearly all the companies in the $5 billion subscription meal service industry tout the same thing: healthy and wholesome meals. A new player who's bringing their world famous food over from the restaurant world, however, is serving up gluttony on a plate.
BurgaBox is the new meal kit service from Boston Burger Company, a chain of three hip, burger-focused full service restaurants you might recognize as the winner of Rachael Ray's "battle of the best burger" or other shows like Guy Fieri's Diners, Drive-Ins and Dives. The company also serves up its unique mammoth-sized burgers through its food truck and catering business as well as bottles its burger toppings (specifically salsas) for retail. But the founders wanted everyone to try their burgers, so they launched what they're calling "the most ridiculous meal kit on Earth."
"I had never even heard of this concept before and was amazed that it existed. I did a little research and learned that it was a booming industry," Chuck Sillari, founder and co-owner of Boston Burger Company, told the Observer. "We know people love our food. We know that people who come to our restaurants are from all over the place. Students and tourists are a huge part of our fan base. Our thought was that if people were able to recreate our burgers and fries in their own homes and we make it easy for them, they would do it. So Burgbox was born."
The six burgers pictured above are some of the best-selling from the restaurants and are always available for order through BurgaBox. Additionally, they offer a brand new burger, fries and mac and cheese every month specifically for the meal kit service. The sold-out November box for two, for example, contained the ingredients for Maui Waui Burgers (pineapple jalapeno aioli, bacon pineapple jam, american cheese), Aloha Fries (wedge-cut potatoes, their aloha BBQ sauce, chopped scallions) and Don Ho Mac & Cheese (topped with chicken teriyaki).
"This is stuff that people will look forward to every month that they can't get anywhere else," Sillari said.
I recently gave BurgaBox a go through their one-time order option and tried the garlic parmesan fries and Vermonster burger, which was topped with sauteed apples, red onion, bacon, maple mayo and sharp cheddar. The burger was DELICIOUS. I eat a lot of burgers, and I'd say this was the best one I had all year (which is especially revealing considering I cooked it myself). The high quality ingredients made the difference.
While perfectly seasoned, I found the potato wedges too greasy for my personal taste. Halfway through frying them, I realized I should've just stuck with baking them in the oven. This leads to my next point: BurgaBox tastes great but is undoubtedly one of the most gluttonous things you'll ever eat. It's no surprise Guy Fieri loved it. Despite this, it's definitely worth trying if you're a fan of burgers. But beware: the monthly subscription is not for the faint of heart.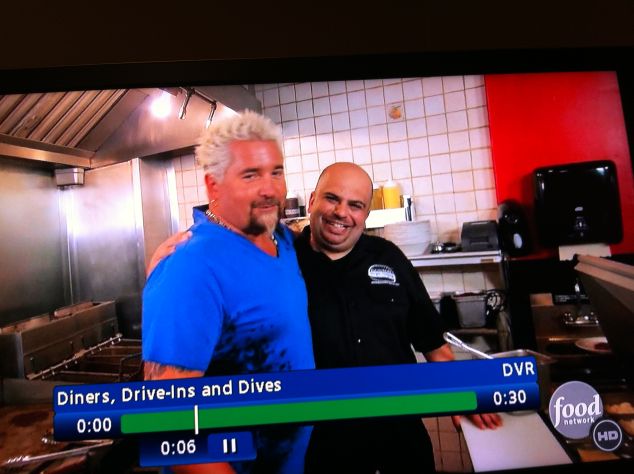 The BurgaBox of the Month, which includes the ingredients to make two burgers, fries and mac and cheese as well as ready-made cole slaw and baked beans, costs $99.
The BurgaBox Meals for two and four include the ingredients for the burgers (as well as a hefty serving of beans and cole slaw) and run for $45 and $90 respectively. The four-burger box lets you choose two different varieties of burgers  When you order these kits, you can add on any sides of fries or mac and cheese for between $16 and $32, depending on which serving you buy.
These prices are steep, but luckily BurgaBox offers a lot of sales. Currently, the December box is discounted to $69, and the BurgaBox Meal for Four is on sale for $60. Additional trays of loaded fries and mac and cheese are also discounted to $8 and $12.50 each.
But even at full price, you can justify it by reminding yourself that you're making an award-winning restaurant meal with its original sauces and handmade ingredients rather than just your average homemade burger.
"Our meal kits are unlike any other meal kits on the market," Sillari said. "Other meal kits are just putting the groceries into boxes with cooking instructions. We are actually preparing and cooking stuff before we ship it. Things like our sauces, mac & cheese and beans are scratch made by our chefs. Our meal kits are an event and an indulgence. It's really not a meal kit. It's a party kit."