Samantha Wasser, the super-chic creative director of vegan fast-casual restaurant by CHLOE., knows how to create the perfect Instagram moment. Always seeking images for her own highly successful accounts, Wasser was a social media star before she joined forces with Chloe Coscarelli, the executive chef and winner of the Food Network's Cupcake Wars, to launch by CHLOE. 
"I'm a total New Yorker, grew up in the city. There's so much noise, so what would make me stop and take notice?" Wasser told the Observer of her thought process while preparing to helm by CHLOE. Like many of her customers, she was looking for a different tasty salad after an intense workout or light, non–wind-inducing lentil bowl before a nail art appointment. Wearing what she described as ancient Reformation pants, clutching a tiny bucket bag and chatting about her husband and two dogs, she lives and breathes the by CHLOE. lifestyle.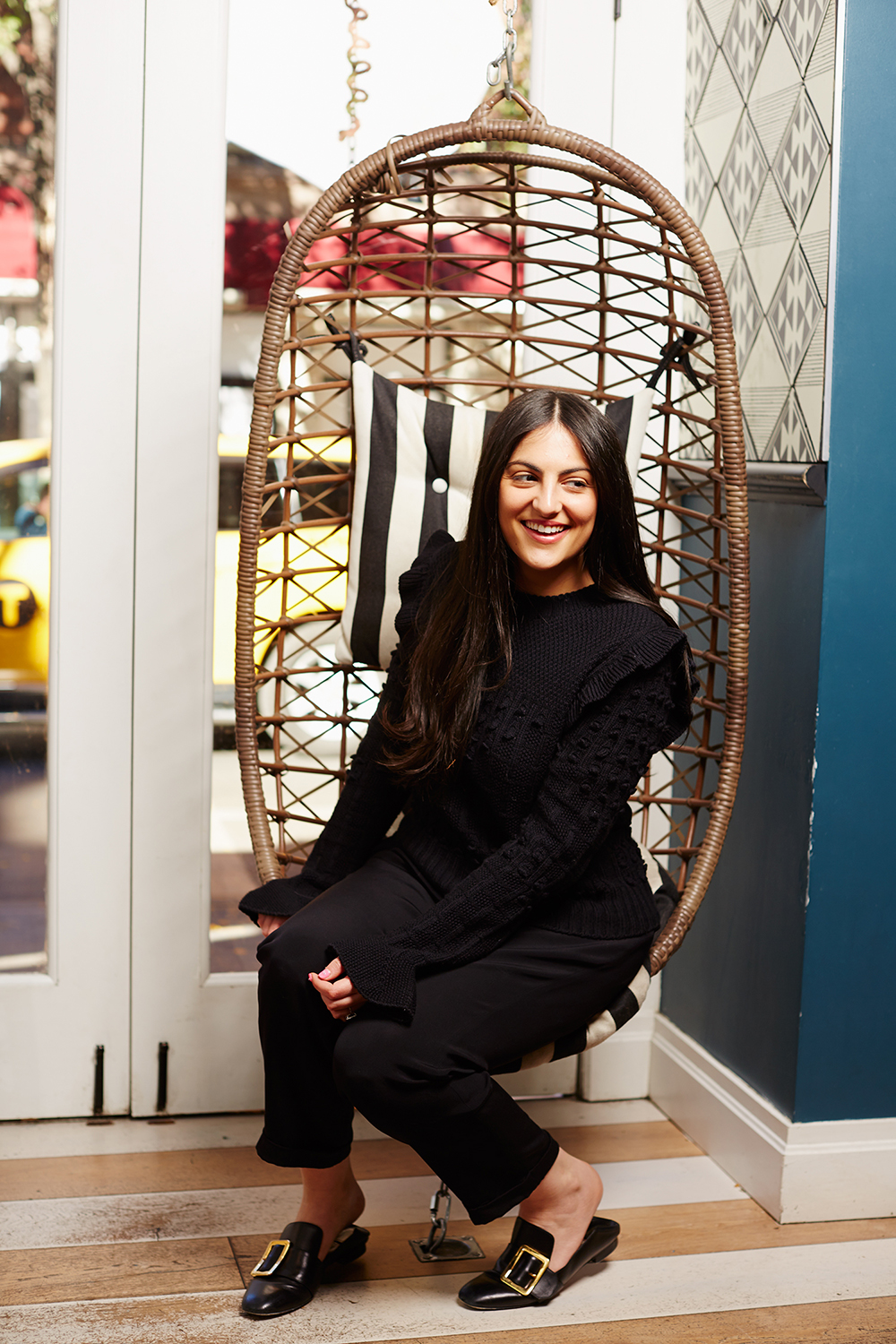 Social media was at the center of the restaurant's inception. Wasser personally "likes" images of dishes posted by customers. One favorite is the quinoa taco salad. Wasser perfected the colors of the bowl until it was "literally made for being photographed."
Still, there are some items that aren't quite as popular because they aren't photo-ready. Wasser swears by the pesto meatball sub and the whiskey BBQ sandwich, promising they're "the most delicious." There's also a secret menu item even the most devoted by CHLOE. fans don't know about.
"The Oh So Fancy fries are kind of a nod to Drake," Wasser told us conspiratorially, adding that it's their version of In-N-Out Burger's Animal Style fries, with vegan chorizo from the taco salad and chipotle aioli. "It's really good but it's a little messy," Wasser explained, over matcha lattes and matching chocolate-matcha babka at the recently opened Sweets by CHLOE.
Next up, by CHLOE. is opening in Williamsburg, near Sweetgreen and Equinox. Wasser is also a workout addict, raving about celebrity trainer Anna Kaiser's AKT method in Flatiron, where by CHLOE. opened in "gym central." Though nutritious, not everything on the by CHLOE. menu is low on calories. "Everything is healthy in the sense that it's made from scratch with whole ingredients," Wasser said, but "our burgers are still burgers—obviously, having a salad is more healthy for you." The burgers are made from quinoa, sweet potatoes and black beans, but topped with chipotle aioli for an indulgent factor not usually found in tasteless, chewy vegan grub.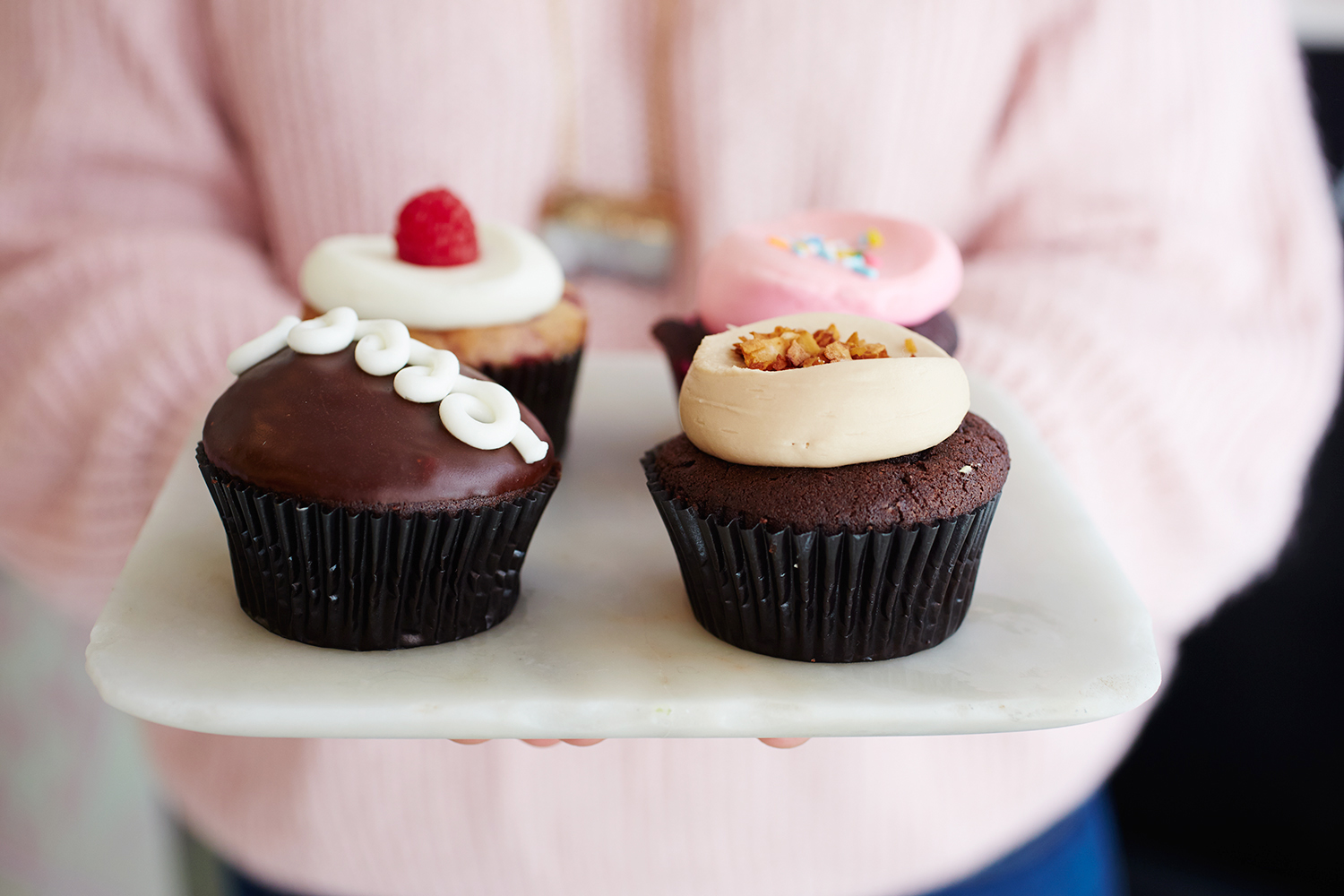 While Wasser appreciates the food at by CHLOE., she isn't a vegan. Coscarelli was the first to show Wasser that plant-based dishes could be more than palatable. Coscarelli and Wasser met when Coscarelli, on the hunt for a business partner for a foodie idea taking shape in her mind, Googled the best hospitality groups in New York City, and Wasser's father's ESquared Hospitality appeared. "I didn't even know who she was when she came in," Wasser proclaimed. At the time, Wasser was preparing for her upcoming wedding.
"I was just starting to understand what plant-based food was, and I was going to a nutritionist who was making me eat more whole foods. Chloe was telling me these whole foods could be delicious, and what I was eating was not delicious." They decided to open a vegan version of Shake Shack, with matching lines but healthier options.
See more exclusive photos of by CHLOE. here.
"It's really about making vegan food taste good and not trying to imitate anything else; it just tastes really delicious and happens to be vegan," Wasser said, calling her chefs "mad scientists" who create dishes even carnivores can appreciate.
By CHLOE. has major expansion plans for 2017. "We left the word in front of 'by CHLOE.' empty for a reason so that we could make it Burgers by CHLOE. Or Sweets by CHLOE.," Wasser said. "We always hoped big for the brand."
By CHLOE.'s small space is brightened by photo-worthy details, including a neon sign declaring, "You batter believe it." Wasser described the sign as the "Instagrammable moment" in this particular store; each has its own, based on the location. Even the food was created for the 'gram. While Coscarelli focused on the recipes, Wasser worked on the presentation and colors, personally sourcing every bowl and cup. "People say, 'If I went to by CHLOE. and didn't take a picture then it didn't happen,' " Wasser said.
Wasser's friendships with fashion and food bloggers helped spread the word. Man Repeller's Leandra Medine and blogger Aimee Song are regulars. "At first it was me saying, 'Could you please come in and post it?' But now I just see it on their feed because they genuinely like it. It's them organically putting it out there because they want to support it."
Now that's something no one would say about Shake Shack.